Hoo boy! Glad we had the light episode before this one, because this one is HEAVY. Man, so heavy! Everything from the whole season before this comes together in a big blow out fight. (full index of Little Things reviews here)
It starts out happy. They are going to the big wedding that has been coming up off and on all season. They are excited, the arrive at the hotel and it is really nice, they go to the first event and joke together and enjoy meeting the married couple, and already there are little moments like saying "this wedding is nice, this is how wedding should be" that open the door to "we should have a wedding".
And then it all goes bad, all of a sudden. They are having sex (I think this is the first time we see anything specifically sexual between them, because it's really such a small unimportant part of a relationship), and Mithila gets a work call and asks Dhruv to hurry up. And he blows up because she made him feel like he was forcing her, like she wasn't enjoying herself. She blows up, because what is the big deal. And then it all comes out, everything that's been there all season. He's feeling abandoned and like she doesn't appreciate him. And she's feeling like they aren't on the same path any more, and she can't seem to pull him on to her path.
Of course, it isn't really going bad "all of a sudden". It's been going bad all season. One thing that occurs to me, maybe the idea of the show is that we only check in on this couple when things are going a little wrong. The first season was about Mithila doing most of the work in the relationship, and it exhausting her until everything else in her life (work, friends) suffered. They finally talked about that in the last episode. Now it is a year or so later, and they have serious problems coming up to the surface again. In the episode when Mithila met the man at her business conference, she mentioned how she took some time off, tried pottery and graphic design and all kinds of things, and then returned to the corporate world realizing that she really really loved it, and was good at it, and liked her job. That's interesting from the side of Mithila, and has some deeper meaning in terms of her relationship (she needs to feel like this is a choice she is making, and she is in control), but now I am thinking about the show structure as well. Those months when Mithila was struggling came between the seasons. And during that same time Dhruv quit his PhD and found his coaching/teaching jobs. Maybe all that was happening in their lives and careers, but their relationship was solid? Now we are checking in with them again with Dhruv hitting a wall in his career and Mithila plowing forward in hers and suddenly the relationship is hitting rocky ground again.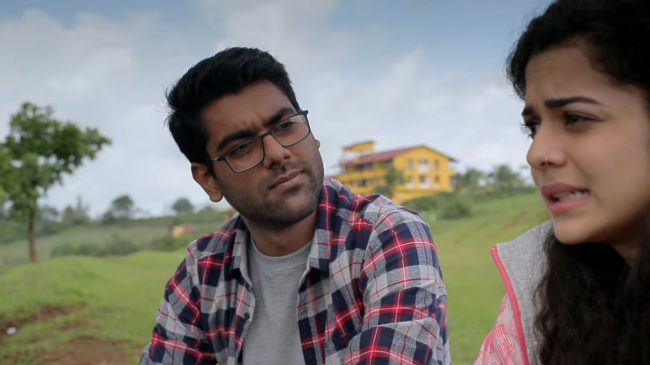 This episode is the first time sex comes up between them this season, and I think that might matter a bit as I look back at the rest of the season and the episode. This show likes to make a lot of things unspoken. They are having fun at the wedding, and then they start overhearing a table next to them with other young people talking about their wild sexual adventures on apps and things, and Mithila and Dhruv suddenly go quiet and awkward. I couldn't quite figure out what was supposed to be happening, were they uncomfortable with the explicit sexual language? Or were the uncomfortable because they suddenly saw how everyone assumes they are having sex all the time? But then we see their sex scene and Mithila telling Dhruv to "hurry up" and him being hurt, and it turning into a whole fight, and I started to wonder, was it just the idea of sex that made them uncomfortable? Had it been a long time for them as a couple? Were they listening to this conversation and thinking about how they arrived in a strange hotel room and were more excited about having a "tub bath" than having sex? And then they have sex, and Mithila is distracted thinking about work, and Dhruv is putting too much pressure on himself, and it ends up being the pressure point that explodes all the other relationship issues they have been facing all season.
This fight is done so well! So well, because as a viewer I can't even follow all of it. I'm not supposed to be able to follow all of it. When Mithila in the middle suddenly stops Dhruv and declares "you lied!" he knows what she is talking about when she says he lies, but I am at a total loss. They have their own language, their own history, their own telepathic abilities to know what the other person means, which isn't even shared by the audience watching. And also so well because it picks up on little things (ha!) from the whole season and brings them forward. Dhruv hasn't gotten the shower fixed, he quit his PhD, Mithila feels like she is carrying him along and he is doing nothing. Mithila was late to dinner with his friend in the first episode, she didn't reply to his texts when she was out of town, she wasn't supportive when he quit his job.
It gets down to what they have been fighting about all season. Mithila wants to move forward and accomplish things, Dhruv wants to stay where they are. Dhruv feels abandoned and unloved because Mithila seems to be going into a future without him, Mithila feels abandoned because he isn't working with her towards that future.
The content of the fight doesn't really matter, it's clearly mostly improvised, they had a few points they needed to hit but otherwise it was just flowing between the couple. What matters is the structure of the fight, really the structure of the whole episode. We start with everything more or less okay, as much as it has been for the rest of the season. Then as they spend more time at the wedding, the Wedding Pressure cranks up. They see the happy couple that is seemingly happier than they are, they hear the other guests with their wild single life, they begin to have unspoken doubts about their relationship which leads to a rush to have sex, which just leads to finally having the Big Fight they have been working towards all season. It's about Dhruv feeling like Mithila doesn't even like spending time with him any more, and Mithila feeling like Dhruv isn't thinking about a future with her. It's about all the little things that add up to big feelings, feelings it was too scary to say even to yourself but were there in the back of your mind and now this fight is bringing them out.
Just as the fight has reached its peak, as they are almost ready to say "we should break up" there is a knock on the door, it's the hotel picking up their laundry. Dhruv gathers the things together, and Mithila tells him not to bother with the tie, she bought him a new one last night, in the colors of his favorite soccer team. And they both feel the sudden weight of how much they love each other and all their time together, along with this fight.
It's not a big dramatic fight over big dramatic things, not really. No one cheated, no on physically hurt the other, they don't even break the "rules" of fighting, Dhruv brings up Mithila not having time for her mother just like she has no time for him and she says "HEY!" and he immediately backs off because that is unfair. No one says the other person is ugly, or stupid, or any sort of personal insult. This is a healthy fight in a healthy relationship between two people who are angry with each other but aren't cruel. And then it is interrupted, and their life returns to the "little things" that make it normal. Mithila is upset and crying sitting on the bed, so Dhruv goes to the door. And he gets the laundry. And Mithila tells him about the new tie, a little thoughtful every day present. Just like Dhruv automatically pulling himself together and handling the laundry stuff is a little thoughtful every day action for her.
The whole structure of the episode is what I appreciate. In a lessor form, it would have them sniping and building towards the fight from the beginning, then the fight in the center, and then a cool down to end it. But that's not how life is. Instead the beginning is calm and peaceful, the fight explodes suddenly out of nowhere, and then just as suddenly hits pause because life happens. That's a fight, that's a real couple. Not contrived sudden issues but ones that have been there for a long time just waiting to break out. And no contrived sudden resolution, but instead an ability to just take a breath and wait for a better time to keep going.