I really have a very small list of Queer films, now that I think about it. I should fix that! Y'all give me things to watch.
Doesn't have to be Indian, this is just a fun recommendation post. But probably if you want to suggest things we all will like, think about Queer movies that are like Indian movies. Light, romantic, and so on. Not so much Anger and Death and Despair.
Signature Move
Haven't seen this myself, but I want to see it and I bet you will too when I describe it. A young desi American woman who looks after her TV obsessed mother (played by Shabana Azmi) starts getting into Mexican wrestling, and falls in love with a fellow female performer. And it's set in Chicago, The Best City. I suppose this could turn out to not be a good movie, but it seems very unlikely. Oh, and it's on googleplay and itunes and stuff, so you can rent it and the money will go straight to the filmmakers, which is nice.
Kissing Jessica Stein
Forget the Queer part, even if this was a Straight romance, this would still be a really interesting different movie. It was written by the star to give herself the sort of leading role actresses don't get. It's a love story about how sometimes a relationship can kind of shake up your whole life and make it better in surprising ways. And on top of that, a very different sort of Queer story, a new take on "coming out" and that whole journey. Just a good interesting movie.
But I'm a Cheerleader
A comedy about a really not funny topic, the teen "pray the gay away" camps. But then laughing at them because they are truly a ridiculous concept is an important part of making them go away. Also, the teen romance in this movie is really sweet and nice.
Shoot, why can't I think of a fun rom-com that is male? All I can think of is a more dramatic and less fun option. Oh well.
Latter Days
Happy ending, don't worry, but quite a bit of romantic angst along the way. Party Boy makes a bet he can seduce one of the Mormon missionaries who moves in next door to his apartment. You can see where this is going, right? Very romantic, very tormented and back and forth, more on the Devdas side of things.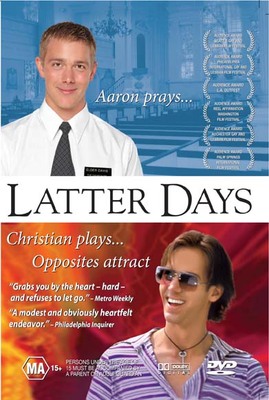 Okay, recommend me some other movies! I need to expand my "fun light happy queer romance" selection past the early 2000s!