Thank you Alisa for alerting me to this news. For once a death occurs on the western news cycle, so I get to hear about it mid-evening instead of waking up to it first thing.
Saroj was part of the Hindi film industry since the beginning. Which is a sign of both how very young Saroj started her career, and how very young the industry is as an industry. In her 69 years of working in Hindi film, Saroj saw it go from the fringes of the world immediately post-Independence to the center of society.
Like most early workers in Hindi film, Saroj was a refugee who started film work in desperation. Her family fled Partition and landed in Bombay, where Saroj started picking up parts as a child artist at age 3. By puberty, she was working as a background dancer. Early own she was taken in and mentored by B. Sohanlal, the top choreographer of the day. B. Sohanlal was a classically trained Kathak dancer. He learned in temples and classrooms from respected Gurus. He taught Saroj in noisy studio lots with lights and tinsel and cameras. But he was still a Guru, Saroj learned classical Kathak from childhood from a Master teacher. It doesn't matter what the context was.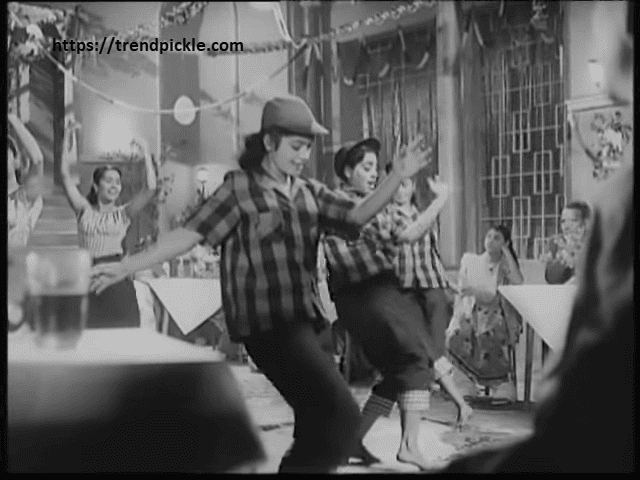 At some point , Saroj went from student to romantic partner and professional partner. B. Sohanlal was already married, but he "married" Saroj as a second wife and had 3 children with her. I don't particularly like him for taking Saroj as a second wife like that, but then we don't know the context, not really, they are the only ones who know that. But it is interesting to keep in mind that Saroj was quoted in 2018 in regards to the "casting couch" as saying that the industry doesn't "rape and abandon people" it gives them careers. Was she talking about her own experience? About the much older B. Sohanlal who mentored teenage Saroj in return for a sexual relationship and gave her a career?
At 26, after going from back-up dancer to "special" dancer trained under B. Sohanlal to B. Sohanlal's wife and assistant choreographer, she got her first independent choreography job with Geeta Mere Name in 1974. She worked along in the background for over a decade, honing her skills, doing the unnoticed dances, until she found her twin muses Sridevi and Madhuri in the 1980s.
There is something truly magical about what Saroj and Sridevi and Madhuri achieved in the 80s and 90s. These were three incredibly hardworking women. That old saying about "Ginger did everything Fred did but backwards and in heels"? It's not true of course, because Fred choreographed everything and did all the star turns and was the dance genius, while Ginger was his able partner. But with Saroj and Sridevi and Madhuri, it really was true. Saroj designed elaborate complex dance numbers for them and drilled them to perfection. And on top of that, they were in heels, headdresses, breath reducingly tight dresses, and giving perfect hair and face and personality along with perfect moves. These 3 women showed just what women can do, when they have a chance. Suddenly the typical choreographer pictured for Hindi film became a woman instead of a man. And suddenly the big spectacular star people wanted to see was a woman instead of a man too.
And then as always happened, Saroj got a bit shoved aside by her younger sisters in the industry. First Farah Khan, then Vaibhavi Merchant, and now Geeta Kapoor. But Saroj kept her place, just had to share the stage with folks who were finding their place. If you wanted a song with a lot of dancers, with complicated steps, with the focus on the dance above the camera work and tricks and even characters acting out songs, then you wanted Saroj.