Thank you Angie for alerting me to this! As always, I have Opinions. Oh, and also information, it's kind of a funny ragbag of products all mixed together.
Okay, gonna start with data analysis. Of the new "Netflix Originals", 6 were clearly found, planned, paid for, and filmed long before Netflix got involved (for example, A Suitable Boy which is a BBC production start to finish, Netflix just bought the rights once it was done).
6 are blatantly specifically targeted at wealthy westernized female audience and all but one of those seem to have been developed just for Netflix.
5 of them deal with Serious Topics (child suicide bombers, female infanticide, like that)
2 were specifically clearly planned for a theatrical release before COVID, another 4 were possibly planned for theatrical release of some kind at some point.
So, what am I seeing here? First, Netflix continues to take credit for others' work in an attempt to make us all feel okay about them monopolizing the market. If I say, "Netflix is bad because it is killing broadcast TV", you say "But that's okay, they bring us high quality stuff like A Suitable Boy that we wouldn't get through broadcast TV", and I say "No, they don't, TV network money and TV network workers made that show, Netflix is brainwashing us into thinking they do everything in the world when really they just BUY everything in the world."
Second, Netflix is both targeting a female audience, and a wealthy audience. I also don't like that! I mean, I like it because I am a rich woman. But I don't like it because it is leaving behind so many people. First, with the female audience SEPARATE IS NOT EQUAL!!!! Men going to movie theaters and women watching on streaming is not a healthy dynamic, the genders have just gotta mix more than that for a healthy society. And also, theatrical release films get more attention, more money, more everything. It's not okay to say "women don't need movies in theaters, they have streaming." And second, there is this blatant divide between the Netflix created and paid for and produced serieses that are all "oh poor me struggling with the feminine mystique", and the Netflix purchased low budget films that are all "women are dying in streets and villages by the thousands". Netflix will pick those films up, so you can feel good for watching them, but they know the real appeal is watching shows about "normal" people "like us".
And finally, it's hard to tell how much difference COVID is making in the industry versus what Netflix was already doing to the industry. If you look at both Dolly Kitty Aur Woh Chamakte Sitare and Ginny Weds Sunny, the production houses had previously made similar light fun films for theatrical release, and those films had been forgotten flops. Perhaps they would have tried again for theatrical release with these films, or perhaps they were worn down by the erosion of the female theatrical audience to the point that they were already to try Netflix.
Oh, one other thing! You know all this talk about "the evils of nepotism"? Which sometimes veers into "thank goodness for Netflix where quality rules all"? yeah, NO! Nawazuddin is in a ridiculously large number of these movies, and Anurag Kashyap is attached one way or another to a lot more of them. Again, I am officially pro-nepotism. Nothing wrong with word of mouth recommendations for people you have worked with in the past. But if you are anti-nepotism, you can't look at this list and say "Netflix is a paragon of virtue". Not when it is so clear that they are just working within the same small circle of trusted artists, the same way the Bombay film industry does. For instance, a fresh faced outsider new actor Rohit Saraf in Mismatch. He was launched in Dear Zindagi (co-produced by Netflix and exclusively streaming), went on to be in The Sky is Pink (ditto), and his last film before this was Ludo (look at that, just purchased for an exclusive Netflix release).
Ludo
This is and Kargil Girl are the two movies that were definitely intended for theatrical release. A follow up to Life in a Metro, sort of, that has been rumored for years. Like Life in a Metro, it is supposed to be 4 intertwined stories, and it has a really interesting cast, and just in general the DCIB folks were excited about it. It was never going to be a huge huge hit, but it could have done well in its chosen audience with a theatrical release. I guess the makers decided to take the money while they could instead of holding out. Although if the film was big enough to start a promotion campaign, they probably could have held on longer. I'm thinking part of the tipping point was an awareness that the theatrical audience is already so eroded, they couldn't expect to get THAT much money from a theatrical release anyway.
The producer is T-Series, so far as I can see this is the first time T-Series has resorted to releasing straight to streaming. They have the money, they don't usually have to do this.
Torbaaz
This looks like a legitimately interesting film, based on child suicide bombers in Afganistan with Sanjay Dutt and Nargis Farkhri starring. First time director/producers, but I suspect it was intended for a theatrical release. Sanjay and Nargis aren't art film names. I'm sorry it missed out on theatrical release just because it would have started interesting conversations that now won't be happening. If Sanjay has a press conference to release the trailer of his next film, people will talk about it, and talk about Sanjay as a serious actor, and the issue of child suicide bombing, and all kinds of good things. And now it will be a bit hidden away. Not that I can blame the filmmakers. this is not a big name production house, I am sure they reached the point of just needing the money.
Raat Akeli Hai
This is such a nepotism film, which is part of why I am sure it was always intended for Netflix. Nawazuddin and Radhike starring, and the director/producers have been around the industry for ever and have lots of connections with folks, far more connections than experience (first time writer/director/producers). And (shocker!) it's a gritty drama about crimes against women in India.
Dolly Kitty Aur Woh Chamakte Sitare
This is yet another Balaji produced strong unconventional woman film. Dirty Picture, Veere Di Wedding, this movie, all the same. Oh, and staring strong unconventional woman too, Konkona Sen Sharma and Bhumi Pednakar. Basically, it looks perfect. It is Balaji's first direct to Netflix production, I am assuming it was intended for a theatrical release because Balaji has had success in theaters with these kinds of films, and shown a loyalty to releasing this kind of film in theaters. But maybe they decided to do a test run with Netflix, or maybe Netflix gave them a really big offer, since this is EXACTLY the sort of film that Netflix wants right now (urban Indian female problems)
Ginny Weds Sunny
This is a tiny production house that's last film was Shaadi Main Zaroor Aana, a pleasant well-made rom-com with a solid cast, that was completely ignored by the media and therefore by the theatrical audience. Not only that, it ended up being buried on streaming, so it couldn't find an audience even there. If this film was originally made for theatrical release, I could see how they could easily be persuaded to take the streaming offer for the good of the movie. I could also see that they would wait to start production on this movie until they had a streaming offer in hand. Oh, and this is another pleasant little rom-com, plus VIKRANT MASSAY!!!!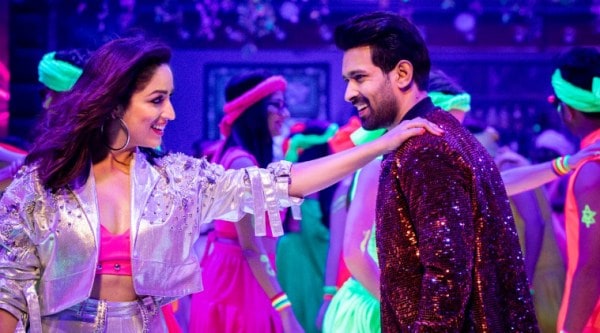 Bombay Rose
An Anurag Kashyap vouched for film. Also, Cinestaan. It does look unique and brilliant, a hand drawn animation film about a young woman flower seller in Bombay. Anurag did one of the voices so probably gave some kind of moral/practical support to the film. Cinestaan produced, they also made Mirzya and Kaalakandi, an interesting combo of visual beautiful slightly odd movies. If you remember Kaalakandi was also the movie that Saif had to throw a tantrum about to guarantee a theatrical release before Netflix, and that release was this half-hearted "whatever, let's just shut up Saif" kind of thing. So, producers who are a lot more interested in the simplicity of a straight to Netflix one time sale than the complications of theatrical.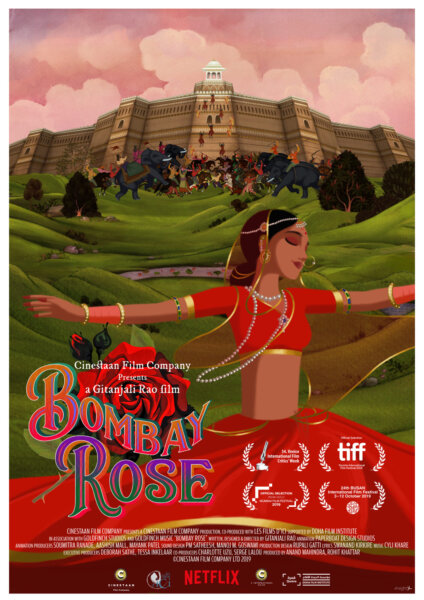 Class of '83
This is kind of an odd duck in the announcement. The only film that really truly 100% for sure is a Netflix Original. Red Chillies developed it for and with Netflix, it was always intended to be straight to streaming, and it has a modest good enough kind of plot and ambition that is a good streaming fit. Bobby Deol has work, we get a solid film about the police training academy, and we don't lose out on what could have been a theatrical release based on cast and subject matter and so on.
Gunjan Saxena: The Kargil Girl
The other film that was DEFINITELY intended for theatrical release. Like t-series, Dharma has the deep pockets to just sit on this film until they could release it. Well, usually. They had already started a big promotion campaign, which takes money, and it required battle reinactments which usually take money too. So maybe the budget was just so high they had to get some money back. Or maybe they were eager to get the film in front of the public while the PR campaign was still fresh. Or, maybe, they just got a very very good offer. Flipside, maybe it was built into the larger Dharma offer and in order to get maximum money for their hot properties like KKHH, they had to throw in this film.
Tribhanga – Tedhi Medhi Crazy
This is a really interesting one! This is how Netflix is interacting with the non-Hindi industries, kind of sideways. It was developed to be a small Marathi mother-daughter comedy film. Then Kajol came on as the star, and Ajay therefore as the producer. The profile of the film went too high for a Marathi film, while too low for a theatrical Hindi release still. And so, the sweet spot, a straight to Netflix release.
Punjab Kaali Khuhi
Okay, this is the movie I don't mind Netflix buying. Classic Shabana kind of movie, serious social topic (female infanticide), female director, art festival release. Pre-Netflix, this would have made the rounds of festivals for a few years, maybe had a TV broadcast at some point, and then landed on a shelf in your local library on VHS or DVD and nowhere else. Pre-VHS and DVD, there would have been a film reel somewhere in some university libraries that you could watch on demand, and it might have shown up in some specialized festivals over the years. But now, Netflix! It's still in the festivals and probably your local library, but it has this other bonus not-replacement-but-addition release option. I'm still not gonna watch it, of course, but nice to know I could watch it if I ever decided to be really really depressed.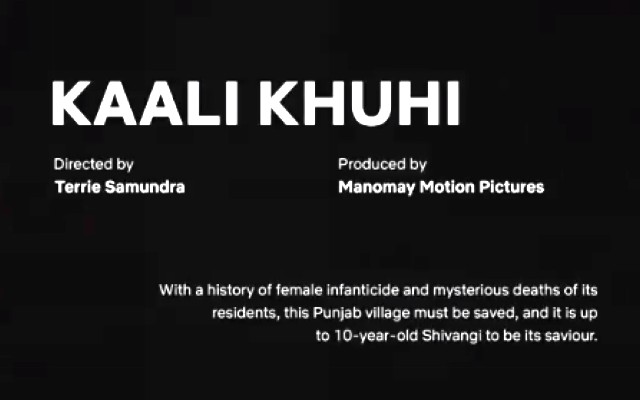 Serious Men
I can't find confirmation, but I suspect this is another one developed with Netflix from the start. It's based on a popular black comic novel about a Dalit underpaid assistant to a scientist who decides to scam folks by pretending his 10 year old son is a math genius. Sounds clever and dark and a little bit angry at the caste system that forces someone into this kind of scam behavior just to get ahead. Sudhir Mishra directing, he's been around since Jaane Bhi Do Yaaro, never really has hits, just interesting critically acclaimed films. His last few theatrical releases have been increasingly commercial and critical failures (I suspect partly because of producer interference that made him go towards commercial topics that didn't fit his style), so it's time for him to turn to Netflix. Oh and Nawazuddin staring, of course.
AK vs AK
Probably also developed straight for Netflix, just because it is a Vikramaditya Motwane directed film and they are TIGHT. It also stars Anurag Kashyap (not producer or director, actor), so there's another connection. Just to put the topping on the cake, Anil Kapoor is in it too. So yes, I would prefer that it had a theatrical release so more people could see it, but I will reluctantly watch it because I love Anil and I love Motwane.
Series
Mismatched
This is a series based on When Dimple Met Rishi. I have to admit, unlike almost all y'all, I have not read When Dimple Met Rishi. But I just spoiled myself on it and it does look like a good bet for a TV series. Two young people meet, fight, fall in love at a summer computer training camp. The secret is, their parents set them up and Rishi knows it but Dimple doesn't. Forget the Hindi part of it, isn't it interesting that Netflix is making a series based on a single YA novel? If it's a hit, will they take the story forward somehow, or will they just make more one and done YA series? And why decide on the series format for this one, versus the movie format for For All the Boys I've Loved Before? Or is it because FATBILB is turning into a three film series and they decided 6 hours is the better length for this kind of story? Oh, and it stars a youtube star, and Alia's little brother from Dear Zindagi. I can't find anything on who is directing or producing or writing. Most likely it is an entirely western production.
A Suitable Boy
Mira Nair directing Tabu, that's the selling point right there. It's a BBC series, as we all know they are quite experienced with the limited series book adaptation format. It's more and more common for the BBC to make the series, then sell the streaming rights for simultaneous release in all but a few markets. We Americans are very familiar with the agony of the rest of the world watching a hot BBC property while we sit and twiddle our thumbs for months waiting to get it. Anyway, it looks all BBC-y, gorgeous and well-acted and blah blah blah.
Masaba Masaba
This one looks FASCINATING! In so many ways. First, it's billed as a show about Masaba playing herself? And Neena Gupta (her Mom) also playing herself? But it's not supposed to be a reality show exactly? I want to know more about this "real story but not a reality show" kind of genre. Oh, and if it is based on "reality", that means it will dig into fashion with Masaba's successful fashion line, and race with her mixed heritage, and social judgement with her "scandalous" illegitimate status.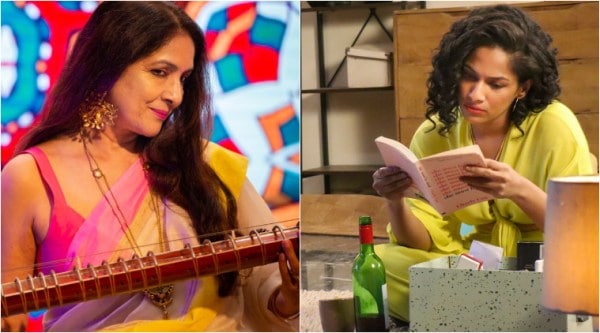 Bombay Begums
All I can find out about this show is an amazing cast, Pooja Bhatt to Rahul Bose. And the title, which obviously says "this will be about rich society women of Bombay". I am nervous about quality, the same kind of genre already gave us Made in Heaven (very very good), Four More Shots Please (not good), and Mentalhood (good). The cast is good, but I need to know the creative team behind it to know if they are there because they appreciate the script, or because Netflix is throwing money at them.
Bhaag Beanie Bhaag
This is Swara's second streaming series, and it's so interesting how they change the topic based on the audience! In India, Prime is cheap cheap cheap. So Swara's Prime series is kind of silly, about average urban folks in an average urban neighborhood, she is the sexy teacher who comes into their life and changes things. Netflix in India is comparatively expensive, so here is a series about an educated career woman and balancing work and family and Modern Life and so on.