Well, this is a BORING movie! At least ridiculous Mahanati had some nice crazy melodrama in it, and ridiculous Padman had the fun invented Sonam Kapoor character, and ridiculous Rustom had uniforms. This is bad BAD history, bad BAD filmmaking, and also DULL. Blech. I'll put it this way, only watch it if you enjoy Vidya so much you would be happy seeing her recite the phone book. Because this script is only slightly more exciting than that. Oh wait, I always like to be positive, so I should have something else to add…it's better than Mission Mangal?
When you are trying to make a movie of someone's life, you cannot possibly tell the whole truth, or even only the truth, but you can at least avoid telling lies. A person's life is enormous, no film can contain it. You have to pick what part of their life you want to tell and tell that. At the same time, no matter how much you narrow it down, there will be things you simply do not know about a person and must invent. Sometimes my favorite biopics are the ones that are 90% invented in this way. Like, Jodha-Akbar. There is no record anywhere of their intimate conversations, the ebb and blow of their marriage. Great! The scriptwriter can invent whatever the heck they want, and it isn't necessarily a lie. What I cannot stand are biopics where they take known facts about a person and change them. Not making stuff up in a vacuum, but ignoring real truth in favor of lies. This film does that, and then does the far greater sin of MAKING UP BORING STUFF!!!!!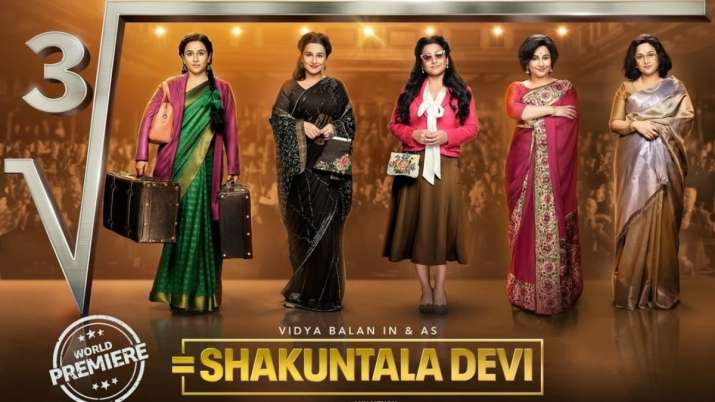 I'll give one small example. Shakuntala Devi's father was a circus performer, a lion tamer and a fire eater. This film lies and turns him into a respectable impoverished Brahmin living in a village. WHY WOULD YOU DO THAT???? Why would you have the opportunity to show LION TAMING on screen, and instead turn it into "dusty hungry sad village folk"? It's a lie, and I hate lies, and it's a lie with an ugly political purpose, to suggest that talented folk only come from respectable Brahmin households. But beyond that, SUCH A BAD DECISION FOR THE MOVIE! I have to keep pinching myself to stay awake while watching all the "my sick relative is dying and there isn't enough rice to feed the family and for some reason our whole house is dust colored" section, and I could have been watching a CIRCUS! What fool wrote this script?
Vidya tries mightily to save the movie by giving her usual charming kind of performance. But it IS her "usual performance". I don't feel the script or the director trying to give her something unique to play beyond "smiley confident unafraid to be herself short curvey woman". And opposite her, there is Sanya Malhotra in the most low-energy role I have seen from her. I don't know what happened with the directing or script, but somehow this actress who I have always found entertaining becomes just a limp rag. Maybe it's the hair? She has perfect striaght wavey hair in this instead of her usual short curls and, like Samson, with her hair went all her power.
The two women are the center of the film, so there's another small reason to watch it, you get to see two actress opposite each other. And cool changing clothing styles and hair styles and so on as the decades pass, also fun. The two supporting male leads have way less interesting clothing, and less interesting characters, and way more mysterious characters. I was interested while they were on screen because I kept trying to unravel the mystery, and then it turned out to be no mystery, just an odd performance and characterization.
The songs aren't great, the romance is almost non-existent, the central conflict ends up feeling like we must be missing big pieces of the story because otherwise it makes no real sense, the two women leads are not clearly defined, and the most interesting bits of the real life story are white-washed and removed. It's just a boring movie.
But, it's brightly lit. And some of the sets are pretty. And some of the period costumes are fun. And when Vidya smiles onscreen, you can't help smiling back. So go ahead, have this playing in the background while you clean and sort mail and fold laundry, it won't hurt you.