UPDATE: This post has been up for 3 hours, and no one has commented. I feel this is a bad sign for our collective ability to be happy. I'm having a moderately hard day today. We didn't watch Midsomer last night, and I think it has become a vital part of maintaining the careful mental health balance of the household, so now all 3 of us are feeling rumpled. Plus there's thunderstorms, so the dog is unhappy. I'd go for a walk to get out of the stressful atmosphere, but of course I CAN'T GET OUT OF BED. Anyway, time to count our blessings in a simple effective technique for happiness!
Three things that make me happy right now:
My super comfortable loose soft knit dress that still looks good after lying in bed all day
Albie Dog's soft ears
The flowers on my wireless mouse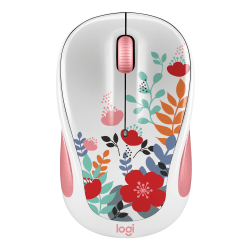 Okay, you're it! List three things! Even if you are super happy today, it won't hurt. And if you are having a hard day, it should help.