Sharmilaji! The coolest strongest hottest actress of the 1960s. And now a very classy actress of the later decades.
Sharmilaji! Very cool lady. She is from the Tagore family, which were Bengali cultural elites, and reformists. Her great uncle was Rabindrinath Tagore, writer of the Indian National Anthem and winner of the Nobel Prize and all kinds of cool things. In present day, he is essentially the patron saint of Bengali art. But the whole family is really very artsy and liberal and interesting. Because of Tagore's "Patron Saint" status, Satyajit Rai thought it would be cool to cast someone from his family in one of his movies. Thus young teen Sharmilaji got her first film role. It was fun, it was a thing to do between classes. And then once she finished school, she went back to acting. But not in the boring black and white arty stuff, in the fun glamorous Bombay world.
So here is Sharmilaji, very good family, very well educated, landing in Bombay. She was unusual among the actresses. The common wisdom is that actresses were always very low class, from performing families, not "respectable". But actually there has always been a mixture of low and "respectable" actresses. Sharmila was something else though, the Tagores are a really really big deal. She brought with her that untouchable confidence given by her last name and used it to go farther than any other actress of her generation. First Indian actress to be photographed in a two piece, one of the few actresses to be happily married and keep working just as much, first actress to cross over (Mississippi Masala in 1991), and a woman who now acts as matriarch to a very untraditional family.
Sharmila's personal life is as dramatic as any film she was in. At the height of her fame, she caught the eye of Tiger Pataudi. Tiger was the only person in India who was her equal in terms of personal fame and family history. He came from the Pataudi royal family, a small fairly new royal family, but still real. More importantly, he was the captain of the Indian cricket team which is a VERY BIG DEAL. And he only had one eye, because of a car accident while in college, which I just find interesting. They had a whirlwind romance, which supposedly included him purposefully hitting balls to her in the stands during Cricket games (how romantic is that??? I could DIE!!!!). And then they got married, got a little apartment in Bombay, and she just kept working, not even a pause. 20 years later, her young spoiled son married a woman over ten years older than him and a scandalous actress, and Sharmila didn't blink an eye. Same son then got a divorce and entered into a relationship with another scandalous actress far younger than him, once again Sharmila just accepted. Her daughter went to work and didn't marry until over thirty, choosing a far younger man. Sharmila was cool with it. Really the only thing that has shaken her in her whole public life was the death of Tiger. They had a swooningly romantic beginning, followed by a solid quietly happy life together, and ending with a death that broke Sharmila as much as anything has. It's romantic, but it's also sad.
Okay, now pick your favorite Sharmila photo!
Wedding:
Grandma: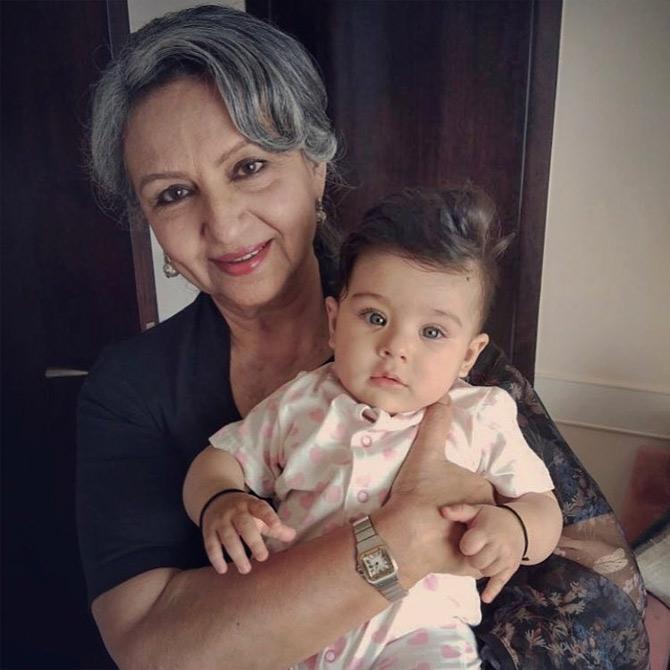 Sexy:
With Rajesh Khanna
25th Wedding Anniversary photo:
Feathers:
Fur:
Shammi reunion:
Shashi
Shashi again
Shashi third time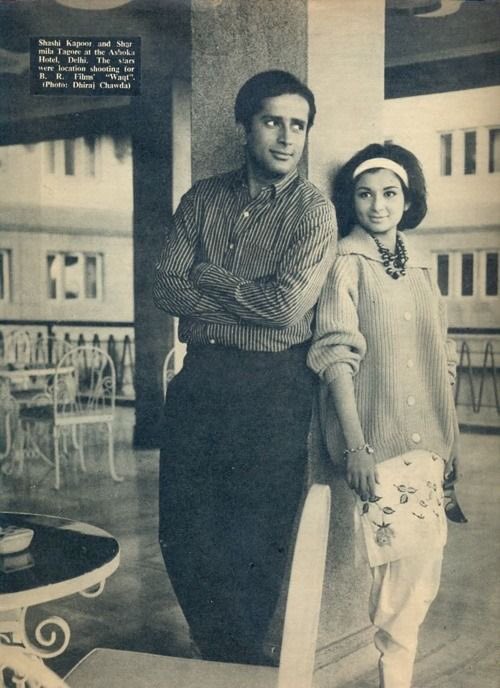 Shashi one more time
Shashi reunion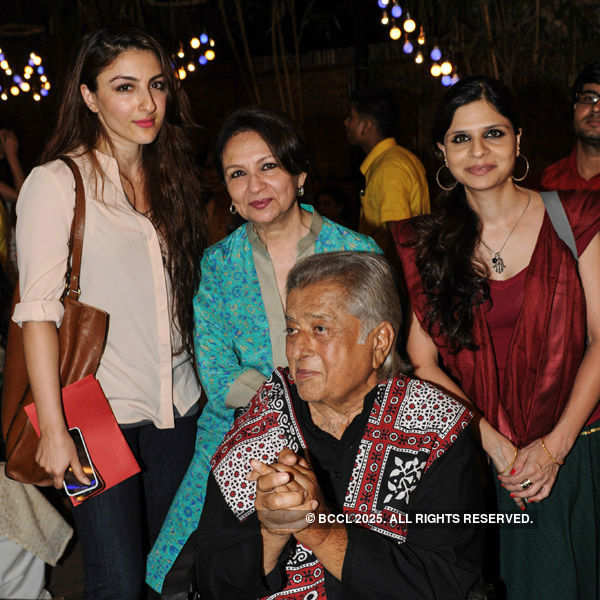 And Sharmila with Saif