One of my favorite things about Salman is how often he takes his shirt off!  And not just for film roles, but in life!  He just doesn't like wearing a shirt.
First, I'm just going to jump in with a whole assortment Maine Pyar Kiya pics.  Because those are clearly the best ones.
Okay, I feel kind of weird posting all those photos of a college kid character without his shirt (and Salman in real life when he was years younger than I am now).  Let's check out one where he is all mature and glasses wearing.  But still without a shirt.
Notice there is still some very very faint stubble here.  Now, I am STRONGLY of the opinion that Salman looks better with hair on his chest then with this new smooth waxed look.  See?  This is just WRONG!
Notice how his chest looks the same as all of the adorable small children surrounding him?  See, it would be much better if he had hair!
Speaking of small children, shirtless with a baby!
And a slightly bigger baby!
And, in a complete change of pace, shirtless with a gun
Speaking of manly, shirtless with his father!
Shirtless with a guitar is kind of manly too!  Although I don't know about the shredded pants.
And then there's this one, which is almost a girly pin-up version, one of those "Oh, I didn't see you there!  You have caught me unprepared" kind of poses.
And another one!  That is even more so!
And finally this one, where we can admire the presence of stubble as he shyly looks away from the camera.
Now, to end, these nice simple basic shirtless shot.  See, this is all we need!  No oil, no fancy jewelry, no big poses, just a nice basic body with no shirt.
And full length.
Another one!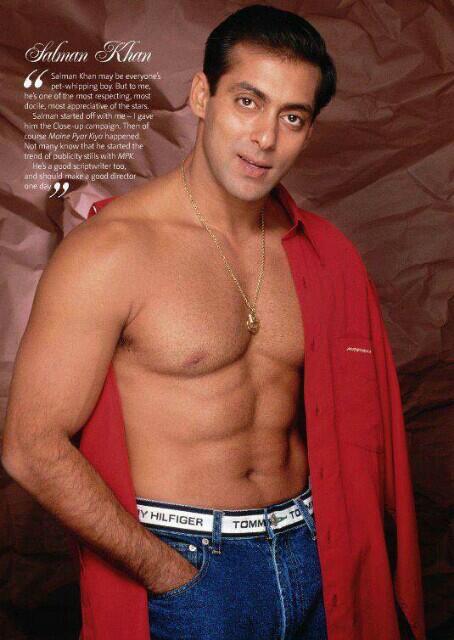 And another, also with the formerly worn shirt draped over his shoulders to sort of add context.
Another similar one, he doesn't even have to take of his shirt!  Well, "shirt".
This is of course my all time favorite photo of Salman.  Which manages to be both sexy and funny at the same time.  "sexy" because, well, look at him!  And funny because that pose, plus the undone button on his pants is just so so so so much!