Happy Sunday!  Datablue mentioned re-watching Ocean's 11 on the Wednesday Watching post, and of course that got me started thinking about how/why it should be remade in Hindi film.  And then I started thinking about all the other multi-starrer options from American film that really should be remade.
First, the one that inspired it all, Ocean's 11/12!
Plot is almost identical, we just have to throw in a flashback love song and an item number and a big crowd song.  And make the setting Dubai instead of Vegas.  Not hard.  Otherwise, Danny Ocean is released from jail, immediately starts planning a heist with his best friend Rusty and a group of other acquaintances, to steal from the casino of his wife's new boyfriend.
In the second half, we have Ocean's 12, we learn about Rusty's love for a woman who is a top investigator for Interpol, and the daughter of a master thief who taught her to hate criminals.  Also, casino owner from the first half is tracking them down and trying to make them pay back the money they stole, only possible if they pull off another series of heists.
Now, casting!  The fun part:
Danny Ocean (George Clooney): The cool guy, the one who always seems to know a little more than everyone else, the focus of everything, Shahrukh Khan
Rusty (Brad Pitt): the pretty one, the one just behind Danny as the focus, Hrithik
Linus (Matt Damon): Innocent, earnest, a little nervous, fun for Danny and Rusty to make fun of, Shahid Kapoor
Basher (Don Cheadle): Clever, talkative, has some great character moments, Nawazuddin Siddiqui
Frank Catton (Bernie Mac): Confident, city-slicker gangster type, Arshad Warsi
Turk Malloy (Scott Caan): Older brother always arguing with his younger brother, Sohail Khan
Virgil Malloy (Casey Affleck): Younger brother always arguing with his older brother, Arbaaz Khan
Saul Bloom (Carl Reiner): Wise old conman, mentor to the rest, and very entertaining, Amitabh Bachchan
Reuben (Elliot Gould): the bankroll for the operation, a sweet millionaire who just wants the boys to do well, Boman Irani
Livingston Dell (Eddie Jemison): Social anxiety ridden hacker, Rajpal Yadav
Yen (Shaobo Qin): Brilliant Chinese acrobat, Same cast
Terry Benedict (Andy Garcia): the owner of the casino, and new boyfriend of Danny's ex-wife, seems more reliable and responsible than Danny, but is revealed to care more about his Casino than about his girlfriend, Arjun Rampal
Tess Ocean (Julia Roberts): Beautiful confident classy ex-wife of Danny Ocean, current girlfriend of Terry Benedict, the secret reason for the whole heist, has to have immediate chemistry with Danny/Shahrukh, Rani Mukherjee
Isabel Lahiri (Catherine Zeta-Jones): gorgeous classy police officer, hates thieves, but conflicted because her father was a master thief, and ex-girlfriend of Rusty/Hrithik who he is trying to win back by convincing her to give up her hate, Kareena Kapoor
LeMarc (Albert Finney): Retired master thief, estranged father of Isabel/Kareena Kapoor, Randhir Kapoor
The Night Fox (Vincent Cassel): The rival thief Danny and the gang have to beat if they will win the bet and be able to pay back Terry Benedict/Arjun Rampal, Ranbir Kapoor
Next one!  R.E.D.  A surprisingly fun little film.
Our hero Frank Moses is a retired secret government operative who lives in a boring house in a boring town and his only human connection is with the woman he calls about his pension checks, they talk on the phone about the romance novels she is reading and her cat and everything else.  For mysterious reasons, the government sends an assassination team to take Moses out, he escapes and then goes to find the pension check woman, knowing she will be the next target.  They go on the run together, bringing in other older retired agents he has worked with, and trying to take down the cocky young guy who is coordinating the attacks on them.  In the end, they learn that the order to kill them came from the Vice-President, because their team had helped extract him after a war crime years earlier.  The young agent in charge changes sides and helps Frank and his team take out the bad guys.  In the end, Frank and his phone call woman start a new life together.
Once again, not much to change!  Add in a song here and there, change the setting to India, make the retired enemy spy who helps them Pakistani instead of Russian, finished!  But, casting.  Who to cast?
Frank Moses (Bruce Willis): Retired super government operative, now lives a small life, but is quick to fight back when he is attacked, Salman Khan
Sarah Ross (Mary-Louise Parker): Shy dowdy telephone operator who dreams of adventure and has a love story over the phone with Frank Moses/Salman Khan, Katrina Kaif (I know, I know, but I really like her with Salman and I really like her when she is kind of shy and dowdy, and this is both)
Marvin Boggs (John Malkovich): Extremely eccentric and paranoid and funny ex-partner of Frank Moses/Bruce Willis, Naseeruddin Shah
Joe Matheson (Morgan Freeman): Another retired partner, who resists being brought back in, but finally gives in thanks to his loyalty to his friends, Pankuj Kapoor
Victoria Winslow (Helen Mirren): Female ex-operative, still does occasionally contract work to keep her hand in, Sridevi
Ivan Simanov (Brian Cox): Victoria/Sridevi's love interest, former enemy agent, Rishi Kapoor
William Cooper (Karl Urban): The young agent chasing them, who ultimately changes sides and does the right thing, Arjun Kapoor
Vice-President Stanton (Julian McMahon): Seemingly ideal all-American type, actually hiding a secret in his past which was witnessed by Frank/Salman Khan and his team when they were sent in to clean it up, Arjun Rampal
These are all awfully actiony, let's get some estrogen in here!  Steel Magnolias.
Again, not many changes to the plot needed.  A group of women are friends in a small southern town.  It all starts on the wedding day of one of their daughters, and then continues for the next few years through life and death and birth and so on.  The "plot", such as it there is besides just watching these women hang out and talk, involves Sally Field's daughter, who is severely diabetic.  She marries, planning never to have children as a pregnancy could kill her.  A few years later, she decides to get pregnant against her mother's objections.  She survives the pregnancy, but it severely weakens her.  A few years later, she dies.
We keep that super sad centerpiece, put in a wedding song at the opening, a happy song when the baby is born, another wedding song when Daryl Hannah's character gets married, and a couple item songs.  And done!  The perfect movie.  Oh, and set it in a small town in the Punjab instead of southern America.
M'Lynn Eatenton (Sally Field): Warm, loving, the heart of her family and her group of friends, but with a strength hidden under her small size and soft manner, Jaya Bachchan
Shelby Eatenton Latcherie (Julia Roberts): Young, stubborn, loving, wants to live a regular life despite her disease, Alia Bhatt
Jackson Latcherie (Dylan McDermott): Very handsome, a little bland, agrees to marry Shelby/Alia despite her inability to get pregnant, but then seemingly changes his mind, a bit of a blank slate, Siddharth Malhotra
Drum Eatenton (Tom Skerrit): M'Lynn/Jaya's husband, seemingly a confident man's man who runs his own home, but in fact leans on his wife's strength when the going gets tough, Amitabh Bachchan
Truvy Jones (Dolly Parton): Pretty flirty owner of the local beauty salon, Sridevi
Ouiser Boudreaux (Shirley Maclaine): Eccentric neighbor of M'Lynn/Jaya, nemesis of Drum/Amitabh, but a tower of strength when needed, Kirron Kher
Annelle Dupuy Desoto (Daryl Hannah): New arrival in town, recently abandoned by her no good husband, looking for a new life.  Originally shy and dowdy and glasses wearing, moves on to enjoy being attractive and flirty, before finding religion and ending her journey engaged to the man she met the day she arrived in town, and committed to her church group, Katrina Kaif
Clairee Belcher (Olympia Dukakis): Wife of the former Mayor, unofficial first lady of the town, respected by all, but really only herself with her female friends, Waheeda Rahman
Spud Jones (Sam Shepherd): Truvy/Sridevi's trophy husband, supportive, loving, under-employed, Arjun Rampal
Sammy DeSoto (Kevin J. O'Conner): the nice young man who Annelle/Katrina meets the first day she arrives in town, who waits around through all her transformations, and finally ends up engaged to her, Imran Khan
And finally, the all time female ensemble cast, The Women!!!  The title says it all, right?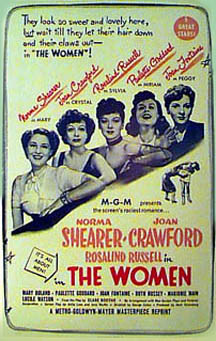 Our heroine Mary is a sweet housewife to a wealthy architect who learns her husband is having an affair with an shopgirl Crystal.  Mary's mother advises her to do and say nothing, wait it out, wait for her husband to come back to her.  Her nasty gossipy friend Sylvia tries to spur her own to action.  Mary finally decides to get a divorce, traveling to Reno where she meets 4 other women waiting for a divorce, sweet young Peggy, recently married, who quickly makes up with her husband as soon as he calls and apologizes.  Tough straight-shooter Miriam, on her second divorce, already planning to marry another man.  The Countess, a crass wealthy widow who after her first husband died and left her everything has gone through a string of trophy husbands.  And Sylvia, whose husband has left her, tired of her sharp tongue, but she is unaware that he left her for Miriam.  After Reno, Mary returns to New York.  She shares custody of her daughter with her ex and, through the daughter, learns that Crystal is being a bad wife and stepmother and her husband wants out of his second marriage.  She decides to go to war, and destroys not just Crystal (by revealing her affair with the trophy husband of the Countess), and Crystal, the hypocritical friend who helped ruin her marriage.  With The Countess and Miriam and Peggy cheering her on.
So, casting! (following tradition, no male roles at all)
Mary (Norma Shearer): Our heroine is actually the most boring role, perfect perfect perfect for 2/3rds of the film, and then finally breaking free.  Let's cast someone who can be likeable and believable and interesting, even when playing the perfect saintly wife: Juhi Chawla
Crystal: The evil other woman!  A much more fun role.  Let's give it to Kangana, let her really tear into it.
Sylvia: The funnest part, gossipy and stylish and shallow and even has a big fight scene with Miriam when she learns the truth about her husband.  Very hard to cast!  Oh!  Ramya Krishnan.
Miriam: The heart of gold wordly-wise one, let's say Rani Mukherjee.  In Saawariya mode.  And she gets to have a fight scene with Ramya!
Peggy: The sweet young innocent.  Sonam Kapoor?  Yes, I think that would work, if she doesn't have too many lines.
The Countess: Kirron Kher, obviously