I was running out of ideas, so I asked around, and a friend of mine from Delhi said I HAD to do this idea. And I couldn't resist! So, Shahrukh and the traditional 16 bridal adornments (Solah Shringaar).
0. Well, first there is kind of the pre-16 ritual, the bath.
1.1. And the first official Shringaar! The bindi. Surprisingly hard to find an image with him wearing it, but I like this one.
2. The sindoor! I couldn't manage an actual photo of Shahrukh with it on, but here is a still of him enacting the "ek chutki sindoor" scene.
3. Third, the Maang Tika, the jewelry that hangs from the middle of the part, sometimes with a further chain attached to go around the part. This is as close as I can come.
4. The Kajol! The eye make-up around the eyes, not the famous co-star.
5. Nath! Nose ring that is. Not a lot of options, this is all I am left with.
6. Earrings. Thank goodness a lot easier.
7. Necklace! The most important part of the bridal adornments. And only one possible option for SRK.
8. Henna!
9. Armband! Also, party favor idea for your November 2 celebrations (I'm not the only one who throws a party every year, right?)
10. Close as I can come to bangles (without reusing Asoka). His faithful Tag Huer!
11. Rings! Supposed to be further attached to bracelets and chains, but we will stick with just rings to make it easy. Oo! And this one has earrings and a necklace too!
12. Waist adornment, generally a gold belt, to emphasize the beauty of your waist. Which I think this cummerband does perfectly well.
13. Anklet! I think this is the best I can possibly do.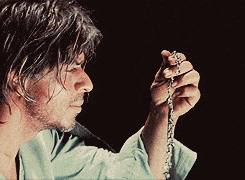 14. Toe ring. Hmm. I think this is the best I can do, if you consider Dips' hands as a ring. And Shahrukh's leg as an extension of his toes.
15. Fragrance. I can't really come up with a picture for this, but here is a quote from the comments from a lucky person who has met him.
I think the overwhelming aroma boggles the mind. But, I have poor senses of smell and taste so was handicapped somewhat. It reminded me of Christmas, gold, frankincense and myrrh. Now I know it probably wasn't but it was like that awe struck sensation of Christmas morning just being there.
16. Hair accessories. Totally forgot about this outfit in Happy New Year!
And that's it! 16 adornments.