My goodness October is busy!  And I suppose it is even more busy in the actual Khan household, with Gauri's birthday and then the anniversary and then Shahrukh's birthday.  Anyway, thanks to helpful reminders from the comments, I am throwing up a last minute anniversary post for them.  And since they are both incredibly photogenic, it's just a bunch of pictures.  And yes, this is in addition to the Birthday Countdown post I already put up.
(not in any particular order, just counting down so I don't lose count)
1.1. A young one when they were both still experimenting with looks, and "camera face".  I do not approve of Gauri's top (too busy) or Shahrukh's earring (too fake macho).
2. Similar era, much more natural and happy!
3. A classic.  Love how normal family feeling it is.  And how they don't care that Suhana is clearly picking her nose and Aryan is in the middle of a grouch.
4. Still don't care he is in a grouch!  By now it almost looks like a family joke, even Suhana is laughing at his "photo face"
5.  Obviously their wedding photos are great.  Still a little strange to me that we have access to these candid photos from a private event before he got famous, but whatever.  I love how he looks nervous and she looks perfectly calm.
6. Speaking of super early candid photos, LOVE THIS!!!  Again, Shahrukh is all nervous and worried and young, and Gauri's all like "oh whatever, it's fine, I'm cool, my boyfriend's stupid."
7. I know I just put this photo up earlier today, but I don't care, I still love it.  It's like the ultimate "first time parents!" photo.  They both look dead on their feet, especially Gauri, but also just so so happy and in love with each other and with their new fat little baby.
8. The candids are just the best.  They can do good photo shoots, but the ones where they are just caught at a party or an event and clearly are still enjoying being together even after 20 years, that's what I love.
9. Or, of course, 20 years ago when they were on a honeymoon that would never end.
10.  Okay, this isn't the most flattering photo of either of them.  Especially Shahrukh.  Oh Shahrukh!  Never dance like that.
11.  Okay, better.  How did Gauri get more gorgeous after two kids instead of less?
12.  Yep, Gauri is clearly the beautifulest person in this photo.  Partly because Aryan is making a funny face.
13. Aw, this is cute!  Back in the "can't keep our hands off each other even in public" phase.
14. Another one from that era.
15. Although part of that is also because it was back when Shahrukh was a little extra protective in public.
16. Okay, he's still a little protective.
17. But the fashion sense has certainly improved since then. White washed denim pants? Really Gauri?
18. Oh never mind, they are still super handsy too.
19. Although the dancing is less.  For one thing, I don't think Shahrukh's shoulders could put up with this any more!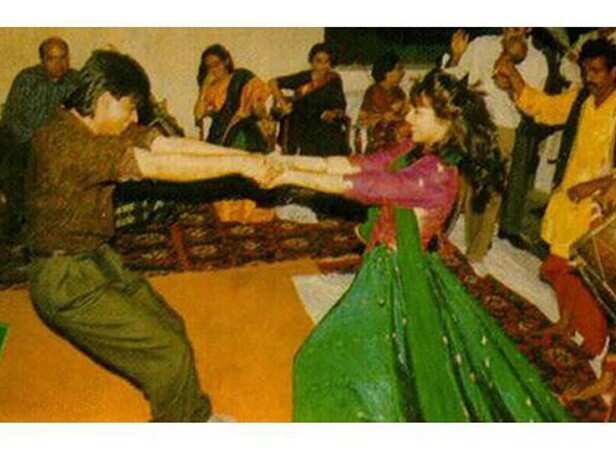 20. Although he can probably still make her laugh like this (so many photos from this era!  I think because they were both always together for Aryan and Suhana when they were babies, and then once he grew up a bit, Gauri started working instead of just hanging around film sets)
21. See?  Always on set, with the baby.
22.  Unlike now, when they just relax and have a nanny.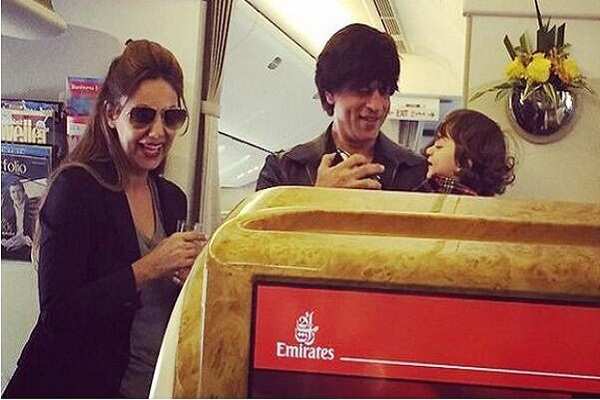 23.  And Gauri can build her on career and life.  See how much more relaxed and happy she is hanging out in her own store with Shahrukh as the hanger on in her life, instead of her chasing after his life?
24. Okay, this is mildly disturbing, Gauri with two Shahrukhs.
25.  Best of all, he still looks at her just the same, then and now.
26.  And to end, with the greatest video ever!  Well, maybe not that, but it is pretty good.