Even more news!  Announcements of upcoming movies primarily.  Which kind of makes sense, we are entering the spring doldrums, so now is the time to start your promotion campaign while nothing exciting is hitting theaters.
Sunny and Dimple are still A Thing
Sunny is starring in a movie to launch Dimple's nephew.  Dimple's sister, "Simple" had a tiny little acting career and somehow acquired a son who goes by "Kapadia", no father known.  That's interesting!  Oh, and the son seems to be about 15-20 years younger than Dimple's kids, which makes sense since Dimple became a mother when she was little more than a child herself.  Which means Simple's son, Karan, is now ready to be launched.  The big part of this story is the implication that Dimple and Sunny are still going strong.  Almost 20 years ago, Sunny's father launched Dimple's daughter.  And now Sunny is stepping up to co-star and help launch Dimple's nephew.  It's the kind of thing families do, or very doting stepfather's/uncles by marriage.  So I will rest easy tonight, taking this as a sign that one of my favorite unofficial middle-aged romances is still going strong.
(Look at them!  Holding hands at a bus stop in London a few months back, over 30 years and still going strong.  So cute!)
Krrish 4 is also A Thing
Hrithik's Dad announced Krrish 4 today for a Christmas 2020 release.  BOOOO!  Terrible news in a whole bunch of different ways.  First, it really feels like Hrithik has gotten everything artistically possible out of the Krrish/Koi Mil Gaya films at this point, I am not excited to see him go back to this dry well.  Second, I don't like that they are announcing the release date this early, I never like when announcements are this early, it leaves so little room for adjustment.  And third, most importantly, they are continuing the 1-3-4 pattern in numbering that makes my head EXPLODE IN ANGER.  For unclear reasons.
(THERE IS NO KRRISH 2!!!!!!!  THE WORLD MAKES NO SENSE!!!!!!)
Arjun and Sonu are a New Thing
Arjun Rampal and Sonu Sood are doing a film together, produced by Sonu.  A buddy comedy type thing titled Sarvgunn Sampanna.  I am delighted!  I want Arjun to work more and I am interested to see him in a comedy.  And Sonu seems like a solid guy, I trust him as a producer.
R.Balki, Kangana, and Amitabh are an untrustworthy Thing
I am less excited about R. Balki, Kangana, and Amitabh teaming up.  I trust none of these people.  Kangana and Amitabh are both brilliant, but they are very hit or miss in picking scripts.  R.Balki is just hit or miss in general, more often miss.  Cheeni Kum was great, Paa wasn't bad, but it's been downhill from there.  So, I will reserve judgement.
Ranbir Kapoor is an Unreliable Thing
Well, the Sanjay Dutt biopic release has been delayed AGAIN.  Just like Jagga Jasoos.  Hmmm.  I put Jagga mostly on Anurag as director, and only on Ranbir as a producer.  But Rajkumar Hirani is generally a reliable director, and Vidhu Vinod Chopra a super professional producer, so now I am wondering if it is Ranbir that is the fly in the ointment.  Because this movie has been in production now for something like 2 years, almost as long as I have been blogging, with no end in sight.  It's been bumped out another 6 months, all the way to June, but I'm not counting on that release date either.  6 months tells me they want to give space to bump it out again 3 months from now if they have to.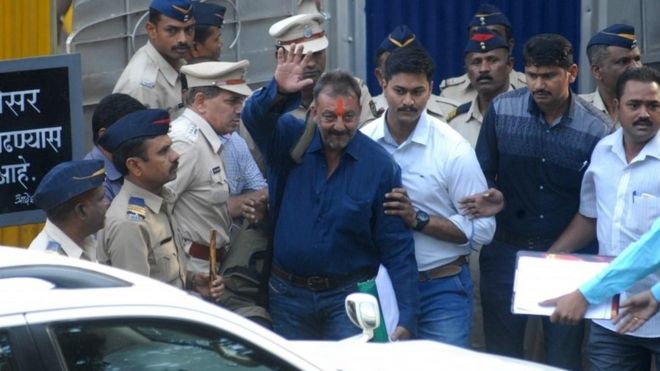 (Remember when Rajkumar was there to film his release from jail?  And Ranbir started growing out his hair and practicing his Sanjay look?  And we all thought the film might release that Christmas?  Remember that time TWENTY-THREE MONTHS AGO?)