Well, the FilmFare Awards happened.  We didn't get to see it because, unlike the Oscar producers, the FilmFare people are too smart to do a live broadcast.  We'll get to see a version that is edited down to just the good bits on whatever channel buys the satellite rights.  Which also changes a bit who might be winning these awards.
Some months back, Kangana made the "shocking" revelation that she was told if she wanted an award, she had to attend the award ceremony.  In his autobiography, Rishi revealed that he bought his first FilmFare.  But we all kind of knew this in the background.  Anyway, there is no true "objective" award, not for film, there are too many things involved for there ever to be an objective judgement of quality.  Any awards show has a built in prejudice of some kind.
(Obviously I have to start with this.  A sign of how "seriously" the people who actually attend and win this ceremony take this award.  It's nice to win, no one pretends it is an actual objective judgement of quality)
With the FilmFare Awards, there are two main concerns: a) getting people to perform who will drive up the satellite purchase price because the audience wants to see them, b) making nice to people that FilmFare wants to interview in their magazine in future.
And so the awards are an excellent sign of who has popularity and power in the industry.  And therefore important.  And maybe also a little bit objective quality, FilmFare wants to make nice with people on the way up as well.  Remember Zoya Akhtar won for Zamaane Ko Dikhane Hai?  Because they picked her out as a director/producer type to watch.  Definitely some of that going on here this year.
This year, the decision was that the audience was going to want to tune in, and FilmFare wants to make nice, with the smaller films.  This is the upside of the big films flopping!  If Jab Harry Met Sejal or Tubelight or Raees had been a hit, they would have taken a bunch of the top prizes.  More respectable than Tiger, they can give an award and still have an appearance of objectivity along with rewarding the big stars that they desperately want to attend.  However, they weren't big hits, no one would tune in to watch someone win for those movies.  And so FilmFare was left to hunt around for other options.
Best Film: 'Hindi Medium'
Woot-woot!  A legit award!  A small film with enormous crowd appeal.  But, here's something interesting, it did even better overseas than at home.  FilmFare is going after that international satellite audience.
Critics' Award for Best Film: 'Newton'
The Critics' award is usually where they put the more high-falutin' film, so the crowdpleaser can win Best Film and everyone can be happy.  For instance in 2016 the Best Film was Bajirao, and the Critics' Choice was Piku.  But this year, the Best Film was a high-falutin' narrow popularity film, and the Critics' Choice was even more narrow.  Not that they didn't both have good box office and all that, but nothing compared to Bajirao.
Best Actor In A Leading Role (Female): Vidya Balan for 'Tumhari Sulu'
This is slightly less surprising.  Female roles are so weak in the mainstream hits, that its not uncommon for this award to go to something a little more off-beat.  Vidya probably would have won this year no matter what, people like her and like seeing her make speeches and wear fancy clothes, and it was a fairly popular film.
Best Actor In A Leading Role (Male) : Irrfan Khan for 'Hindi Medium'
Very very interesting!!!!!  This is the big award where you usually bring in your big selling point star.  Not necessarily a Khan (although Shahrukh had a streak of winning practically every year), but someone exciting who people want to watch.  If Jagga Jasoos had been a hit, Ranbir would have been a shoe-in.  But it wasn't.  If Rangoon had been big, Shahid could have been another good choice.  But it wasn't either.  And so Irrfan is finally rewarded for being quietly excellent for years.
Critics' Award for Best Actor (Male): Rajkummar Rao for 'Trapped'
Yeah, even if Ranbir had won, Rajkummar still would have gotten this one.  A remarkable film and a remarkable performance that had to be acknowledged.  And also, a desire to suck up a bit to this rising talent.
Critics' Award for Best Actor (Female): Zaira Wasim for 'Secret Superstar'
I could have seen Zaira winning the straight up Best Actor if Tumhari Sulu hadn't come out.  She is definitely a rising star, and is being mentored by Aamir so it doesn't hurt to make nice.  And a lot of people saw and liked Secret Superstar.  The only downside is that she is a bit of a wild card in terms of public appearances. Might or might not come to the ceremony, might or might not make a good speech, and so on.  Whereas Vidya is a known quantity.

Best Director: Ashwiny Iyer Tiwari for 'Bareilly Ki Barfi'
Yaaaaaaaay!  This is an excellent sign.  That FilmFare thinks Ashwiny is on her way up, that people saw and cared about Bareilly enough to want to tune in and watch it win, and all the rest of it.  It could also be a tiny bit of sucking up to Ashwiny's husband, director of Dangal, but I choose not to believe that.
Best Debut Director: Konkona Sensharma for 'A Death in the Gunj'
Oh very nice, very nice!  Of course, Konkona is crazy connected, so there would be a lot of people rooting for her, but it also gives a stamp of approval to her as a director, which is very nice.  And hopefully gives a little publicity to her film.  Also, notice that both the Best Debut and the Best Director were female this year.  Suck it Hollywood!!!!!  FilmFare is better than the Oscars in Gender Parity!!!!

Best Actor In A Supporting Role (Male): Rajkummar Rao for 'Bareilly Ki Barfi'
Rajkummar won twice and yeah, that seems fair this year.  It really was his year.  And again, FilmFare is recognizing that and solidifying their relationship with him.
Best Actor in a Supporting Role (Female): Meher Vij for 'Secret Superstar'
Secret Superstar was a good solid hit nationally and internationally.  And Aamir is behind it, and FilmFare is still desperately trying to make up with him anyway they can.  But also, Meher's performance was just stunning.  She's been a bit on her way up too, made an impression in Bajrangi Bhaijaan and this just confirmed it.  She won't be a big heroine, but she could be another Reema Lagoo or Raakhee or Farid Jalal, a solid respected female character actress that is in all the big films.  Not a bad person to have on the TV screens, and not a bad person to have a little more willing to answer your call for interviews.
Best Dialogue: Hitesh Kewalya for 'Shubh Mangal Saavdhan'
Yaaaay!  Okay, these are the awards no one cares about that might be edited out of the broadcast, but that also means they are kind of the most honest.  These are the people that FilmFare and the industry sincerely admire for the work they have done this year.  And I am glad that little Shubh Mangal Saavdhan is getting some kind of respect.
Best Screenplay: Shubhashish Bhutiani for 'Mukti Bhavan'
Same as above, another award that won't increase your TV ratings, or ever have someone you want to put on the cover of your magazine, and so it is honest.
Best Original Story: Amit Masurkar for 'Newton'
And again.  Also, hey!  He wrote Sulemani Keeda which I have a vague friend of a friend of a friend connection with!  That's cool.  Especially since it was all about how the mainstream films are dead and so on and so on, and now he's winning a FilmFare which is about as mainstream as you can get.
Best Actor (Male) in a Short Film: Jackie Shroff for 'Khujli'
Now, this is FASCINATING!!!!!  The short film thing is a recent development and seems to be rapidly gaining popularity in a way it hasn't in America.  Short films made and released on youtube, with a full promotion lead by stars.  It's the "stars" that really make the difference, I think.  The Indian audience is more likely to follow stars where ever they lead, even if it is to somewhere new and strange.  And the Stars that can give you a solid promotional push just through a couple interviews.  The Oscar short films tend to struggle to get anyone to see them, while this FilmFare category is getting more and more competitive.
Best Actor (Female) in a Short Film: Shefali Shah for 'Juice'
See above.  Also, I lover Shefali Shah.
People's Choice Award for Best Short Film: 'Anahut'
This is what I find really fascinating!  That there is a "People's Choice" in this category.  And only in this category!!!!  The short films are what people are watching and judging for themselves, and care about who wins, while the other categories are more about the pretty gowns and speeches still.
Best Short Film (Fiction) : 'Juice'
I haven't seen any of these movies, and now I am beginning to think I should!
Best Short Film (Non Fiction): 'Invisible Wings'
Non Fiction!  The only non fiction film recognized by FilmFare.  Because the short films are something special.
Best Music Album: Pritam for 'Jagga Jasoos'
And now we get into music, and the mainstream.  Which is legitimate, even if the high quality films and performances are coming from around the edges, the best composers and so on are still more likely to be working on the mainstream.  And Jagga Jasoos is a legitimate win here, Pritam tried something really interesting and experimental there.  I personally don't think it was the best album of the year, but it was perhaps the most ambitious and it doesn't hurt to recognize ambition.  Plus to stay in good with Pritam, and Ranbir Kapoor.
Best Playback Singer (Male): Arijit Singh for 'Roke na ruke naina' – 'Badrinath Ki Dulhania'
It's a nice song, and Arijit always does a fine job, but this feels like a definite "sucking up to Dharma" award.  Or at the very least, "picking a song people know" award.  There were better songs this year, some of them sung by Arijit.
Best Playback Singer (Female): Meghna Mishra for 'Nachdi phira' – 'Secret Superstar'
This seems fair.  Secret Superstar's album, as a whole, may not have been a super stand out, but this song was.  And certainly Meghna's voice carried the whole film and that deserves to be recognized.  Plus it's a song people really loved, playing it again at the ceremony is not going to hurt anything.
Best Lyrics: Amitabh Bhattacharya for 'Ullu ka pattha' – 'Jagga Jasoos'
Good lyrics, catchy song.  Not the best of the year, I think, but not the worst.  I definitely would have gone with "Radha" here, both because it legitimately earned it and because it was so catchy and popular.  But I could also see being nervous, both Jagga and JHMS were flops, but JHMS seemed to inspire a sort of resentment and hatred which would run the risk of controversy if it were given any award.
Lifetime Achievement Award: Mala Sinha and Bappi Lahiri
Very nice very nice.  A sweet older lady who makes us all nostalgic, and you want to give it to her quick before she dies.  And Bappi, who is becoming kind of retro-cool, plus people will tune in if you do a medley of his old hits.
Best Choreography: Vijay Ganguly and Ruel Dausan Varindani for 'Galti se mistake' – 'Jagga Jasoos'
Okay, at this point Jagga has clearly paid them off.  I assume it has a TV premier coming up or some other reason to want to be in people's minds.  Because there is just no way it deserves all of these awards, or that FilmFare would risk putting the same flop film up over and over again if they weren't getting something out of it.
Best Background Score: Pritam for 'Jagga Jasoos'
See above.
Best Action: Tom Struthers for 'Tiger Zinda Hai'
Well, this is absolutely deserved.
Best Cinematography: Sirsha Ray for 'A Death In The Gunj'
Another one of those boring categories that no one will ever care about, so you might as well be honest.
Best Editing: Nitin Baid for 'Trapped'
Ditto.  And also, just based on the brilliant trailer which is all I have seen, this seems completely deserved.
Best Production Design: Parul Sondh for 'Daddy'
Period pieces are always good for things like this.  And it does look like he did a lot with very little money.
Best Sound Design: Anish John for 'Trapped'
Again, very deserved.
Best Costume: Rohit Chaturvedi for 'A Death In The Gunj'
Whaaaaaaat?  It looks like a very good movie, but I wasn't watching the trailer going "oh my goodness, the costumes!"  This is another one I might give to Jab Harry Met Sejal.  Or Tumhari Sulu or Raees.  There were no dropdead gorgeous clothes movies this year, but there were a lot that did interesting things through costumes.
And now let us take a moment for the categories that were not included!  Another way FilmFare gives itself breathing space, the award list isn't the same every year.  I think the Short Films categories are all new, either this year or last year.  And there is no Best Male Debut.  Or Best Villain.
The "Debut" categories are often controversial.  Because it is the area most likely to be given because of a pay off, or not to be given to anyone because there was no pay off.  Next year, assuming no dramatic upset, it is essentially a lock for the Dhadak couple, Sridevi's daughter and Shahid's little brother.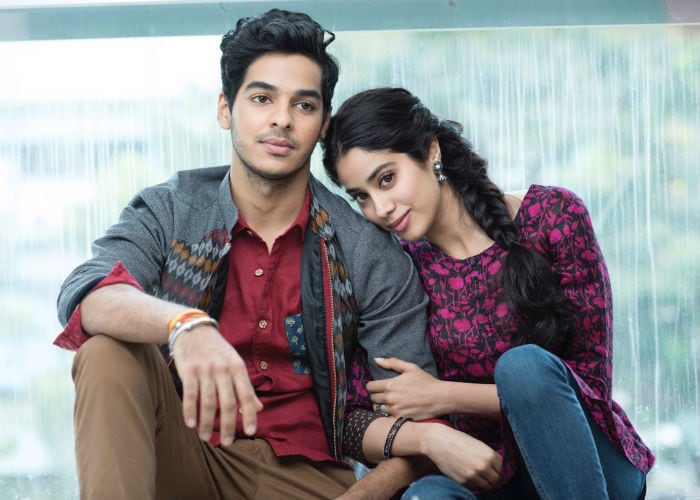 (Heck, maybe they will even deserve it!  But they will certainly be the most buzzed about and promoted young couple of 2018 just based on their families and the Dharma push behind them)
Oh, and they are also the ones most you go "wait, does that qualify?"  For instance, wasn't Zaira Wasim in Dangal last year?  So is Secret Superstar her "debut"?  It's her debut as a leading actress, sort of, so you can explain it.  But this kind of fussing with meaning is common in this category, "debut" is purposefully hard to define so they can give it to whoever they want.
"Best Villain" is the one I find more interesting not to be included.  It has not been awarded since 2007.  And it was my favorite category!  It meant that the awards were looking at the performances in terms of set character types, accepting and even trumpeting the different way Indian films were constructed.  There was "best villain" and also "Best hero".  But now, the definition has changed, it is not how well you inhabit a certain set character type but how you inhabit a character.  A rejection of the idea that there can be traditional formal character types, and plots, and everything else, and we should recognize excellence that exists within those frameworks.  Now you have to break out of the frame entirely in order to be acknowledged, anything so old-fashioned as to have a clear "hero" "villain" dychotomy cannot be acknowledged.
(Saif was last to win, for Omkara)
And this is why Tiger Zinda Hai cannot be recognized this year at FilmFare, despite being the biggest hit of the year.  If nothing else, it was a total lock for Best Villain.  Sajajd Delafrooz gave the exact kind of performance that "Best Villain" is meant to recognize.  He is the villain, absolutely, not some "anti-hero" weirdness, but straight up boo and hiss bad guy.  But he also gave an amazing performance, supported by the script, which made his villain fascinating to watch.  Last year, Jim Sarbh gave a similar performance in Neerja.  This year, no doubt Ranveer Singh will do something similar in Padmavat.  These character types have all kinds of reason for existing, and the mere fact that they are "types" doesn't mean they are easy to play, or write.  But they are also a sign of the older pre-literate tradition of performance that Hindi film excels at and which is looked down on internationally.  It's too bad that FilmFare is beginning to go more and more towards the international audience, being "respectable", instead of glorying in what makes Hindi films unique.