I braved the snow, a huge traffic jam, and using my moviepass card for the first time (it worked!  Like a little miracle) all so I could see this movie.  And it wasn't half bad!  As a movie.  As a "message" or as a version of the true story, it could have been improved, but as a movie it was a nice solid film.
The obvious comparison with this film is Toilet, the first part of the Akshay Kumar feminine hygiene duology.  And this is a much more satisfying narrative than that one.  There is a clear story line, two clear storylines, the personal and the professional as it were.  And the storylines move forward neatly, with an interval point breaking them in the middle, lots of songs at appropriate moments, and a good mix of characters.
I want to focus on the interval point first.  An interval is a unique feature of Indian films and, when used well, it should feel like a natural break, it should give us a moment to think about what just happened and prepare for what is happening next.  This is one of the best interval point films I've seen in years.  At interval, we change location, characters, and focus.  While still building on the story that was established in the first half.
This is the kind of thing that R. Balki can struggle with.  His films tend to have big simple concepts at the heart of them which don't translate well to breaking points and adding layers of complexity as the story continues and so on.  The excellent interval point here is one of the signs that this is less an R. Balki movie and more an Akshay and Twinkle Khanna movie.
I just speedread through Twinkle's first version of this story in her book The Legend of Lakshmi Prasad.  She met and spent a long time talking with the real person, Arunachalam Muruganantham, and then got his permission to slightly fictionalize his story and use it in her book.  And a few months back I read a lengthy article with Arunachalam Muruganantham telling his own real life story.  So I have those two previous versions to compare with this film, and it is very close to what Twinkle wrote.  There are certain aspects in particular which were completely invented by Twinkle for her story, and then changed slightly and carried through to the film.  And those aspects make it a better story.  A less "real" story (which I will get into in my No Spoilers review), but a better story with a clear beginning and middle and end.
(Here is the real husband and wife, very different from the filmi poster husband and wife)
Twinkle gave the framework already in her short story, Amit Trivedi (so glad his career is taking off) put in some excellent songs, and all Balki had to do was point the camera and follow direction.  And it was clear his direction was coming from Akshay not anyone else.  There are certain distinctive "Akshay" tactics that are used, especially in the first half.  The goofy village guy in love, the dopey smile, the loving protective brother, and on and on.  The start of the second half has a similar issue, but quickly the tone shifts and it becomes something that feels more "real", and less "Akshay" as the story takes over, the elements from the real story that are most important and were the real point that Twinkle wanted to make are allowed to shine while Akshay takes a back seat.
Twinkle even gives us a stand in for herself in Sonam's character!  A totally invented person who wasn't in the "real" story, but was in the book version (with some slight variations).  She is modern and smart and freethinking and can see the goodness inside of Akshay.  In a funny way, it feels like you are watching Akshay himself and Twinkle together onscreen in that part.  The confident outspoken woman and the simple happy loving man.  And you are also watching the team behind the film we are seeing onscreen right now, one of them with a clear vision of the message she wants to convey and the various themes of it, and the other with an idea of how to make it popular down on the ground, the nuts and bolts of putting it together.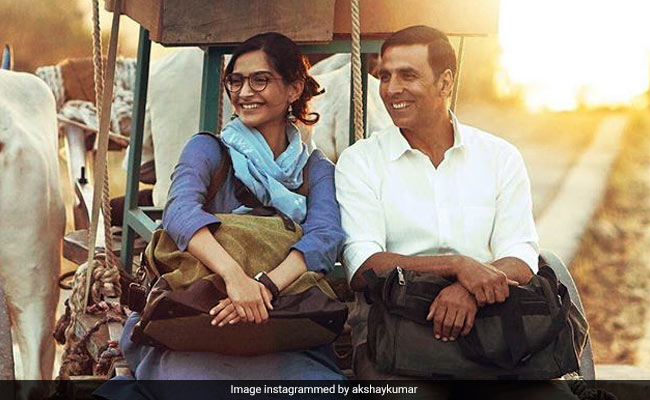 Which brings me back to the first half of the film.  That is where it feels like Akshay's vision of how to make it popular, supported by Balki's tendencies towards minimizing issues into simple comic set pieces, do the greatest damage.  Twinkle's voice is most lost, reading her story I can see that the themes she wanted to be there were somehow missing.  Until they came roaring back in the second half.
But over all, as I said, it is a well-constructed film.  And avoids many of the issues I had with Toilet, most importantly that feeling that the film kept going in different directions and was torn in pieces.  This is a film that is all of one piece, all fits together.  And it is a film which doesn't hide the female voice (thank you Twinkle!) even if the promos focus most on the male voice.  And it is a film where the momentum keeps going straight through, no plot point is forgotten or missed, and it all comes together at the end.  Comes together abruptly, but that's another classic Indian film ploy, to end suddenly so you leave with a smile on your face and don't get caught in traffic.
There is one big overall non-spoiler issue that I have with the film.  I am not sure who it has been made for.  There is so much English dialogue, which makes me think it wasn't entirely made for the heartland.  Especially because it presents a very "filmi" version of village life that I am not sure would be believable or appreciated by people actually living in villages.  To a large degree, like Dangal, it has the clear purpose of teaching men to be better to women.  Not erasing women from the story exactly, but rather putting the responsibility on the men in their lives to understand them instead of explaining women to themselves.  But the most outspoken woman in the film is of course Sonam, the Twinkle stand-in, wealthy and over-educated and English speaking.  So it seems as though the film is for and speaking to both men (of all classes) and the highest class of women.  Perhaps the goal is political change?  Akshay has been focusing in his interviews and so on, on the sales tax/GST leveyed against sanitary pads.  And to change that, you have to convince the few wealthy powerful women who have a voice in politics, and the many many men of all levels.
What does seem to be the case is that it was not made as propaganda for the current government.  Unlike Toilet which egregiously name-dropped, and erased all Indian leaders before the current party, and otherwise was a transparent attempt to please those currently in power.  But this film was propaganda for the more general "made in India" concept, and innovative capitalist based solutions to problems.  Which, yes, is something the current government is pushing, but it is also a narrative that has been in place since Gandhi and through all subsequent leaders.  It is a basic part of the "Indian" national identity, pride in their innovators and in solving big problems with simple handmade and hand powered machines.
So, over all, if you want to only watch one film in which Akshay gets overly involved in his wife's bodily functions, definitely definitely definitely this film rather than Toilet.  In every way, story and songs and characters and performances and message, this is the better choice.