My first fanfic post was very long, had no SRK, and only had one story option.  All of these things have resulted in the past in a lack of interest from the readership.  So to make it up I am going to do something short, with a lot of options, and lots of SRK.
Kashmiri Super Soldier Shahrukh and Strong Village Woman Tabu
Okay, I know there are complicated things in Kashmir with the army and stuff.  But don't worry!  I have a way to make this work!
Shahrukh is an extra special soldier, assigned directly to the ministry of defense.  He was sent to Kashmir to investigate accusations of misconduct against the soldiers.  "Officially" he is there on an information gathering tour, but the soldiers know what is up.  They take him out on patrol, beat him up, and abandon him.  To be found by Kashmiri strong widow woman Tabu.
(Cool experienced soldier Shahrukh)
Tabu takes him back to her house, where her children want to kill him because "soldiers are bad and killed our father", but Tabu stops them and tells them that all killing is bad, death is the real enemy, and they will fight that enemy off from Shahrukh.  Tabu cleans his wounds and watches him through the night.  She sneaks in a doctor, so the neighbors won't know she has a soldier in her house.  Shahrukh hallucinates through the night, but sees her in his dreams.  The next morning, he wakes up to find the two kids staring at him and makes faces at them.  He flirts slightly with Tabu, who realizes he is high on painkillers and ignores him.  Eventually he comes back to himself a little more and talks with her a bit, asks about the childrens' father and learns he was killed by soldiers, and sincerely apologizes.  The cabin is snowed in for a week and they start to get close.  But then, the kids say something by accident at school, and the rest of the village finds out there is a soldier at Tabu's house.  They come, ready to drag him out.  Shahrukh tells the children to hide under his bed and pulls out his hidden gun, ready to defend them.  But before he can, Tabu goes out and talks to her people and convinces them to go away, argues that they should choose peace, that Shahrukh himself, the individual person, has done nothing to harm them.  They disperse, and Shahrukh is even more intrigued by Tabu.
As he gets better, they get closer and closer, but eventually the snow around the village melts enough for Shahrukh to walk to a phone and Shahrukh is able to get in contact with his boss in Delhi.  And is ordered to return to his mission, to pretend to have no memory of what happened, to believe he was attacked by separatists and be filled with a desire for revenge.  Play the soft Delhi type who has never experienced violence before and now has an unhealthy thirst for it.  Shahrukh returns to the village to find a patrol there and realizes he has to start his new identity now, joins them and becomes a thoughtless aggressive soldier type, while Tabu watches in horror.  He goes back to her house to get his bag and say good-bye to the kids, but can't explain fully what he is doing, and she slaps him for the terrible things he said about Kashmiris in the town square and sends him away.  Until, 6 months later, she sees coverage on television, the greatest internal affairs investigation in the Indian Army history, and the key testimony given by…….Shahrukh!!!!  And in his testimony he gives a stirring tribute to the people of Kashmir, their resilience, their strength, their wisdom, their kindness, their beauty, clearly talking about Tabu.  Tabu is struck, and goes to the one telephone in the townsquare and calls Delhi trying to reach him at the number he left.  But is told he has resigned his commission and no one knows where he is.  She goes home, sad, and hears noises inside.  And enters to find Shahrukh playing with the two kids.  She rushes into his arms.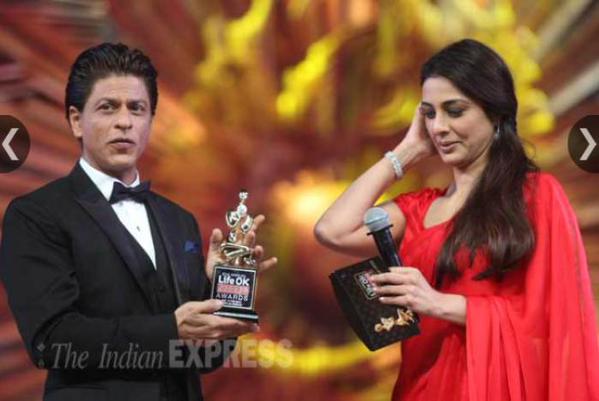 (They have such a great strong mature vibe together)
Workaholic Shahrukh Snowed in at Holiday Resort with Single Mom Juhi
Juhi is a harried single Mom trying to run a guest house at a snow town while running after her 3 kids.  Shahrukh is a workaholic businessman who is on his way to a conference at a luxury resort.  But on the way he runs into a massive snow storm and the car slides off the road into a snowbank.  Humorously cursing and complaining, he gets out of the car and walks to the nearest lighted house, which turns out to be Juhi's inn.
There is much humor as he complains about not having high speed internet, or expresso for breakfast, or all the other luxuries he is used to.  The kids are bored too, since there is too much snow for them to even go out and play in it, and the power goes out so they can't watch TV either.  At first the 3 kids and Shahrukh get into a prank war, but finally they make peace when Juhi throws them all out of the house with snow shovels and tells them that they can't come back inside until the whole drive out to the main road is clear.  They start shoveling unhappily, it turns into a snow fight, they all exhaust themselves and come back the best of friends.
As the snow continues, the roof starts to leak.  Juhi spends the night going around replacing buckets and Shahrukh hears her and silently takes the buckets away from her and makes her go to sleep on the couch, putting a blanket over her.  It is a simple act of kindness because he appreciates how hard she is working, but in the morning when he wakes up on the floor next to her, having moved buckets all night, he sees her sleeping face in the sunlight and is suddenly struck by her incredible beauty.  Over the course of the next day, he can't stop looking at her, and he starts to give her the sex eyes over morning coffee and while he is supposed to be playing with the kids.  That night, after the kids are asleep, he brings her hot chocolate and asks if they can talk for a while.  They sit up all night, talking, and eventually he kisses her, and then backs away. She stands up and starts to walk to her bedroom, then looks back over her shoulder and signals for him to come with her.
The next morning, Shahrukh wakes up in Juhi's bed, happy and confused and rumpled.  Juhi is gone, he sneaks out to look for her, grabs her from behind and kisses her neck, but then the kids come around the corner and he has to back off.  The kids are all excited because the radio says that the roads are clear.  And the internet is back up.  And just then Shahrukh's forgotten smart phone starts ringing, the oldest kid answers it and hands it to him, so Shahrukh has to answer as well, the world is closing in.  Before he has a chance to talk to Juhi, his assistant is there with a new rental car, ready to take him away.  And, worst of all, the assistant tries to pay Juhi, which she misunderstands and refuses the money with anger, and so when Shahrukh comes back to talk to her, tells him that he was just a good time for her, it gets lonely with just the kids, she has needs, but he can leave now.  Shahrukh goes home, but is missing her, and Juhi is missing him.  Until, finally, he shows up just as the snow starts to melt, to ask if he can marry her and help her run her "funky little inn with her three crazy kids" (the insulting description he used when he first arrived).
Shahrukh as Bodyguard/Fixer and Anushka as Fake Mistress
Shahrukh is a tired ex-soldier turned security specialist for a big Ambani type company.  He hates his job, but not quite enough to quit, and the money is good, and he has a kind of indulgent big brother feeling towards his boss.  His newest assignment is to take his boss's mistress out to a remote vacation house in Switzerland and keep her there until she agrees to a pay off and a non-disclosure agreement, because she is making a fuss.
Meanwhile, the mistress is next door neighbors with Anushka Sharma.  Anushka has a tiny one room apartment, the mistress has a huge luxury flat.  But the mistress (let's say Neha Sharma) is always over at Anushka's place because it is "homey" and it reminds her of her favorite aunties apartment.  Anushka has been her sounding board and emotional support during this whole thing, and now Neha is explaining that she is finally going to take Anushka's advice, she is going to marry that nice boy she met on the bus, but she can only do it if she has the start up cash from the pay out from her old "boyfriend".  Only, she can't go to the resort for the meeting and cash because her boyfriend has a job in Dubai and they have to leave right now.  Neha knows her old "boyfriend" won't be there because he doesn't do anything messy or complicated like this, so no one will recognize her.  All Anushka has to do is show up, pretend to be Neha, sign the paper and take the money.  And she gets a free trip to Switzerland out of it!  Anushka feels bad for Neha, and wants an adventure, and so agrees.
(The kind of light farcical misunderstanding these trailers promised but we didn't quite get)
So Shahrukh shows up in Switzerland ready to look down on this woman who wants a pay out, and Anushka shows up in Neha's sexy clothes putting on her best fake "other woman" kind of attitude.  The first meeting goes terribly, Anushka decides to refuse to sign until the next day just because she is so mad at Shahrukh, and that night the lodge is snowed in so they are stuck together until the snow clears.  Slowly, Anushka's fake attitude slips away, Shahrukh softens too, becoming less boring and professional, they sing old film songs to each other and have snow fights, and Shahrukh asks her why a "nice" girl like she clearly is ended up turning "bad" and Anushka spins a whole fake story of seduction and deceit and dying relatives.  It all comes to a farcical conclusion when Shahrukh's boss shows up after the snow has cleared, and Shahrukh punches him in the face and gives a long speech about how he shouldn't have seduced this innocent woman and so on and so on, until finally the boss can manage to talk again and says that he has never seen Anushka before in his life.  And Shahrukh is fired.  And the boss may be suing both of them.  Shahrukh looks at Anushka all betrayed, but she is all upset and can't find the words to explain.
Cut to 6 months later, Shahrukh in his tiny private investigator office gets a letter telling him he has won a free trip to Switzerland.  Anushka, in her boring cubicle computer job, gets the same letter.  They both show up at the lodge, are given the room key, notice it is a suite, walk into the central room and find each other.  And then see Neha Sharma!  She explains that this is all her fault for being too cowardly to just face her ex herself, so she wants to fix it too.  And she explains to Shahrukh that Anushka is a nice girl and a good friend who was just trying to do her a favor and maybe got a little carried away, and Shahrukh wasn't helping by assuming the worst.  And she explains to Anushka that Shahrukh isn't as old-fashioned and close-minded as he seems, he helped her get that money after all, he tracked her down and helped her.  And then Neha tells them that she can't make it snow, but she's tried the next best thing, the hotel staff have orders not to let them out of these rooms until the next morning. And then Neha leaves and closes the door behind her.  And Shahrukh and Anushka look at each other kind of awkwardly, and then finally Anushka holds out her hand and says "Hi.  I'm Anushka."  And Shahrukh smiles and holds out his hand and says "Hi.  I'm Shahrukh" and it is clearly a new beginning.
Okay, which do you like best?  Casting thoughts?  Plot changes?