Yaaaay!  A super fun one inspired by Sonam's Party of the Century wedding earlier this week.  Wedding dresses!  Combining both the full formal wedding sari, and the fun reception outfits, so we get two sets of dresses to gaze at.
Preity Zinta
Formal dress is fine, and I like that her White Dude committed to wearing a matching outfit instead of trying to get by with just a suit.  Also, super cool that there are little pictures in the embroidery, I love it when embroidery tells a story.
But the reception gown I LOVE.  It's going to be the one to beat so far as I am concerned.  Bridal red, flowing and gorgeous, makes her stand out immediately without looking like it is trying.
Full length
Kareena Kapoor
Kareena's formal wedding sari was an antique from Saif's family.  The light green trim around the bottom is very distinctive.
Here are Saif's parents recreating their wedding for an anniversary (I assume)
But then Kareena got to be a little more fun for her reception, pink on pink on pink.
Genelia D'Souza
Genelia D'Souza was a fun one, because it was cross-religious, so 3 dresses!  Two religious ceremony ones, and one party one.  Here's the Christian wedding dress, reception sari.
And formal wedding sari
Anushka Sharma
Then there's Anushka's wedding of course.  Pink instead of red, maybe being out of the country made them feel free to be untraditional.  And I love the petticoats under the skirt and the nice round shape to it.
Her Bombay reception outfit which I think is TERRIBLE.
But then the Delhi outfit is maybe too formal?  Or too mature?  Too something.
Samantha Ruth Prabhu
Going down south for another cross-religious wedding with Samantha Ruth Prabhu.  And oooo, I really like this dress!  I think better than Genelia's.
Her engagement sari kind of matched, white with gold.  But I think I like the dress better.
Another antique family sari for the ceremony.  It's fine, but you don't get a full length pic because I am IN LOVE with this photo.
And then her reception outfit, which I think is my least favorite.  I would have voted for just wearing the engagement sari again.
Nazriya Nizam
While we're down south, check out Nazriya Nizam at her wedding!  Oh my gosh, she looks like a little doll.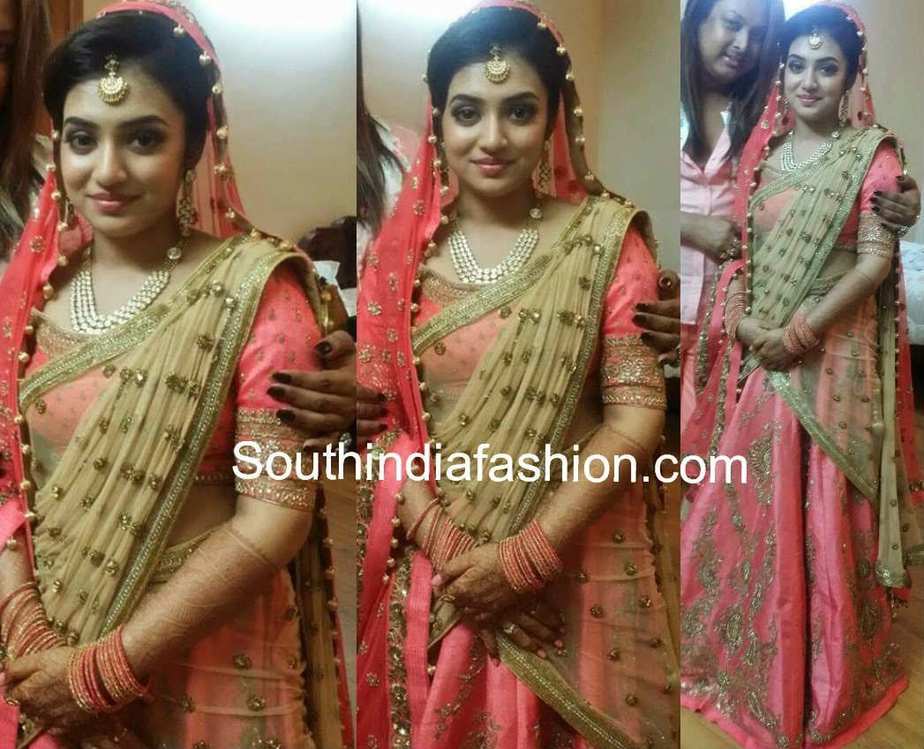 But happy!  Interesting that the half-sari was the reception outfit.
The actual ceremony, so far as I can tell, was in this outfit.  Which looks like a separate skirt and top, but the top matches the top of the skirt?  Which confuses my eye.  But I still like it!  Especially the nice floaty skirt.
Shilpa Shetty
Starting at the bottom, gotta say that her reception outfit really really doesn't work for me!  Or for her, based on how she is tugging at it.  Although I do like the skirt fabric, I just don't like what was done to it.
The actual wedding outfit thought, perfectly nice and acceptable and fitted and flattering and all those good things.
Lara Dutta
Interesting mix, full white wedding dress.
And then a registry marriage outfit.  I think I might like the lowkey registry outfits better than the full dress?
Soha Ali Khan
I don't think she got stuck with an heirloom sari, this looks modern to me.  And maybe with a petticoat like Anushka's?
And then the reception was almost casual (comparatively)!  And I kind of love it?  The hot pink is so young and fun.
Okay, I could go on and on, but I am exhausted!
Here's the question, if you were putting together your perfect wedding, what would be your:
White Wedding Dress
Definitely Samantha.  I love the way the little sparkly bits go down onto the skirt.
Formal Ceremony Outfit
Kareena.  I make fun of the antiqueness, but if you are going to go formal, why not go really really formal, you know?
Fun Reception Outfit
Preity is still the winner.  I just love that dress!
Bonus question:
What groom makes the best accessory?
Well, White Dude looks slightly uncomfortable, Saif's sword would distract from my outfit, Ritiesh is too dopey looking when he is happy, Virat's hair is too adventurous for my taste, Naga Chaitanya is too dopey looking also, Fahad is too short, Shilpa's husband has messy facial hair, and Kunal Khemu is wearing earrings.  So I guess Lara's guy!  Surprise come from behind winner!  Congrats Mahesh Bhupathi, and also Lara I guess on an excellent taste in grooms.
(He may be an international Tennis Champion, but the DCIB "Best Groom Accessory" award is the one that really matters)