You know how sometimes you just need a little jolt of anger around mid-afternoon to keep you going?  Not big anger about stuff that actually matters, but just gossip news incited anger.  I am here for you!
Prernaa Arora is That Particular Kind of Rich Lady Horrible
Prernaa Arora, co-head of KriArj, who wears incredibly expensive clothes and talks about being young and thinking outside the box and breaking the standard business practices.  And is also a wealthy producers daughter who was essentially handed her production studio at age 26.  We already know she thought it was okay to take payment for products that were not her own (oh, by the way, another lawsuit against KriArj for selling rights on behalf of film producers without having purchased them in the first place), and to not bother to pay her partners who were actually making the products.  A particular kind of rich MBA horrible.
And now there's a new story, she is also that particular kind of rich lady horrible.  Her masseuse is suing her.  A female masseuse, who was put on salary and expected to be on call midnight to 8am.  She went five months without her promised payment, finally demanded her salary, only for Prernaa to become physically abusive towards her.  She filed suit, and now Prernaa is saying she is a thief and a liar.
Without any other context, I would be open-minded and wait to see this play out.  But seeing as this is Prernaa, who already reacted to John Abraham's law suit by calling him inexperienced with no knowledge of production, before finally agreeing to an out of court settlement, I think I am siding with the maid.  Prernaa is just like that I guess, one of those almost sociopathic rich people who are so used to only thinking about their own needs, and to money being something that appears from the air, that it doesn't occur to them that for other people, money is an actual necessity that needs to be paid as promised (oh, and the masseuse wanted the money to help pay for her husband's cancer treatments.  Those poor people, so frivolous!  Prernaa needed it for important things, like super expensive clothes for another photo spread about how she is the future of the industry) (full story here)
(Not that I am shaming women for buying expensive clothes, just that Prernaa in particular always dresses soooooooooooo fancy in her photospreads and is so perfectly turned out, and then her finances and businesses seem like a total disaster.  Her priorities are just upside down)
Akshay Kumar is playing Prithviraj Chauhan in a Film Focusing on the Prithviraj/Sanyukta Love Story
Now, if that last story didn't give you that nice "righteous anger" jolt, I have another option for you!  More info on the Yash Raj historical with Akshay.  Akshay is playing Prithviraj Chauhan, supposedly, and the film will focus on the love story between him and Sanyukta, yet another totally made up historical romance.  So, there's one thing to get mad at, that they can only make historical movies about romances.
And here's a second thing, Akshay?  Really?  I just cannot picture him as a historical figure.  For one thing, I think he looks really bad in traditional clothing.
Oh, and a third thing, this looks like to be YET ANOTHER historical bemoaning the loss of the "Hindu culture" and the wrongness of the "Muslim invaders".  Which irritates me personally because I can't stand the politics of it, and also because I can't stand the bad history of it.  It wasn't "Hindu India" and "Muslim Invaders"!!!!  There wasn't an "India" to be Hindu or Muslim!  It was just a group of warring states, some of whom shared a religious tradition and some didn't. (story here)
Priyanka Fake Quotes Bringing up SRK Fake Romance Again Some More
This Nick Jonas thing is bringing the PC/SRK rumors out of the woodwork again, and once again I find it really gross.  Whoever is doing it (PC, her team, random media making stuff up), it's just yucky.  They are creating a narrative that makes any idea of marital love seem false, true love can only be in the affair, and lasts forever and ever.  And Priyanka, the Other Woman, is the victim, with Shahrukh, the Married Man, as the second victim.  His wife, his kids, they are just inconveniences in the path of True Love.  Who thinks like this????  What a disgusting story to think is acceptable.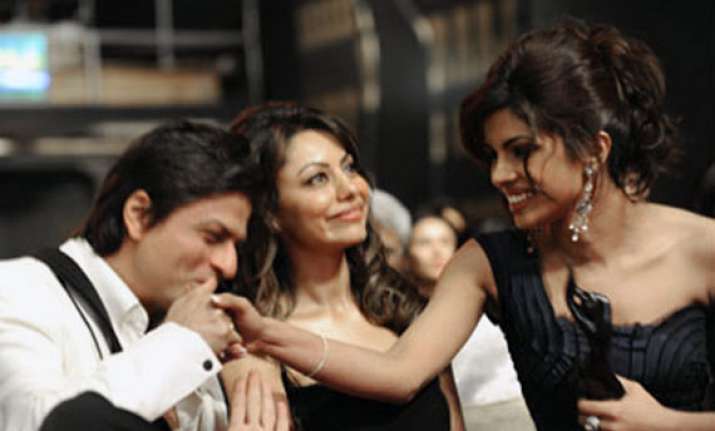 And to make it even grosser, bollywoodhungama went ahead and compared it with Raj-Nargis-Sunil Dutt!!!!!  Because I certainly look at Nick Jonas and Priyanka and think "oh yes, just like Nargis and Sunil" (sarcasm).  Not to mention the vast difference between Raj and Nargis' publicly acknowledged married-in-all-but-name relationship, and the no more than rumored fragile and unsubstantiated SRK and PC romance. (story here)
Quote from "friend":
"When this superstar couldn't offer her the stability of marriage, and still wanted the relationship to continue, Priyanka did a very brave thing. She put an end to the relationship firmly and moved on instead of hanging on to a relationship with no future."
Conclusion by BH:
The resolute stand taken by Priyanka Chopra over a relationship that had no future echoes what the great Nargis did when Raj Kapoor couldn't offer her the security of marriage. Nargis firmly terminated all personal and professional association with Raj Kapoor and married Sunil Dutt.
I just can't believe that PC and Shahrukh, if they had a relationship, had anything that would ever conceivably have resulted in marriage.  This isn't an innocent PC being seduced with promises of love and marriage, because there's no way that was in the cards, Shahrukh is just not going to get a divorce.  Even if he was passionately in love with PC, which I also doubt based on the fact that every move he makes is obsessively tracked by the press and they haven't been near each other in years.  And if she has been patiently heartbrokenly waiting for him to call for the past, what, 7 YEARS????  Until finally being won over by the noble soul that can heal her wounds, Nick Jonas.
It's just insulting, is what it is, that we are actually supposed to believe this version of events.  COME ON!!!!
Oh, one more thing, if you are new to Indian news press or never really thought about it that much, it's important to know this story is coming from BH.  They aren't respectable or worthwhile or intelligent or anything, but they are slightly less willing to get on the bad side of celebrities.  They don't usually print this sort of incendiary gossip, which means someone somewhere is giving them the nod that it is okay.
And I am thinking it is likely Priyanka's team because there is no advantage in Shahrukh doing it.  And this is what this story has been like for 7 years, obviously fake stories (again, not saying it is impossible they had an affair at some point, just this version of 7 years of a serious relationship is clearly fake) that make Priyanka look noble showing up in slightly more respectable sources indicating they are being fed and confirmed by someone, not just made up randomly.
Oh, and coincidentally, BH also had a news item today that Priyanka is publishing an "honest" memoir to come out next year.  Gee, do you think keeping this story alive might possibly help her book sales? (sarcasm)