This is almost as indulgent as when I rewrote The Philadelphia Story.  Who in this day and age and on an Indian film blog knows the movie All About Eve?  To the point of remembering all the details of the characters and themes and stuff?  Oh well, it makes me happy, and keeps me tied to me roots (my roots being American movies before 1960 which were what I watched exclusively for the first 18 years of my life).  Anyway, Procrastinatrix suggested the idea, so I know she at least will be interested.
The original movie is fabulous and unique and perfect, and you should really watch it if you haven't already.  But just in case, I will give the plot briefly here:
Bette Davis is a famous talented aging Broadway actress preparing for her next play.  Her best friend is the wife of a playwrite she works with, and her serious boyfriend is the 8 years younger director of her play.  Her closest companion and protector is her maid.  Into this tight little group comes "Eve", a young woman who tells a tragic story of growing up on a farm, falling in love and running away, then being widowed and having nothing but her love of the theater and her passionate fandom of Bette Davis.  Bette is touched and hires her as an assistant.

Eve doesn't do anything really wrong, but Bette slowly starts to dislike her without being able to explain why.  She seems too good, too humble, and Bette catches her trying on her costumes and pretending to be her.  Bette tries to get her hired by her producer, but instead Eve maneuvers to be made Bette's understudy.  Bette begins to be openly hostile to her, and her friend (the playwrite's wife) feels sorry for Eve and befriends and supports her.  Culminating in her keeping Bette out of town so Eve has a chance to go on in her place.  Eve secretly invited critics and producers that night to see the performance and her career is made.  She also attempts to seduce Bette's boyfriend, the powerful director, but he is disgusted and rejects her.

Eve finds a sponsor in George Sanders, a powerful acerbic critic.  She maneuvers her way into taking the next role written for Bette and ends up attempting to seduce the playwrite, betraying his wife who helped her.  She runs to Bette in misery and apology as she sees her life falling apart, Bette understands and sympathizes.  Eve reveals her plan to George Sanders, to marry the playwrite and force him to write more and more plays especially for her.  George Sanders laughs at her and reveals that he knows her true past, a sordid life of being paid to leave her small town by the wife of a rich man she had seduced, no marriage, no widowhood, no nobility.  And unless she wants him to reveal everything to the world, she will obey him from now on.

It opens and begins with a flashforward to Eve winning an acting award, as all those who she betrayed and hurt look on and roll their eyes.  Eve then returns home to find a young woman waiting for her, her "fan" who just wants to be like her.  Eve hires her as an assistant, and leaves the room, only for her to pick up the award and stand in front of the mirror pretending it is hers.  The story continues, Eve will be betrayed just as she betrayed Bette.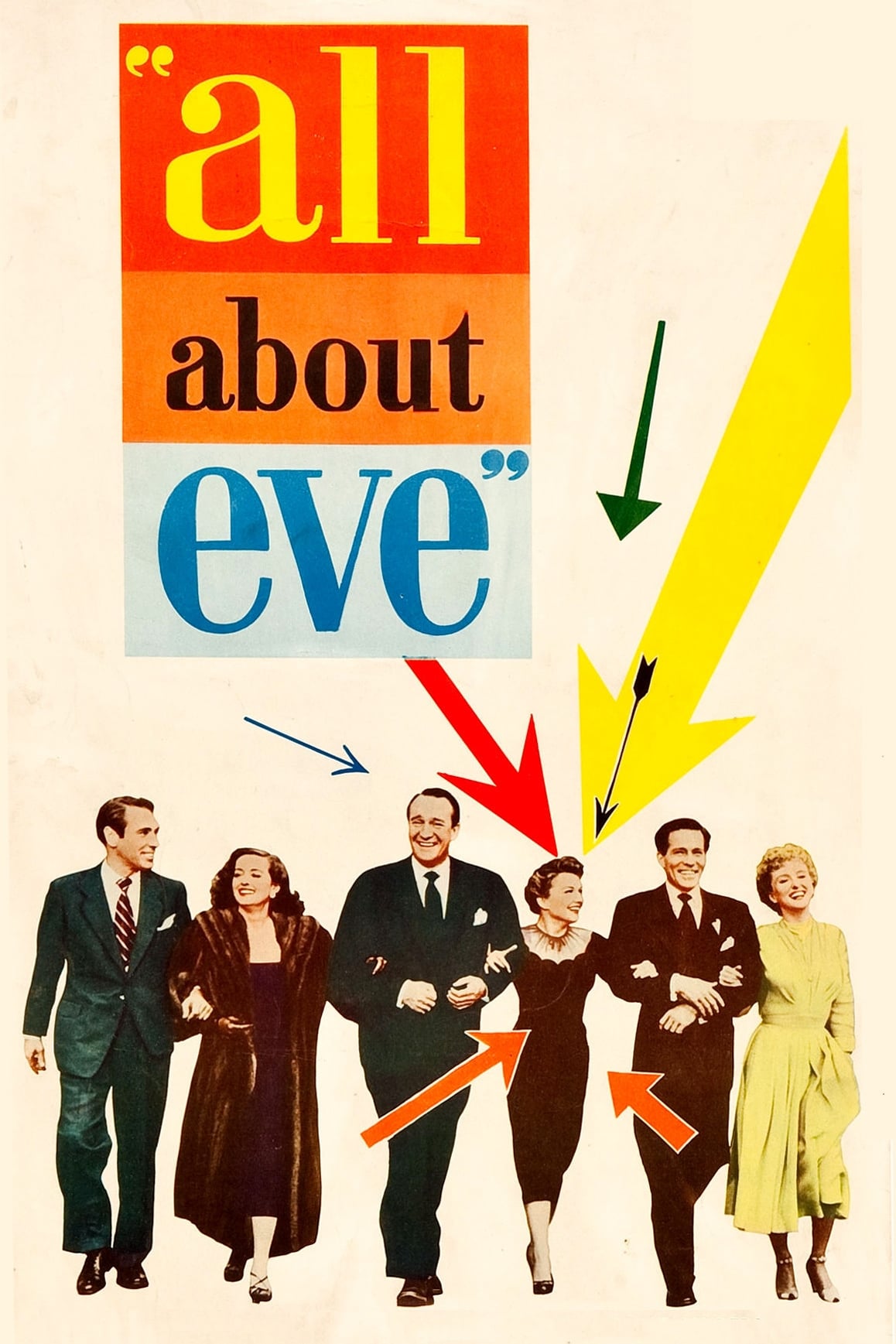 So, this is a BRILLIANT story!  The sarcastic difficult talented older star, who has people in her life that sincerely love her because under all that sarcasm and difficulty, she is caring and good and loyal.  And the young beautiful simple pure good woman, who is in fact using all her simple pure goodness to trick people, setting herself up as a contrast to the "evil" outspoken older woman.
And there's so many layers to it, the housewife best friend who secretly resents feeling like an outsider among these theater folks and is easy pickings for a young woman who plays up to her.  And then is punished by that same young woman using the knowledge she gained to steal her husband by being her, but younger and easier and better.
The younger boyfriend who Eve things will be easy pickings because she cannot understand their relationship, cannot imagine that he is with Bette because he loves an older woman instead of for a career advantage.  And who surprises her by immediately rejecting her in disgust, and seeing through everything.
And the late introduction of the man who is smarter than all of them, George Sanders, who doesn't necessarily care about "right" or "wrong", but about maintaining the balance of it all and controlling this young woman from destroying all these actually talented people.
So, how do we remake this in India?  Where aging stars and their power group of friends are the norm, as are ambitious babyfaced innocent actresses who come in and take over with no warning?
There isn't much that needs to be changed.  It can open and close at the Filmfare awards.  The lead is an aging star with her best friend married to her favorite scriptwriter, and her boyfriend the much younger director of her last hit movie.  After the premier of the film, a young woman is desperate for her autograph and her kindly friend takes her in to meet her.  The woman faints while talking to her, and then confesses she hasn't eaten in days, she is a widow who ran away from home for love and then her husband died tragically, and so on and so on.  The star takes pity on her and hires her as an assistant but then comes to distrust her for reasons she can't explain and tries to get her hired away, but instead the young woman manages to get a second lead role in the stars next movie.  The first day of location filming, her friend manages to keep her from getting to the airport on time, it's a remote location and there are no more flights for a week.  By the time she gets there, the "second lead" role has been greatly increased and given the best song, plus reporters were invited to watch and now they are all rushing home and writing articles about this great new talent.  The lead and her friends are savvy enough to know who invited the reporters, but the damage is already done, the story is out about the song and this new talent, they can't change the film.  And the producer of the movie loves it, loves this storyline of the young star versus the old one, new faces versus old, and doesn't care if they all hate her.  The film releases and the young woman maneuvers her way into the next film after the aging star turns it down, aware that the role is too young for her.  But the director refuses to work on it, only the playwrite is sure that she is right for the role.  She starts working on the playwrite and tells the producer that he is writing her a new film, an out there indie film that will get her noticed overseas and she can go to Hollywood.  At which point the producer brings the hammer down, reveals that he knows her true past and he is the one who will control her career, she isn't going to Hollywood or making any indie films, she is going to make hit after hit for his studio and she is going to leave everyone else alone and let them do their jobs.  And then we come back to the FilmFare Awards where the aging star is the one who has to hand her the award as she smiles and smiles on stage.
Now, casting!  I think Rani is the perfect heroine.  And Alia as the young evil woman that everyone trusts.  For her director love interest, maybe Shahid Kapoor?  It has to be someone who projects "smart and mature" but is also obviously slightly younger than her, while also too old for the young woman.  Oh!  Or what about Madhuri?????  And Ranbir as her love interest?
(Madhuri's certainly got the oomph and the confidence for it.  And I'd love the meta level of her being the major star that no one can ever really topple, very similar to Bette's casting in the original.  But then, Rani could probably play the actual role better)
Juhi would be great as the kind best friend, sweet and nice and gentle and trusting, and also very much the mother and homemaker type, so we can see why she would feel a little uncomfortable with all these flashy film folks.  And easy pickings for a young woman who seems to like and respect her.  And she would also break our heart when she goes to Madhuri/Rani and confesses that she knows her husband is having an affair, and that he wants to break it off and come back to her but doesn't know how.  And I'd really love for her husband to be Aamir, glasses wearing and intense and a little tired of the wife that just wants him to go home to the kids all the time.  Until he starts the affair and quickly realizes all he wants is to go home to the kids and something normal at the end of the day, only he doesn't know how to get himself out of this.
And then the real challenge, the acerbic producer who controls everything and sees all.  Karan Johar, I think.  The first time he is introduced, he brings a very innappropriate shallow unintelligent young woman to a party just because he enjoys watching everyone squirm as she says foolish things (played by Marilyn Monroe in the original).  I think Lisa Haydon in our remake.
(Also, I want him with the extreme gray hair like here)
Now, procrastinatrix also suggested a gender reversed version.  I think we can definitely do that.
Shahrukh is the lead, a difficult aging star who is in a long term relationship with a powerful female producer.  Vidya (or whoever) is an Ekta Kapoor style producer, tough and successful in a man's world. And a little uncomfortable with dating SRK because it feels like she is being minimized to being just his girlfriend instead of a person in her own right. And therefore is tempted by a fresh faced young actor who doesn't overshadow her.  Oh, and the fresh young face is Rajkummar.  I think he could nail this role, and would be the right kind of "boy next door" handsome.
Shahrukh's best friend is Arjun and is married to a successful female director (Kareena) and is the primary caregiver for their children and is happy with his choices, but also sometimes feels awkward about them. He nags his wife to spend more time with the kids and generally makes her feel guilty, which is why she likes being with a man who encourages her to work harder and pursue her dreams and forget her family.
And I'd vote for Swara as George Sanders, I think she could really dig her teeth into it.  She is the Shobha De type, top gossip of the industry who everyone is secretly terrified of.  And keep Lisa Haydon but make Swara a lesbian.  And then she can surprise Rajkummar with blackmail, the real story of him seducing a wealthy woman and then forcing her to pay him off with the money he used to come to Bombay.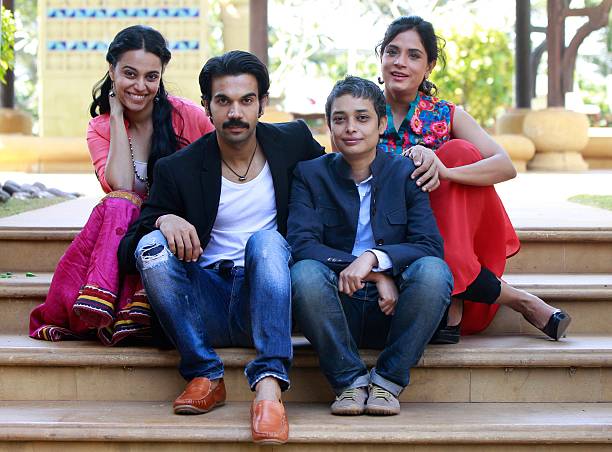 (Hey, they co-starred already!  Or something.  What is this?  Why Reema Kagti?)
What do you think?  Good casting or should it be different?  any other changes needed to the plot?  Original or gender-reversed version, which is better?