Still no big big exciting stories, but some interesting things today, worthy of discussion.  Some more than others, but all worth reporting.
#MeToo in the Indian Context
Well, this is fascinating!  And a little depressing, but actually I find it more optimistic making than depressing.  Anurag Kashyap and Phantom Films are struggling with sexual harassment allegations and handling them perfectly.  This is from two stories, here and here.  Nana Patekar is also getting an accusation, or rather a renewed accusation, and it makes me go "yeah, that seems fair".
I somehow missed the original story that back in April of 2017, news broke of sexual misconduct allegations against Vikas Bahl at Phantom Films. A woman, an employee, accused him of molesting her during a work trip to Goa.  Vikas Behl, Anurag Kashyap, and Madhu Mantena had founded Phantom Films together in 2011.  They were all talented artists and worked in partnership together, producing their own films or the films of others in a happy artistically fulfilling environment.
(Vikas Bahl.  Queen, Shaandar, currently working on Super 30 with Hrithik)
Phantom is one of the biggest of the new banners, but it is still just a banner.  The funding came from Reliance Entertainment, they had a skeleton staff and worked project to project.  Everything was directly supervised by the founders.
Now, this allows for a lot of abuse (in theory) but it also is a protection against abuse in other ways.  The problem with the larger studios in America, The Weinstein Company and CBS for instance, is that there is an attitude of "too big to fail".  The internal investigations, the board of directors, they would all rather cover things up and let things slide than risk damaging this massive company.  As complaints go further up the food chain, they get weaker and weaker, the complainant becomes faceless and it is easy to put the company first and sweep her under the rug.  With a smaller company like Phantom, all you need to do is convince one person and they have complete control to make the decision as to what to do next.
Which is what happened.  Anurag Kashyap was that one person, he took charge, cut Vikas Behl out of his life and the company like a tumor, insisted on an internal investigation, brought in Reliance as the co-stakeholders to lead the investigation and help force Vikas out.  And found multiple other witnesses to testify to Vikas' behavior, confirming the reports.  He cut out Madhu Mantena too, because he stuck with Vikas.
(Madhu.  Never directed, but produced stuff for Aamir and others, before helping to start up Phantom)
And the story today has Phantom films moving towards splitting up and officially ending, because of this.  Anurag killed his little company rather than condone sexual misconduct.  Which is what you want to happen, what should happen, but almost never does.
So, first, kudos to Anurag Kashyap!  And apologies, I have been doubtful about his sensitivity towards woman based on what I see in his films.  Bombay Velvet in particular had a terrible and unrealistic lead female character.  Although, I can still see what I saw in those films fitting with his behavior.  There is a particular kind of person who is not necessarily very good at imagining or understanding behavior of the other gender (male or female).  But that difficulty does not necessarily bring with it disbelief when they are told flat out what is happening.  Anurag could be that person, the one who believes his friend when the friend says "that woman has a crush on me" because he can't see the evidence to the contrary.  But will also believe the woman when she says flat out "I didn't have a crush, he molested me".  Does that make sense?  That's what the quotes (clearly from Anurag) in the original Mumbai Mirror story read like to me.
"heart-broken, disillusioned, angry and pissed off" the partner said the company's action against Bahl had not been easy. "It's a scary place to be in because he's my best friend. It's not easy, right?"

"This industry is filled with instances like this aur yeh sadiyon se chalta aa raha hai. But it has to stop, and we will make sure it is done the right way. It is important to see this through. Vikas being sacked will affect everyone."
That's the thing with the #MeToo stories in America, it's not just about the original act, it's about the cover up.  The major studios and massive corporations who knew exactly what was happening and fiddled and fudged and didn't act on it.  Put what the person could do for the company, and the reputation of the company, over the individual.
And that is what simply does not translate to the Indian context.  Because the Indian film industry studios/banners are still mostly family companies, and small companies.  It's not lawyers shuffling things around, a board of trustees who pays you off, it's one person sitting across the desk from you and either believing you or not.  There is no massive cover up because there is no need for a massive cover up, one person makes the decisions.  Anurag was a stand up guy and did what needed to be done, all by himself, following a report given personally to him.  At other studios, the opposite could have happened (and probably has), one man gets a report and chooses not to act on it.
(Anurag with his 23 year old new (rumored) girlfriend, who he met when she was hired at Phantom films.  His personal life always feels a little bit gross to me.  But then he also did a ridiculous cameo in Happy New Year, making fun of himself and showing a willingness to work for a female director)
And then there is the other challenge, that it is rare that one man has complete power over another.  In this case, Anurag was Vikas' business partner and could take direct action.  But if he had received the same report about, for instance, a director working on a film for their company, there wouldn't be much he could do.  He could fire the director and broadcast the story.  But that director could simply move on to his next project at another banner.  There are so many small banners, the power is so diffused, that unless you are permanently attached to a particular banner (very very rare), you can always just bounce from one to the other.
We've seen this before, feuds and fights between artists and producers.  But it doesn't necessarily end the artist's career, they simply move on to a new company instead.  Heck, you can even move on to a whole different language industry if you want.
And there is also the problem that too often those feuds are seen as "personal" not professional.  Especially as relates to sexual issues.  If Juhi Chawla stopped working with Aamir Khan because his practical jokes on set crossed the line, that was between the two of them, you wouldn't expect Aamir to be branded as a harasser and unprofessional and no longer be hired by anyone else.  Juhi doesn't have a lawyer team or a manager or a powerful agent to make her opinion widely considered and powerful and turn Aamir into hot potato within the industry.  In the same way, Anurag could have chosen to announce he didn't want to work with Vikas any more, because he didn't like his behavior, and it would have been seen as a personal choice made by Anurag.
(I chose Aamir-Juhi on purpose because in that case it truly was personal and had a personal resolution.  Juhi didn't like his jokes, they stopped working together, years went by, they made up.  No need for either to be blacklisted from the entire industry, or even to warn their friends from working with each other, it was just personal)
Those who were friends with Anurag might agree with him and stand by him, that's all.  In fact, I am sure this same thing has happened many times over the years, there are plenty of disputes between stars and directors or producers and stars or any number of other people that are brushed off as a "personal issue" and we never learn the truth.  Many of those feuds might have started with a crying extra or dancer or heroine talking directly to her trusted director/producer/star and revealing a moment of misbehavior.  But there was no tribunal to take her to, no internal investigation, it was simply a matter of making a personal choice and a personal judgement as to what you felt was right, and then protecting her name and reputation by not publicly revealing details.
I'll give a specific example.  Subhash Ghai has been accused multiple times of using a "casting couch", it's a rumor that has been circulating with multiple names attached to it for years.  And notice, he has not directed a film with a major actor in it since 2001.  One of the top and most successful directors in the industry, and he cannot get a star to return his calls, or a producer to give him money.  He's still working of course, he has the money to produce his own films and so on, but he has been quietly cut out from the highest levels of the industry, stars whose careers he helped make will not return his calls.  He's given interviews complaining about how Shahrukh Khan won't return his calls and he doesn't know why when he did so much for Shahrukh early in his career.  Well, maybe this is why.  It's not as effective or satisfying as a public investigation, an arrest, anything like that.  But then, who would investigate?  A court case would be almost impossible, and Subhash is an independent producer/director, there is no business partner or parent studio to go to.  So this is the best the industry can do, shutting him out and shutting him down.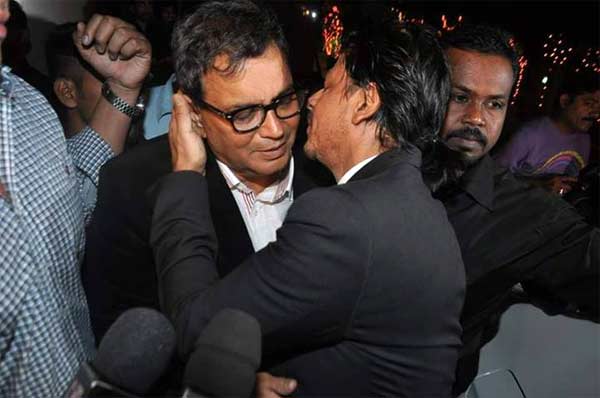 (Here he is congratulating him on his birthday and kissing his cheek.  Nice nice in public, but no films coming out together)
Now, here's another example that just came out.  Or rather, came out again.  A minor item dancer, Tanushree Dutta, has repeated her allegations from years ago that Nana Patekar molested her.  And says that he is a habitual harasser on sets and no one speaks out about him, or does anything. (story here)
I believe her mostly because my gut says "yes".  Which is a terrible way to judge things, but when I try on "Nana Patekar is a molester" in my head, it feels okay, like a good fit. I can't remember seeing him in a friendly casual joking like equals candid moment with an actress, and I can't remember seeing him in a role that felt like he was adding on an extra understanding of woman.  Doesn't mean he is a molester, he could just be shy in public and not the kind of actor that adds on additional touches to a performance, but it also doesn't mean he isn't.  Anyone can be an attacker of course, but when an accusation is against someone like Ali Zafar I have a bit more of a "no, really?  That's shocking" because of how he has always acted with woman in public, and the way his performances are in films.  Nana Patekar, there's no surprise necessarily.
The other reason my gut says "yes" is his filmography.  Until 2008 (when the first allegations by Tanushree Dutta were made) he was making 2-3 films a year in the Hindi industry in leading roles.  He had one release in 2009 and a few in 2010 (including Raajneeti).  And then his career took a dive.  Guest appearances, third or 4th or 5th lead roles, lots of work in industries outside of Hindi.
Tanushree in her renewed accusations calls out Akshay Kumar and Rajinikanth for continuing to work with Nana.  Which made me look at who actually is working with him.  Since 2010 (when the last few films signed before the initial accusation would have come out), who has given him a leading role?  He was in The Attacks of 26/11 by Ram Gopal Verma.  A political hot potato movie, with no budget (Nana was the biggest name) and RGV is someone like Subhash Ghai, rumors of misbehavior with actress have been swirling for years.  He was in Ab Tak Chappan 2, also produced by RGV.  He was in Welcome Back co-starring with Shiney Ahuja, so clearly that producer wasn't too discriminating.  And that's it.  Those are the only Hindi films where he had anything close to a leading role in the past 8 years.   And only in Welcome Back did he have any big name co-stars willing to work with him.
I'm not saying Indian film is perfect, but I am pointing out that you can't expect an American solution to an Indian problem.  There are no court cases to be filed, no HR department to report to, no supervisor to fire them.  It is all a matter of personal conscious.  And I don't know if that is better or worse, more or less effective, but it is certainly different.
And then there's the other part of it, how do you figure out the collaborators.  In America, there is a clear line of who was told what when, and what their professional role and responsibilities were.  But can you blame Anil Kapoor for working with Nana Patekar in a movie he wasn't producing?  Can you blame Shahrukh for still making nice with Subhash in public even if he isn't working with him?  Sometimes it's obvious, Anees Bazmee hiring Shiney Ahuja is disgusting.  But there is a lot of grey area when everything is up to personal responsibility rather than professional corporate structure.
Nawazuddin Siddiqui Hikes His Fees
Now, here is a semi-related story.  Supposedly Nawazuddin raised his rates for the second season of Sacred Games.  Nawazuddin also has sexual misconduct rumors swirling around him.  Nothing that necessarily crossed an uncrossable line yet, he is just known to kiss and tell. (story here)
I'll be watching Nawazuddin's career with interest, but also keeping those sexual allegations against him in mind.  His pay raise for Sacred Games is a sign of him maneuvering up to a higher level in the industry.  Is he going to stay at that level is his behavior going to drop him off of it?  The allegations broke last year and his 2018 wasn't nearly as good as his 2017.  But then, that could just be a coincidence.
Shahrukh/Red Chillies Announces Partnership with Aanand L. Rai/Color Yellow
The headline really tells the story, Shahrukh announces an official partnership with Aanand L. Rai's company.  Which is hardly a surprise, Shahrukh's working with him on Zero was obviously a try out of their partnership, and Shahrukh has been tweeting and doing interviews and so on that hint at their closeness.  This is an obvious next step, and a smart business move combining Aanand's nose for a good film (something Red Chillies has struggled with) with Shahrukh's connections and funding. (story here)
I'm not saying Aanand L. Rai or Shahrukh has anything to do with #MeToo directly, but more that this is how the business partnerships work right now in the Indian film industry.  You aren't going to leap in with someone you don't know, you are going to spend months testing out the relationship and in the end it will be a personal decision between two people, Aanand L. Rai and Shahrukh.  And if one ever learns something terrible about the other, it will also be a personal decision to part, and perhaps quietly spread the word and use your influence to make them toxic to the rest of the industry.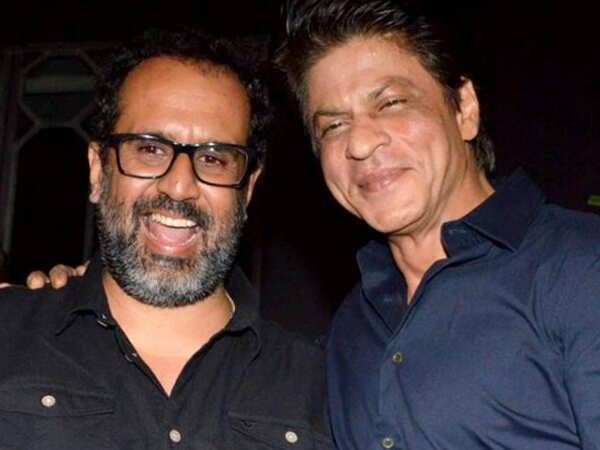 This is what irritated me about Shahrukh being asked about the casting couch and allegations against the Indian film industry in his Hard Talk interview.  He was being asked as though he might have been a bystander, a witness.  But the Indian film industry does not have a rigid power structure, Shahrukh isn't a witness to misbehavior, he is the judge and jury, the one who can punish it.  As much as anyone can punish it.  The answer he finally landed on was that on his sets, no woman is ever in danger.  Which I believe. I don't believe it was always true, because there were times in his career when he was powerless, when he was trapped by a contract and couldn't even walk out.  But for the past 20 years at least, that has not been the case.  And if there was misbehavior, he was the one who could react to it.  He hasn't worked with Subhash Ghai since 1998, Nana Patekar since 2002, Shakti Kapoor (another frequent accused) since 2000.  And he's never worked with Ram Gopal Verma.
I'm not picking Shahrukh out as anything special, I think this is probably what most people in the industry do.  Quietly cut someone out, that's the punishment.  It's everyone's individual responsibility as much as they can, and there is no court of public opinion that needs to know the truth.  So when anyone, a producer or a director or a star, is ambushed in an interview and asked "what do you think about these accusations?" the only possible response is either "here is a list of every director and producer and actor and spotboy and everyone else that I have shut out for some form of misbehavior and how I have shut them out and the specific personal circumstances of it and the accusers" or a stuttering silence as you try to prove your innocence without getting into personal stories that may not be yours to tell.