Well, I got no sleep, and it is overcast today, and I am very much looking forward to finishing work, going home, leaving again, going to a movie, and then falling into bed for about 20 hours.  In the meantime, to keep me going, I am going to post the silliest SRK Photoshoot Photos I can find.  And please feel free to post more in the comments if you can find them. (down a line, past in the url of the photo, down another line)
(A lot of these are ad campaign photoshoots, because I guess Shahrukh will do anything if you pay him enough)
I'm gonna start with my favorite.  I love this photo.  And yet, I can also acknowledge that it is a bit over the top to play into the fantasy quite so much.  And also, spiked shoes?
Oh Shahrukh!  This is not a practical way to ride a motorcycle.  A wig is not the same as a helmut, and body oil is not the same as a shirt.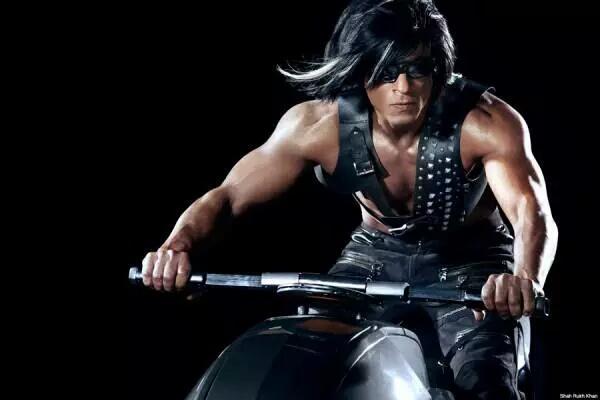 TOOTH!
Oh dear!  He put in so much hair gel, it stuck his fingers together!
I don't know.  Shahrukh the technology butler?
So I guess he has a full jacket when deliver the HD, but a different jacketless outfit for inspecting it?
This shirt is the ugliest thing he, or anyone else in the history of the world, has ever worn.
Moths!  Moths with scissors have been at his wardrobe!
These moths are terrible.  He is clearly taking a moment in silence for the death of his clothing, cut to pieces by ravenous insects.
Oh Shahrukh, you can't just paint a shirt on, even if all of yours have wholes now.
I love the picture, but I really love the depth of the statement.  It feels like it says everything that ever needed to be said, right?  Frooti IS my mango, and my mango, it is Frooti.
Frooti is my mango, my mango, it is frooti.  Oye bubbly oye bubbly oye bubbly.  Pepsi.
(I want to spend a million dollars and get Amitabh to record that in his Amitabh voice)
This is the most uncomfortable position I have ever seen someone attempt to use a computer.  Can he even see the screen?
I start with Dabboo, I end with Daboo.
Daboo.  Frooti is my mango.  My mango, it is Frooti.  Oye Bubbly Oye Bubbly Oye Bubbly.  Pepsi, Daboo.
(did I mention I got almost no sleep last night?  And I am now giggling hysterically at work?  Oye bubbly)