This is a movie so powerful, and so frustrating, that I both can't bring myself to rewatch it for this review, and don't need to because I remember it so well. I hope some of you managed to watch it recently so you can join in the comments with your own impressions!
Imtiaz Ali is a difficult director. If you try to describe his films, they either fall into the problem of too much happening ("and then they are in love. and then they aren't. and then they are") or too little ("two people meet."). Everything that happens is internal, it isn't even spoken in dialogue, it is talked around in dialogue. Watching an Imtiaz film is like watching one of those "slow TV" videos where a group takes 8 hours to build a barn. Only what's being built up, piece by piece, isn't something big and obvious like a barn, but instead something small and invisible like a broken heart.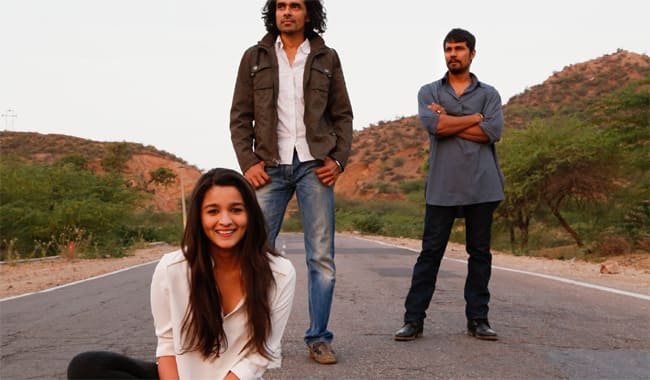 This film is the extreme of this style. At least Jab Harry Met Sejal and Tamasha had a definitive traditional happy ending, this movie has an ending that just sort of drifts around and tries to find a place to land. Even the conclusion is left for the audience to try to find for themselves. And what makes it difficult is that the basic outlines of the plot make it appear to be a film where much will happen. And then instead, after an early flurry of activity, nothing really goes anywhere. There are no events, there are no significant plot twists, it is just a lot of nothing.
The funny thing is, this is kind of the flipside of the plot we usually see. There's a flurry of discussion lately about the "princess in a tower" issue, how the protagonist of a video game or a fairy tale or whatever is going around doing things and solving puzzles and being useful, and meanwhile the princess in the tower is merely the prize, standing there like a golden statue. This movie follows the princess instead of the rescuers. Alia is a seemingly empty pretty vessel for whatever is put upon her. But as we watch her finally having time to sit with herself, to just wait, she turns inward and brings out her own discoveries.
This isn't a movie that turns the princess into the rescuer, or the "bad man" into the hero either. That would be to still fulfill the standard plot and the standard pattern, just flip the characters into different roles. Instead, it rejects the whole idea that the princess is "just" sitting there waiting to be rescued. It asks what would really be happening to a princess who was left alone with her thoughts for the first time in her life. And it asks what would happen to a "bad man" who is forced to sit with her.
And to play our princess, we have Alia, at her most princess-y. It was a bit of a trick on the audience as well, to cast her like this. To the audience, she was only known as the pretty shallow teenager from Student of the Year, the spoiled young woman with the great launch handed to her. When she first appears onscreen, smiling and sweet and dumb, we accept that is all there is to her because it is all we have seen from Alia in her performances up until now. Her journey into a deeper emotional life is one that the audience travels with her, as we come to accept her as an actress capable of a deeper emotional life. Alia's baby face, oversized costumes, and natural make-up less face and loose hair all serve to support the feeling of a person more girl than woman, making the reveals of her very adult and womanly emotions that much more powerful.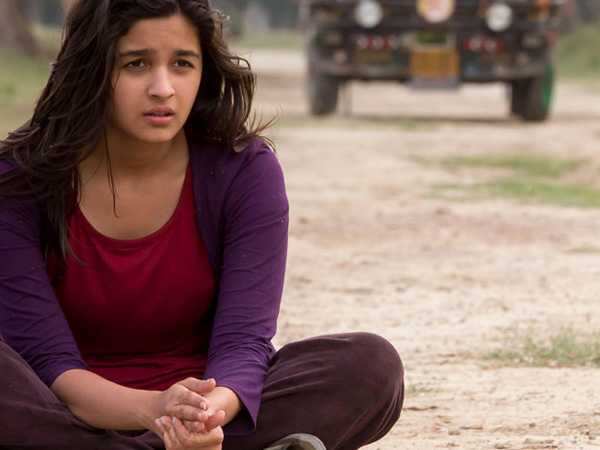 And then there is Randeep Hooda. As you know if you read me regularly, I don't like Randeep Hooda's face. It's because he has a strange sort of lack of expression, a handsome forgettable averageness, somehow his acting always feels fake to me in a way that is so close to real that it is more disturbing than even worse acting would be. But in this role, that works perfectly. He is supposed to be unreadable, disturbing, aggressively average and unnoticed. His importance is not for himself but for what he means to Alia. She needs someone on whom she can put her feelings, someone to help her grow up, and Randeep can be that person for her.
The final ingredient in making this whole thing work is the songs. AR Rahman and Imtiaz Ali are both highly influenced by Sufi style spirituality, the idea of repetition and simple beauty sweeping you away until you feel God. Imtiaz is telling a story in this film of repetition and patterns, of moving back an forth and in no direction at all, so that you can find yourself. And Rahman's music tells that story too, lyrics that repeat and move back and forth and around each other, that combine with the visuals to take you away and make you feel some part of the magical peace that descends on Alia.
SPOILERS SPOILERS SPOILERS SPOILERS SPOILERS SPOILERS SPOILERS SPOILERS
I said this is Jab Harry Met Sejal but dark, and that's exactly what it is. Alia, like Anushka, is a spoiled rich girl traveling alone against the wishes of her family with an older man. Randeep, like Shahrukh, is a damaged and broken older man who at first hates the young woman that makes him feel things but still reveals a basic core of decency and care for her to which she responds. But it's a lot darker, because this time Alia is a young girl kidnapped as part of a hijacking, and Randeep is her far older kidnapper. The movie is the two of them traveling and not really going anywhere, building up an unspoken confusing bond, until finally confronted by her family and the reality of their differences.
The biggest difference is that the meaning of the film, the person whose journey it really is, is far clearer in Highway than in JHMS. Those of us who watched and loved JHMS are aware that it is Anushka's story and Anushka's film far more than it is Shahrukh's. She "saves" him, yes, but only after she saves herself. Her journey from sheltered trapped rich girl to free and confident young woman is what the whole film is about. Shahrukh's character, in contrast, hardly moves. He is "fixed" by her, that is, the one thing that was wrong with him (his guilt and depression) is removed by her presence and love. But otherwise, he does not really change. It is Anushka whose character transforms over the course of the film.
In this movie, it is impossible to miss that it is Alia's story more than Randeep's. The film is beautifully structured around several moments in which she makes a choice to fail to act. Passivity as strength. The first is when Randeep and his gang hijack the car while she is in it, she freezes and doesn't run. Next is when they spend the night in the salt flats, she runs and runs, and then returns because there is no where else to go. And it is that return that makes the difference, sitting there and suddenly feeling free as she discovers there are no more choices left to her, nothing more wanted from her. Then the moment when the police stop and search the truck where she is hidden, and she chooses to remain hidden, not to come forward and let the police find her. And finally the moment at the end when she cries and waits at the bus stop instead of going to the police station, not wanting to leave Randeep, having faith that he will come for her. And finally at the end, letting the police take her back home, letting her family take her back, all so she can confront the man who abused her and the family that allowed it to happen. It's Alia's story not just because she is the one we start and end with, the bride wanting a moment of freedom in a car the night before her wedding and the young woman alone on a hillside with her memories at the end, but because everything that happens is done in a way that makes sense for her character in this film. She is not going to pull a gun on her captors, or report her abuser to the police, she is going to wait and think and wait some more, and only slowly come to discover how she feels and what she wants.
Imtiaz does not make it easy for us to sympathize with these characters. Alia is painfully passive and Randeep is brutal for the first few scenes. Alia allows her face to shake and her eyes to widen, but has no other response, not even to one of Randeep's gang threatening to rape her. It's frustrating, you want to yell at the screen for her to be stronger and tougher. Meanwhile Randeep is casually talking about selling Alia to a human trafficker if they can't manage to get the money from her parents. He orders away the gang member who is threatening her, but seems almost unemotional about it. Unemotional about everything really, while Alia is boringly plagued by emotions.
This is far from the first kidnapper-kidnappee romance in Hindi cinema. But it is the first in which the two roles are drawn so clearly and no excuses are given for them. Randeep is not a troubled young man fallen on hard times, he is middle-aged and raised in poverty. Alia is not a recently rich young woman with life experiences behind her, she is shelted and baby-faced and knows nothing. And on top of that, she "falls in love" with Randeep clearly in response to his strength, to the way he orders away the gang member who threatened her and then ignores her attempts to gain his attention. And Randeep "falls in love" with her simply because she is there, the first woman who has cared for him and taken care of him since his mother. She even sings to him the same lullaby his mother used to sing. This is not an odd couple that comes together through kidnapping but is otherwise equal (like the love story in Hero), this is a couple that should not be together in anyway, that builds a bond based on Stockholm syndrome and misogyny.
But that doesn't mean what they have is not real. Over the course of the film, Alia and Randeep both have their identities and the world increasingly stripped away, everything brought down to this one connection. Randeep's larger gang rejects him when he chooses to continue to hold on to Alia as a hostage out of his anger at women, and at the rich. His smaller gang is just 3 guys, one of them is sent away that first night for molesting Alia. Another is sent to travel India separately from the rest of them and call in ransom demands. And just Randeep and Alia and the one remaining gang member travel the roads in a big truck, back roads and always moving so they are harder to find. Alia can't be the rich girl any more, can't even look like the rich girl, is given oversized working man's clothes to wear as a disguise, no make-up, sleeping rough and eating what she is given. And Randeep can't hide within a larger gang any more, heartlessly taking and giving orders. It is just him and this woman now, someone he has to take care of, the family he has been running from since he watched his mother be turned into a sex-slave by the landlord of his father's farm. By the end, when the truck is gone and the last gang member is gone, when it is just Alia and Randeep walking through the hills of Kashmir, they are cleansed. Randeep has learned how to open his heart, how to care for someone else again. And Alia has learned what it means to be cared for, to have someone who loves her. Yes, it is a sick sick relationship, the film does not look away from that. But it is special and safe and it helps them to heal.
Imtiaz does not bother filling in all of the rest of it for us. Randeep and Alia's relationship is left open to our interpretation. They love and care for each other, yes. But is it a romantic love? Is it a father and daughter? Or older brother/younger sister? If it is romantic, is it romantic love that they both know will always be unfulfilled and unspoken, or is that last sequence of them together love triumphant? Do they have sex that final night when she brings him to her bed, or do they just hold each other and heal wounds? It doesn't really matter, not for the story Imtiaz wants to tell. And that very lack of mattering is what matters, that humans can care for each other deeply without needing it to fit within the understanding of outsiders.
There's a reason this relationship has to be as sick and wrong as it is. What Imtiaz is getting at is simple humanity. A poor man who has every reason to hate women and the rich will still be softened by the innocent love of a young girl. A young girl who has every reason to fear this man will still want to trust him, want to help him. And if these two people can form a bond, and if Imtiaz can make us truly believe that they can, how much worse must it be for Alia's wealthy family, the ones who have every reason to love her and who she has every reason to trust, to have allowed her to be raped as a child merely to gain some financial and social advantage? Simply because it was "easy"?
That is what this movie is really about. At its heart, it is a thought experiment. What is the place that a vulnerable young woman is supposed to be safest? Her home, with her family. What is the place where she is least safe? Traveling the roads with a strange lower class older man. But what if the one is actually safer than the other?