Thanks for Catherine (by the way, Catherine, I owe you a greeting card! Email me your address and I will send it off) and Whitney bringing this up in the comments because I think it is a super interesting topic to consider, especially in the Indian context.
There's three reasons, I think, that Indian film and the film industry treats kissing differently than in other film industries.
First, the legal part of it. The British instituted extremely restrictive censorship rules during WWII, and the independent Indian government kept them up. For a long time there was an official rule against showing explicit lip-to-lip kissing onscreen. If you go back to early 30s films (the few that exist), you can see kisses of the same kind as were in Hollywood films of that era, chaste and closed mouthed but definitely happening. Sometime in the 50s, that stopped. Kisses could still be part of the plot, could be implied, but were not shown onscreen. The censorship rule was lifted sometime in the late 80s/early 90s (I have a hard time finding this information in a legitimate source). The first big mainstream Hindi film to have an explicit kiss was Raja Hindustani in 1996 and it was MINDBLOWING.
Second, the cultural part of it. It's not like people are kissing all over in India and the films aren't showing it. Physical affection of any kind between the sexes is not acceptable in public spaces. Holding hands, strolling arm in arm, it all might be questionable. Kissing is extremely questionable. It is something to be done where no one can see you. You could argue this is because marriage, love, sex, is all seen as something that should be done with social approval and not just because you "want" to, that youth and sexuality must be controlled. Or it could be as simple as modesty rules varying between societies, and in India kissing in public is considered along the same lines as passionate over the clothes petting in public in western society. People do it, sure, but folks stare and are uncomfortable and it is weird.
Third, the awareness of actors as people first and characters second. If you think about how the star system has evolved in India, the audience is far more likely to think of the people onscreen as their star identities than as their characters. And if you know that person onscreen as a real person, than watching them kiss someone is just strange.
Basically, the way I think of it is roughly equivalent to a sex scene in an American film. Sex can be part of the plot, the two characters can even be shown bouncing beneath blankets, but it would be very strange for a film to show sex so explicitly that the audience starts to think about the actual actors having sex and be moved out of the story. Or for the actors to be asked to do such a thing. To my mind, the censorship rules were the least of it. The cultural conditioning meant that both the audience and the actors were uncomfortable with the idea, and the awareness of actors as people just adds to that discomfort.
And even now, the films where people kiss, and the actors who do that, reflect these same rules. It's more common, but not universal. If an actor or actress is married, they are less likely to kiss. Because the audience will be uncomfortable with it, their spouse will be uncomfortable with it, even they themselves might be uncomfortable with it. If an actor or actress is established and well-known, it is less likely. Because they have a real world reputation that will be affected, and the audience has a real world view of them that will change. And of course, it also depends on if the film itself is telling the kind of story that, in the Indian context, would reasonably include kissing. A young hip modern love story set overseas, absolutely. A village love story, less likely.
For me personally, I am uncomfortable with kissing onscreen in Indian films because I am aware of that cultural context, and I truly think the audience can sense it when the actors don't feel right about kissing, feel pressured into it even though it goes against their own sense of modesty. Or if the filmmakers feel pressured to include a kiss even when it doesn't fit with their story or setting. But the exception is when the film itself is built in such a way that the actors lose themselves in the characters, and I lose them in the characters, and suddenly it is the characters who are kissing and not these two co-workers.
For example, I just rewatched Student of the Year and was as uncomfortable during the kiss between Alia and Sidharth as I was the first time I watched it. Sid and Alia were newcomers, I had no particular vision of them as stars that I was losing through this kiss. But somehow it just didn't feel comfortable to watch, didn't feel like two actors who were losing themselves in the scene as much as two young kids who really didn't want to kiss in front of cameras. Even if it fit with the story, even if it made sense for the script, it was just uncomfortable to watch and I wish they had been given the option of faking the kiss from another angle or something like that.
To a much lessor degree, I am also uncomfortable when the kiss scene rings false for the story and the characters. In Band Baaja Baarat (yes, I am going to beat up on this poor movie again), Anushka initiates a kiss with Ranveer. It felt like the film was trying to make these two middle-class Indian kids fit with their vision of how they should be more than how they would be in reality. Versus their kisses in Dil Dhadakne Do which made total sense for those particular characters.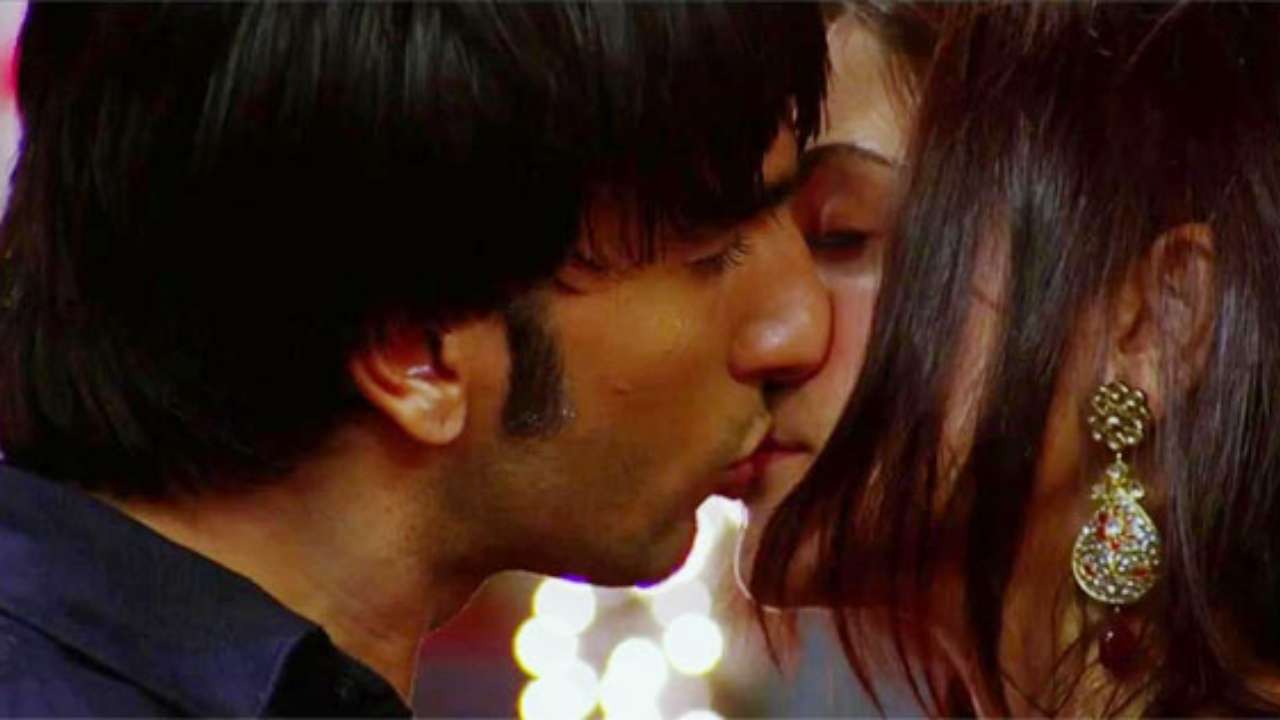 And finally, I am uncomfortable when the kiss feels like pandering, like it is a moment of breaking the fourth wall and saying "look! Kissing!" There are a lot of movies that do that now, that publicize how many kisses are in the film like that is a reason to watch it. It takes me out of the movie when it is treated that way. Befikre, for example, it was reasonable for the characters to be kissing in public, and the actors didn't feel uncomfortable with it (to me), and yet I still didn't like it because it felt like the movie was more focused on getting all those kisses in than actually making a good movie.
Anyway, that's me! Uncomfortable with kisses in Indian films if I feel like the actors aren't comfortable, or like it isn't true to the story, or when it feels like a moment of spectacle that they put in to titillate the audience.
How about you? What films do you not like the kissing, and what films do you like it? And why? Or do you not even know for sure why and are still thinking about it?