Having another lazy night, eating popcorn and watching BBC mysteries while the dog sleeps. It's one of those days where it is so cold outside that once you get inside, your body goes into hibernation mode. Anyway, this means it is a good time for me to do a nice cosy little post, the ideas we have crowdsourced for the Netflix family series that Shahrukh should make in order to have a nice work-life balance while still keeping his face in front of the world in a non-controversial way.
Sitcom with Kajol, 3 Kids, and a Cooking Show!
Kajol and Shahrukh have lived in America for the last 10 years while Shahrukh worked as a TV news reporter and Kajol was a stay at home Mom. But then Kajol's funny little youtube video channel about cooking took off, and out of nowhere an Indian based satellite TV channel offered her a cooking show! All of a sudden they have moved their family of 3 kids from the New York suburbs to a Bombay high rise, and Shahrukh is now the first stay at home father their building has ever seen while Kajol is re-entering the work force in the crazy and kooky world of entertainment TV, and the three kids try to cast off their American attitudes and find their desi roots. There, I just wrote the 20 second ad for them.
The first episode gets them from New York to Bombay, where they are greeted by Shahrukh's pushy cousin-sister Juhi. She found them a unit in the same building where she lives and signed the kids up to go to the school down the road where her daughter used to go. The kids are angry because they have to share a room, and everyone at school makes fun of them for being too American. Shahrukh struggles because he can't find a job. Kajol decides to quit the job for the sake of her family. But then they see her looking sad and watching her old videos on youtube and looking at the ad campaign the station already put together for her, and the kids and Shahrukh instead make her a cute apron with their names and artwork drawn on it, and tell her they want her to go to work and this way she can take them with her. Tears, hugs, smiles, the youngest kid says something cute, slam cut to the peppy end credits song.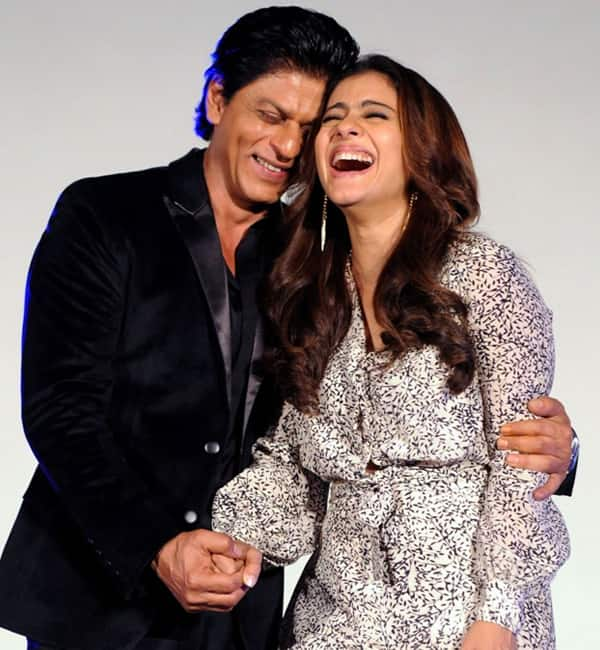 The second episode starts digging in a bit more. Shahrukh struggles to find work and finally ends up at a terrible low level job doing research for another onscreen talent, egotistical perfectionist Aamir Khan playing himself as host of Satyamev Jayate. Kajol struggles too, she started out as a reporter like Shahrukh, she dreamed of breaking big stories and doing good in the world by her work on camera. But now she has a kooky network boss (hypochondriac Boman Irani), and a crazy young camera woman Shikha Talsania who shows up to work hungover half the time, and the rival food show host Ratna Pathak hates her for showing up last minute and taking her slot. All we see of the kids is a fun little story of them bunking classes and going to the beach. But in the end it comes together when Shahrukh and Kajol go looking for the kids and end up on the beach too, the family is happy altogether, and after the kids fall asleep on their laps, they have an honest conversation. Shahrukh tells Kajol that she is making a difference, really, it's not "just a cooking show". She is showing how a woman can feed her family quickly and easily and give her time to do everything else in her life, like having a job of her own. And who says she can't inform and encourage her audience while she cooks? The camera's on her, she is in control. And Shahrukh realizes he hates not being in control, hates that he is doing pointless work anyone could do. Kajol puts it all together, he hates his job, she wants to keep her job, the kids are lost and lonely, why can't Shahrukh quit working and stay home with them?
Third episode focuses on the kids, with a minor comic track of Shahrukh struggling to handle all the housework (figure out how to use the washing machine and so on), and Kajol trying to deal with Shikha who took the wrong pill and keeps falling asleep at the camera. Meanwhile, the kids are engaged in a war with their classmates who all hate them as outsiders. The oldest is dealing with a mean girl in her class, the middle child is dealing with a teammate on his soccer team who is jealous of his skill, and the youngest is dealing with a teacher who keeps forcing her to speak Hindi in Hindi class. After a miserable morning, they meet at launch and decide to join forces. The oldest teaches the youngest a few Hindi sentences to stump her teacher. The boy gets his enemy to chase him, until they both run into the mean girl and throw her into a puddle. The three siblings realize that, in some ways, India is better. Because back in America they never got to spend any time together and now they are really getting to know each other. They happily curl up to sleep in the same bed.
Season plows on, Kajol and Ratna feud and play tricks on each other, the kids make friends, Shahrukh struggles to balance the grocery money and make school projects, and gets his own enemy in Vidya Balan, the "perfect" school mother who makes him look terrible at everything. Juhi keeps popping in and out giving unwanted advice, we finally meet her husband Anil in a few episodes. In the season finale, Kajol isn't sure if her show will be picked up for another year and the family has to think about if this move to India was a mistake or not. They end up on the beach again at night, thinking about how a year ago they were all in their own little worlds in the same house. And just as Kajol and Shahrukh announce to the kids that they are staying in India, no matter what, Kajol gets a phone call telling her the ratings came in and her show is a hit, she is renewed.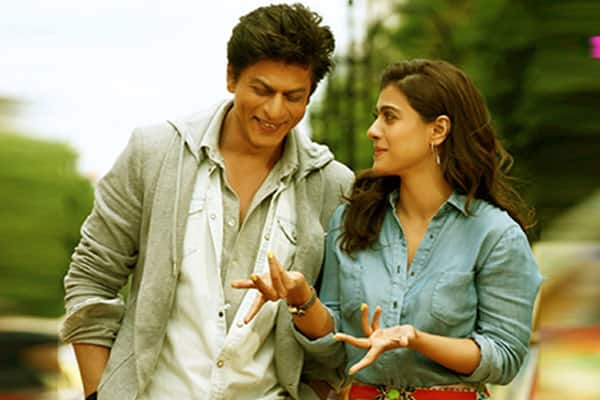 Season 2, new characters! Shahrukh now has a friend, a fellow house husband Anil. He is retired from his Dubai job (the reason he never seemed to be around), and Juhi has decided that she wants to get a job of her own and has become a real estate agent. Now Anil is stuck home making dinner and cleaning the house and doing laundry, while Juhi comes home at night and runs her finder over the furniture and tut-tuts if she finds dust. Anil and Shahrukh commiserate over chai in their kitchens in the afternoons. At work, Ratna Pathak is gone and Kajal has a new producer/camerawoman Swara Bhaskar who sees her show as more of a talk show. Every episode has a guest star (as themselves) helping Kajol make the meal. Swara Bhaskar is another hard drinking and hard partying young person who contrasts with Kajol's happy home life, but she also becomes closer to the family, especially as a mentor to their older daughter who is becoming more of a rebel at school, speaking up in class about wanting more time spent on female historical figures and so on. The middle child is really struggling in school more and more, he still does well in sports but his school work is terrible. Finally his grades drop so low he loses qualification for the sports teams and is really miserable. At this point, his parents realize he is dyslexic and we all learn an important lesson about learning disabilities.
Not sure where we go from here, if it keeps running then history has shown that the oldest child will plan to go to college far away but end up staying at home, the middle child will eventually be written out and never mentioned again when they run out of things for him to do, and the youngest will age from an adorable small child to a terrible actor once puberty hits. There will be some massive threat to the central marriage around season 4, just to shake things up, perhaps Kajol is forced to take on a co-star on her show and it is very attractive and charming Ajay Devgan, while at the same time at home Shahrukh is going through a dark period as he realizes his career is really over. Kajol and Ajay almost kiss, don't, she feels guilty, tells Shahrukh, he is furious, he punches Ajay who accepts it as no more than he deserves, and then SRKajol reunite closer than ever. Perhaps that's the final season? They reunite and decide to renew their vows, Shahrukh's career worries are solved when Kajol announces she is going to quit her job (which she no longer loves since the reformatting and forcing Ajay on her) so Shahrukh can take the investigative reporter job which will take him away from home for weeks at a time. The oldest daughter and middle son (seen for the first time in two seasons) move out, her to a shared apartment with her friends and him to the dorms as he starts college a year early. All the regulars from previous seasons (Ratna, Swara, Juhi, Anil) are brought back for one final smile at the camera from the crowd at the party. The youngest child says something cute. Slam to peppy end credits song slowed down for the nostalgia of farewell to this lovely happy family!
Alternative option! The serious 50 minute dramedy version, think This is Us but with Juhi and Shahrukh
Same basic set up, only I'm swapping Kajol for Juhi. Juhi and Shahrukh and their kids have been living in America for ten years. Juhi gets an amazing job offer in India, they all move back, the kids struggle, the parents struggle, Shahrukh ends up as a stay at home parent.
But it's a dramedy, so it is all just a little bit darker. Juhi's job isn't a wacky cooking show, she's brought in to be the new chief editor of a brand new magazine that is trying to break into the woman's market in India. Shahrukh was a reporter in New York and he lost his job. They were keeping it from the kids, but part of the reason they made the leap to India is that Shahrukh hasn't been able to find work in New York and they were running out of money. They kids are total pills about the whole thing, especially the teenage daughter who misses her boyfriend. They refuse to talk and are sullen and terrible about everything. Until they overhear Shahrukh and Juhi talking and realize that this move to India is to keep their family together, and they surprise Juhi with a new purse that has their names written on the lining, so she can take them to work with her.
In the next episode, Juhi and Shahrukh start making friends. Shahrukh finds a job working at the advertising office of an old friend from college, son of a rich man who treats his job as a game. The friend (let's say Akshaye Khanna) can't believe that Shahrukh is still happy with his college girlfriend, that he's never even been tempted to stray, never thought about what life could be like if he was single. Meanwhile at work Juhi starts to get close with her co-editor Neha Dhupia. They've been long distance friends for years, Neha is the one who insisted on bringing her in to be co-editor based on her articles submitted as a freelance writer. Neha has the life and career Juhi could have had, she traveled all over the world, broke big stories, and now has the respect of all their employees as a feminist hero, while Juhi is just some housewife they have never heard of. Along with those friends, they also finally agree to come over for dinner with their boring perfect couple friend, Shahrukh's cousin Anil Kapoor and his wife Shefali Shah. They have boringly perfect kids that Shahrukh and Juhi's kids are forced to hang out with. The older girl is fascinated by the stories of dating and freedom and boyfriends, and the younger boy is fascinated with stories of breaking rules and playing practical jokes instead of just studying all night every night. In the end, Shahrukh and Juhi have a glass of wine together in the kitchen and say they are grateful that each other are their best friends.
Season goes on, the kids' story revolves around their friendship with Anil's kids, while Shahrukh's is about him realizing he wants to quit working and stay home full time for the good of his family and himself, and Juhi's is about gaining confidence in herself at work. But the central story is about Anil's daughter. Anil's daughter ends up falling in love with someone inappropriate, a boy from the government school next to their private school. Shahrukh's daughter helps her and along the way realizes how shallow her "dating" in America was compared to these kids who are literally risking their lives to be together. This story ends up reverberating up to the parents, Juhi and Shahrukh talk about their struggles as an inter-religious couple, and Anil and Shefali talk about how they were an arranged marriage but admit that they love each other now however it happened. Akshaye and Neha get their 2 cents as well, Akshaye talks about his arranged marriage that fell apart because he was just never that serious about it. Neha talks about her own passionate teenage romance that fell apart because, at the last moment, she was too scared to elope. And she has never gotten over it. The season ends with all the kids trying to help Anil's daughter elope with her boyfriend, but at the last minute Shahrukh's daughter has a change of heart and tells her parents. Having come face to face with the idea of their daughter running away from home, they react with more understanding than they would have had before. They agree that she doesn't have to be separated from her boyfriend, they can simply come up with a set of family rules for how they can be together. The whole thing inspires Shahrukh and Juhi's children to tell them that they love them and are glad they are their parents. And then Shahrukh and Juhi to tell each other that they have no regrets, they are glad about their marriage and their life together.
Second season, the focus shifts more to Akshaye and Neha, picking up on their affecting monologues about their lost loves. Juhi decides to work with some of their magazine researchers and try to track down Neha's lost love. She finds him, he is now a mechanic working in a garage. He barely finished high school. At first they are awkward together, Neha is rude and dismissive and uncomfortable because he is so far below her. But after their first meeting, he sends her a beautiful note which reveals intelligence and learning and depth and she starts to rethink her first impression. The date all season, running into all kinds of roadblocks that Juhi and Shahrukh help them past (who pays for the dates, what can they do together that they will both enjoy, why do they always spend the night together at Neha's fancy apartment instead of his small garage room). Finally at the end of the season Neha invites him to move in with her, and he counter offers that they should get married, finally.
Akshaye, on the other hand, has decided to try again with an arranged marriage. His uncle arranges for him to meet a proper much younger woman. He thinks it won't work, but she keeps surprising him. Yes, she is young and proper and correct and romantically inexperienced. But she reacts with interest and excitement when he takes her to a jazz club, not fear. And she says things that make him laugh, and she seems to honestly sincerely like him. They keep meeting, but half way through the season she tells him that her parents are having her meet other people as well. She likes him, and she wants to stay friends, but her parents want her to be married and she wants to be married too. In the penultimate episode, she tells him that she has agreed to an engagement with a nice young appropriate man, and he tells her that he thinks they shouldn't see each other any more. But in the season finale, he runs through the rain to find her at her engagement party, she sees him and leaves in the middle of everything to go talk to him, and he gives an impassioned speech about how he knows it doesn't make sense, and he knows he is no good for her as a husband, but they are happy together and isn't that enough for a marriage? We don't see her answer, just see Akshaye suddenly showing up at Neha's wedding party and proudly introducing the young woman (let's say Aditi Rai Hydari) as his fiancee.
Meanwhile, Shahrukh and Juhi have been having minor marriage problems. Juhi is really happy at work, and Shahrukh is really happy at home. But they have less and less to talk about, Shahrukh is all about coupons for new cleaning supplies, and trying new recipes, and school projects. While Juhi is talking about big news stories and national advertisers and exciting work things. They make date nights, and then break them. They are quietly drifting apart in the background of everything. But during Neha's wedding, their eyes meet, they smile and hold hands, and it is clear that they are recommitting to each other.
Blah blah, seasons role on, there is an addiction storyline, an infertility storyline, and a PTSD storyline as all dramedies are required to have. And then in the final season, after the oldest daughter has been half-written off (away at school except for special episodes), the middle son has come out as gay, and the youngest child has had her first real series story (maybe bullying at school?), we finally threaten the Juhi-Shahrukh marriage for real. Juhi gets a big promotion, she is now running multiple magazines in the publishing group. She is working long hours and hardly ever at home. Especially since, after getting a handle on her drinking problem, Neha has taken a step back. Shahrukh, meanwhile, makes friends with a widow who moved in down the hall, Vidya Balan. She is struggling with taking care of the kids and the house all by herself (they have been living with the grandparents). Shahrukh takes pity on her, helps her out around the house and with the kids and all that. And they start spending long hours talking and getting closer and closer. One night Juhi skips out on a promised date night, Shahrukh invites Vidya over so the food won't spoil. The kids are gone for the night, Shahrukh and Vidya eat and talk and laugh and dance, and then kiss. Just as Juhi walks in, having cut her conference short in order get back and be with Shahrukh, only to find him kissing another woman.
Juhi moves out and goes to stay with Neha and her husband. Anil and Shefali return for the first time in a few seasons to give advice to Shahrukh. Akshaye leaves his new baby (adopted after Aditi had fertility issues) to go out drinking with SRK. Surprisingly, what makes the difference is when Vidya goes to talk to her. She explains that she did it because she was lonely, her husband was a wonderful wonderful man (Madhavan in flashback) and after he died, everything fell apart. She was seduced by the feeling of being married, for just one night. Juhi realizes that no matter what, she wants to stay married to Shahrukh. She asks to meet him at a coffee shop, tells him that she wants to be with him again, but there have to be some changes, they have to start fresh and better. Shahrukh says he has something to show her. Takes her to a building next to her office, and shows her a little one bedroom apartment. He just got the lease, she can run back and forth to work as much as she wants and still have dinner with him every night. And they can't lose each other again if they are all living in three rooms. Ending shot of the series, Shahrukh sweeping Juhi up in his arms to carry her over the threshold, just as he did in the first episode at their first Indian apartment.