Another money episode! Think this is going to be the theme of the season, and that's a good thing. Too few artworks honestly deal with money issues. Not showing poor people, but showing how money drives folks of all levels of society. (full index of Little Things reviews here)
Dhruv and Mithila are both dealing with money. Mithila with what she has to do to earn it, what her higher level means for her in terms of power and responsibility. And Dhruv with what his lower level means, with the options that are now closed to him.
Dhruv is struggling now that he is under employed (teaching occasional training classes). Especially because he has a responsibility to send money back to his parents, they are counting on it to pay back loans. He is feeling the pinch in terms of forgoing small pleasures (like wanting to start up a bonsai tree as a hobby, an outgo of only the equivalent of about $100 which in the past he would not have had to seriously consider but now has to avoid). And then he runs into a couple of fellow Delhi-ites and make friends, and they suggest that if he needs money fast, he can make it by sitting for tests on behalf of students. It's no big deal, you never get caught, it's fast money. Dhruv could make enough to clear his parents debts and get relief from the pressure he is feeling with no bad outcome. Except, that it is wrong.
And Mithila is struggling with doing the RIGHT thing for her money. Her big promotion at work means she is no in charge of a team. And it is on her to force them to work late and fix their mistakes and try harder. When they fail, it is on her to work until 1am to make-up for it. It's right, she is doing her job as a supervisor by making them work harder, especially since she is working hardest of all, but it's also hard.
It all comes together with the ending scene. Dhruv gets up in the morning to hear Mithila talking to the maid's son (another sign of Mithila's promotion at work, they have a maid now, a luxury they can afford and a requirement they need now that Mithila is working such long hours). He asks her why she is talking to him, and late for work, Mithila says she wanted to cheer him up. And then privately explains to Dhruv that she caught him taking money from her wallet. She took it back and talked to him about how, even if he got enough money for the phone he wanted to play games, it wouldn't really be "his" because he had taken her money wrongly to buy it. She had to stay late to cheer him up, but it's okay, work can wait. And then she leaves, and Dhruv deletes the contact info from his phone for the test scammers.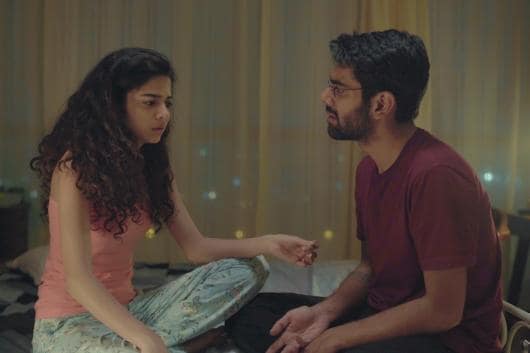 Mithila works hard and everyone hates her. But she knows in herself she is doing the right thing, being a good employee. Because of that, she has the confidence to stay late when it is important to be at home, and to not feel guilt when she says it is her money and the maid's son can't take it. I do appreciate that he is taking the money for a phone. If he needed it for food or something, this would be a story about Mithila not sharing the wealth and seeing poverty in front of her. But no, they pay their maid well, her son is not missing out on any basic needs, and it would be wrong to encourage the boy to take money for something he doesn't really need. So Mithila is on firm ground when speaking to him, and firm ground when dealing with her employees at her job.
It is Dhruv who is on shakey ground, and bringing Mithila down with him. Like the little boy, he wanted a plaything, the bonsai tree, and was upset he couldn't get it. There was the family pressure as well, but it is different when it is something you want for yourself and you realize you can't afford it. He is ashamed of his money problems, and wants to just pretend they aren't there, that's part of the temptation of the test scam, he could do it and get quick money and no one (his parents, Mithila) would ever need to know how desperate he was, to what extremes he went. But in the end when Mithila is telling him about the maid's son stealing, she casually mentions she had noticed money missing from her wallet and figured he was taking it. He isn't hiding anything at all. Mithila knows he is desperate enough to take from her, and has come to a place where she just accepts that as something she needs to pretend isn't happening.
That's what makes this show so good, like the title says it is the "Little Things". The episode is about Dhruv considering and rejecting test fraud for easy money, and Mithila accepting that she is the Boss now and that comes with responsibility in a lot of ways. But the little thing that matters is the moment when Mithila reveals she thought Dhruv was stealing from her and chose not to talk to him about it. That is how distant they are, how important money has become between them, that Mithila could believe this and not want to talk to him about it. And that Dhruv could learns he thought this and not feel brave enough to confront her. The power has shifted very far between them, thanks to money.
Joint bank accounts! It's a good thing! Just saying.