Sid M! Who knew! He made a little joke, and his hair looks fabulous, all messy and grown out.
Rana is Engaged and NOT to Trisha!
I care DEEPLY about this, and I bet I can make you care too. Trisha and Rana were openly dating back in the early 2010s. She was in her late 20s, so freakishly old and at the end of her career (which started when she was 19) and clearly ready for marriage. He was in his late 20s, so very young and fresh and just starting out and far too young to think of marriage. Rana also comes from a "good" film family, while Trisha comes from a middle-class background and fell into modeling which lead to acting.
They dated for a few years, publicly, and then broke up. Trisha was now 32, so her marriage time was almost out, she rushed into an engagement with a businessman. And then 5 months later broke up with him. Somehow, everyone knows it was for Rana. This was 5 years ago. For 5 years, Trisha and Rana have both been officially single, remained close friends, but have not gotten engaged or even said they are dating again. Trisha is now 36 and still unmarried, and here's Rana, engaged to a pretty young respectable non-actress.
Now I will always love Rana of course, and since Trisha is the one who got engaged first it looks like she is the one who broke up with him to begin with. But I really really wanted older middle-class not super respectable actress Trisha to find true love with nice good family same age best friend and ex Rana!!!! I don't want Rana going off and finding a "proper" young woman while Trisha turned her back on her respectable engagement for his sake! Why can't these two crazy kids just find love????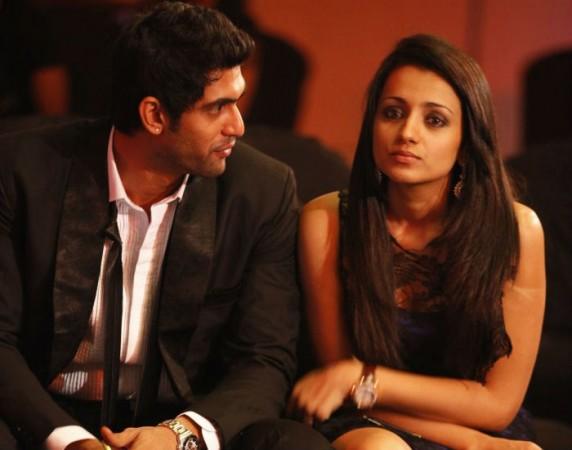 Salman Made a Song!
I mean, good for him, right? All I've been doing is sitting around blogging and doing work-work for my job-job. Here's Salman, writing a song, coming up with a video concept, and shooting the whole thing.
Also, I find it super amusing. It doesn't genuinely move me at all in the way intended (love and lost love and stuff), but it does make me smile. So I guess it does move me! Good on you Salman, making me feel things!
And I bet it was a fun activity, Salman and Jackie got to shoot a video, someone else got to hold the camera, and Walescha D'Souza's daughter (I'm guessing) got to come in at the end. Plus riding horses, painting, the usual Salman farmhouse events.
But also, oh my gosh are those bad lyrics!!!! And oh my gosh is that belt thing a strange idea! And I have seen this song mother-daughter concept before and I always find it disturbing!
On the plus side, Salman is looking gooooooood.
Sid M's Hair is Cute
Perhaps the most important news of all! He's got this shaggy growing out a hair cut look, and it makes him boyish in the best way. The sort of "I'm sweet and young and don't care how I look" kind of way. And he has a cute dog. And he has a fun little joke in an instagram post! Sid M. just keeps rocketing up in my eyes.