What a great concept for a short film collection! Take a story we think we know, and then turn it into something totally different just when we think we know what is happening.
The first story sets the stage. It is "Sahib Biwi Aur Ghulam", again. One of the oldest story settings in Hindi film. It starts, plot plays out, and you think "okay, I got this, there is a standard structure that you can play with but we won't go far outside of it". And then, BAM! Something just COMPLETELY unexpected!!!!
This is a collection of films made for an educated viewer. Someone who knows the standard narrative traditions, who is used to predicting what will happen next. That's the fun part, THINKING you know what will happen, and then having your jaw drop as it doesn't happen that way after all. But it is also DARK. The last film is the brightest, but still not exactly "happy". If you do not feel up to watching some thing dark, then you can read these spoilers to enjoy the surprise of where the story goes and discuss it. If you enjoy surprises and a little bit of darkness, don't read the spoilers, the surprise is the joy of the stories.
Majnu (Shashank Khaitan)
Fatima Sana Sheikh is married off to wealthy ancestral landowner Jaideep Ahlawat. But on their wedding night, he declares he loves someone else and will never sleep with her. 3 years later, she is sexually frustrated and coming on to everyone in the house, while Jaideep threatens and kills anyone who returns her affections. Then a new employee arrives, the driver's son who has been educated abroad and is hired on as a new money advisor. He starts an affair with Fatima. And then Jaideep confronts him. And explains that he is IN LOVE WITH HIM!!!! Jaideep was in love with another man, his father found out and killed his lover and his family. Now Jaideep is in love again. The new employee is shocked by hides it. Jaideep believes his wife is having an affair with someone else, he assigns the employee to kill the wife while he kills the other man. But at the last minute, the employee sends him a video. He explains that he planned this all along, vengeance for how Jaideep disrespected and abused his driver father. He has stolen his money and seduced his wife and left town. Jaideep goes to the train station and finds heartbroken Fatima, abandoned by her lover. As he is about to kill her, she says she is pregnant. Jaideep stops, and sits next to her and holds her hand.
The start of this story is blah blah obvious. Bored rich wife, new servant, secret affair, complicated relationship between servant's loyalty/resentment of the master and the rich wife. But putting in the "and the master is gay and in love with the servant" twist in the middle is no small thing. We are so used to the uninterested cold husband, we never think about "what reason might there be for him being so uninterested?" Flipping that and saying that both these people are trapped in this marriage, and that he is punishing his wife for marrying him by making her as frustrated as he is, that's very different! And then the ending of the husband and wife seemingly coming together in a plan to raise the child of the man they both loved, also unexpected.
Khilauna (Raj Mehta)
The whole thing is structured with police interrogations asking what happened after an "incident". Nushrat Bharucha is a maid living on the pavement within a gated community and working as a maid for one of the households. She is raising her much younger sister, and she plays all the angles to get her to benefit. She teaches her to pretend to be hurt in order to get the employers to feed her, to help her steal clothes, etc. etc. She encourages Abhishek Banerjee, the other lowerclass worker who has an ironing stall on the sidewalk, to be braver in front of the rich folks and play angles too. She gets a job at a better household and leaves her original employer. The other household has a newborn baby, and a husband who likes to look at her. One day the husband tries to rape her while her sister watches. Later that day, he comes to the ironing stall and beats up her friend Abhishek. That night she has to go back to their house to work at a party. The lights go out in the middle of the party and when they come on again, the baby is missing. And then they see blood bubbling from the pressure cooker and realize the baby was killed by being put in the pressure cooker. Back at the police station, slowly the police realize that it wasn't Nushrat or Abhishek who did it, it was the little sister, trained by Nushrat to see rich people as just "toys" not real people.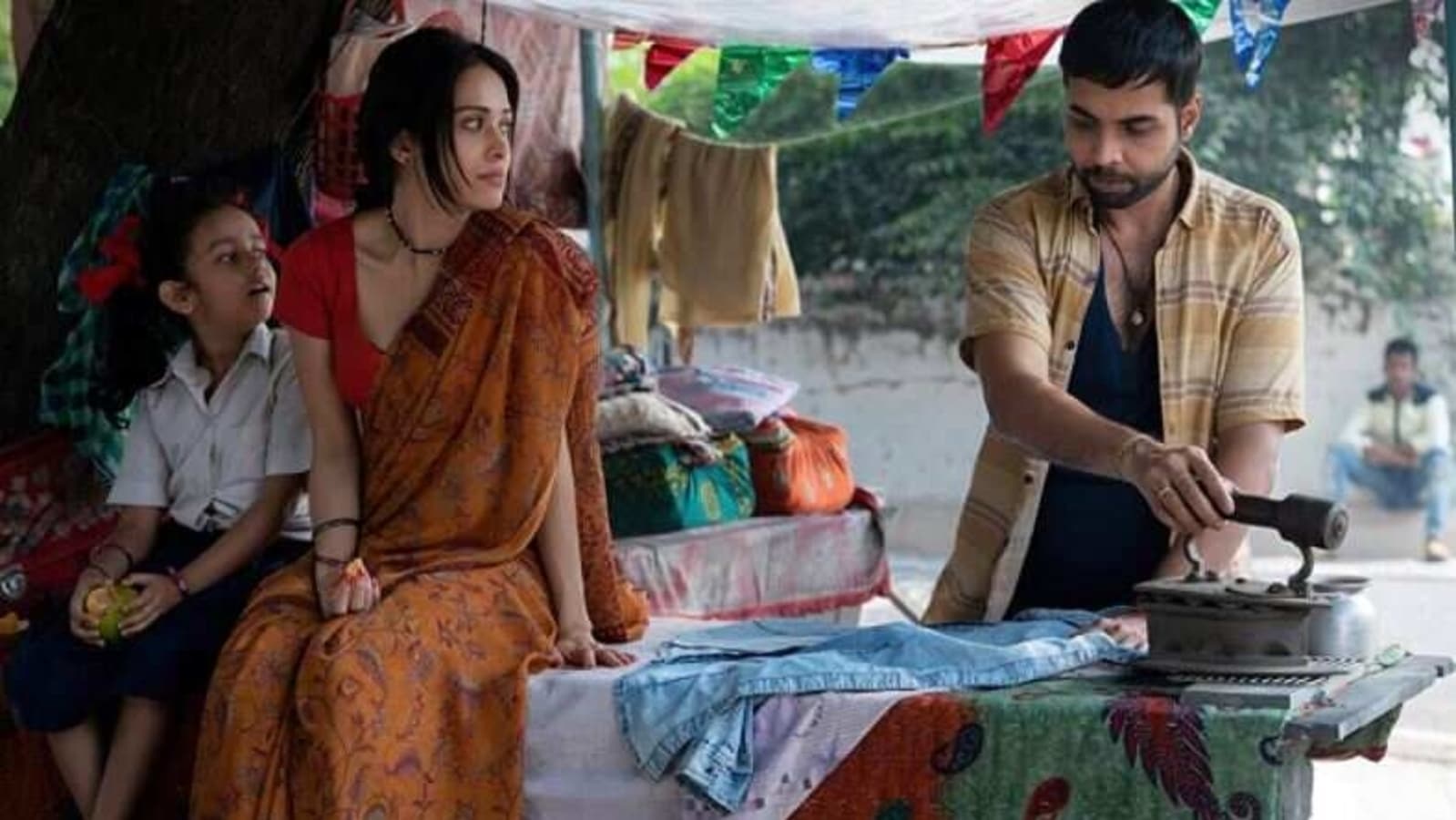 This story is DARK. But the situation is dark. The whole fantasy of the happy maid/employer relationship hides the fact that the powerless maid is willing, required even, to lie and cheat and steal in order to survive. And that the employer will shamelessly take advantage of the maid. Both sides smile but see each other as the enemy. And both sides are right, they are the enemy. Nushrat is really amazing in this movie, she lies all the time, but the audience can tell when she is telling the truth. She loves her sister, she cares about Abhishek, she puts on a show for the rich folks but goes just so far and no father. The point is, her little sister can't tell when she is lying. The little sister was raised seeing the lowerclasses being abused again and again, and fighting back however they can. She truly thinks of the spoiled rich baby as just "toys" and nothing more.
Geeli Pucchi (Neeraj Ghaywan)
LESBIANS!!!! Konkona Sen Sharma is a manly-styled factory worker who wants an office job but won't get it because she is lower caste. Instead, a pretty upper caste married woman Aditi Rao Hydari is hired. Aditi and Konkona become friends on their first day, and Aditi mentions her "friend" from college. Konkona goes home that night and looks at a video of herself kissing her old girlfriend. Aditi and Konkona become friends and possibly lovers. Aditi is increasingly unhappy with her life and in her marriage. Konkona starts to encourage her to live her "truth", but in the middle of it admits her lower caste status. Aditi pulls away instinctively from the low caste. Konkona sees the class prejudice and pulls back from Aditi, switching from telling her to live her "truth" to telling her to have a baby and adjust to marriage. She encourages Aditi to get pregnant, gives her advice, even lends her the apartment to have sex with her husband. When she goes out on maternity leave, Konkona starts doing Aditi's job. By the time she is encouraging Aditi in front of her family not to come back to work at all, Aditi sees it all. Her lover trapped her in marriage and babies just to take her job.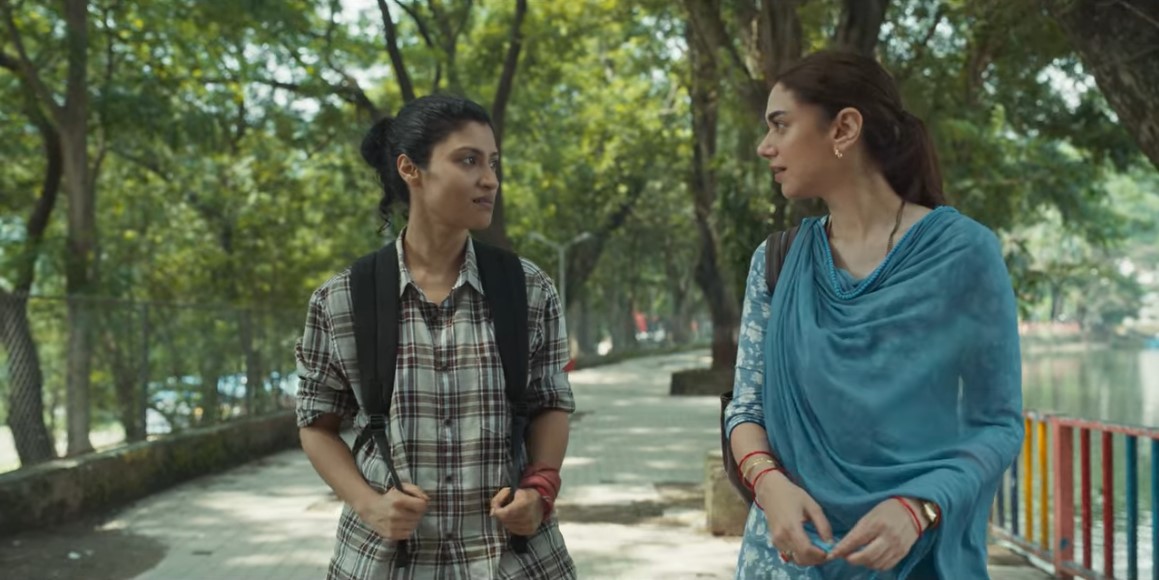 The central idea of this film isn't actually that interesting. Caste > Sexuality isn't that deep. But the way it is presented is what challenges you. First, with the lesbianism, this isn't a "coming to realize I am gay" story. Both women clearly had previous relationships. And they spot each other and start up a fling with full awareness of where this could go. And second, while there is a defining moment that shows Konkona switching from being in love to caste jealousy and planning to steal the job, it also isn't that clear cut. She is planning out how to trap Aditi in pregnancy and so on, but also still smells the sheets she left behind and clearly desires/loves her still on some level. Life is messy.
Ankahi (Kiyoze Irani)
Shefali Shah has a deaf daughter, Sara Arjun. She is a dedicated mother, and is fluent in sign language in order to talk to Sara. Her husband, on the other hand, has not bothered to learn sign language and instead just texts with Sara, doesn't spend time with her. Shefali fights with him all the time. Sara sees it all and confesses to Shefali that she is worried no one will ever love her because her mother Shefali is so beautiful, and can hear, and still her father does not love her. And then she meets a deaf artist at a gallery. He is delighted to discover she also speaks sign language and assumes she is also deaf and Shefali does not correct him. They start spending a lot of time together and fall in love. Eventually, after another big fight with her husband, Shefali comes to his apartment and they have sex. The next morning, he can't bring himself to say "I love you". But then regrets it and chases after her to confess his feelings. Shefali arrives home to discover her husband signing with her daughter, he is actually making an effort. And in that moment, her lover arrives and learns she is both married and hearing. He leaves, Shefali cries, and Sara sees her and asks, "did that man love you?"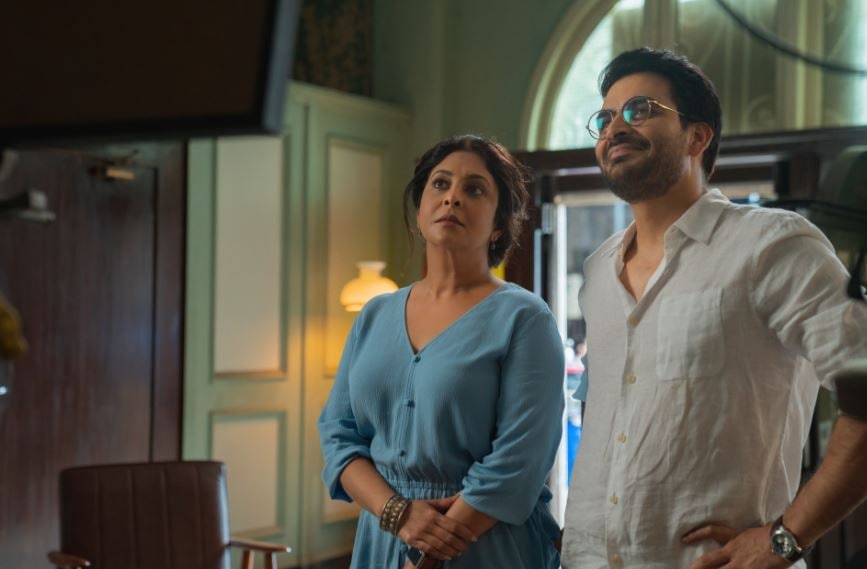 This is a surprisingly simple little story. A woman has an affair because she feels unloved. The affair unwinds when it is discovered, but the end result is her young daughter realizing that it is possible to have unconditional love from a man, something she had stopped believing in after seeing her parents marriage. The sign language is a lovely metaphor for communication and how slippery it is. Shefali and her husband don't really communicate, she and her lover do. But in the end, that "I love you" can't be said by anyone. Her lover is too afraid to say it when he should, and then it is too late. She doesn't say it to him either. And her husband says it not through words, but action. Finally making the effort she wanted him to make all along. Surprise ending, husband and wife may find their way back to each other, the affair may have been a good thing in the end.
Which was your favorite? Which was your least favorite?