Yaaaaaaaaaaaay, a review of a new movie! Yaaaaaaaaaaaaaay, a review of a movie I saw in theaters! Yay? A Salman movie?
I don't dislike Salman movies just because they are Salman movies, but I do think he is willing to do work at a lower level of quality than the other Khans. Which is okay, good actually, because Aamir and SRK tend to have such HIGH standards, their films only come out every few years. Salman cranks out a movie once or twice ever single year. And I feel obligated to see all of them, because the quality varies so widely, and most people seem to either report liking them because they like all Salman films, or disliking them because they dislike all Salman films. So I need to see for myself so I can judge where they fall on the Salman Quality Rankings. Using Dabangg as a marker, this film falls below Dabangg 1, below Dabangg 2, and about equal with Dabangg 3. Which means it is still higher than Race 3 and Tubelight, BLECH!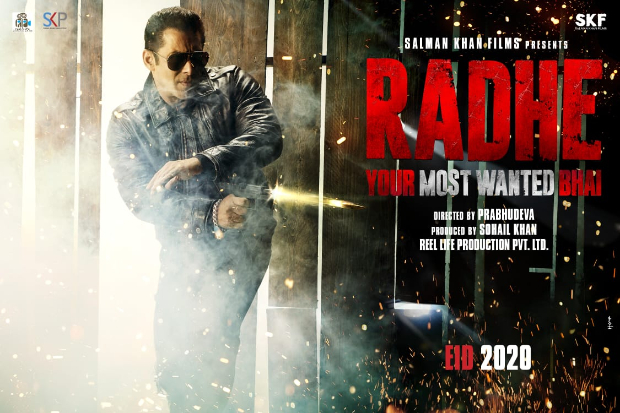 This is the exact sort of movie I want to see in theaters. In theaters, on the big screen, not knowing what would happen next, it was enjoyable. On a tiny screen, already aware of the plot twists, and with all the distractions of normal life, it would be impossible. But big screen, I enjoyed the spectacle of the songs, trying to guess the plot twists, and was able to focus.
Along with being a Salman movie, it is definitely a Prabhudeva movie. So there are more scenes at urinals than I would prefer in my films (my preferred number is "0"), the heroine is sexualized to a cartoonish degree, there's slightly more rape violence than I would like, and slightly more extreme violence-violence. But it's a well-made film, it doesn't have that Sohail Khan feeling of "did he just learn how to turn on a camera this morning?", everything is nicely framed and clearly edited and so on. And the plot does general hold together.
Salman movies, especially lately, feel more and more like a bunch of random friends hanging out together. That reached it's nadir (I hope) with Race 3 which truly made NO sense!!!!! In order to accommodate all the caste members and all the fun scenes Salman wanted, the plot was twisted up like a contortionist. In this film, there was a firm hand at the tiller, while there may have been some slight detours, on the whole the plot was firm and clear and moved along. Yes, it is also a remake of a Korean movie, but it is perfectly possible to remake a clear original narrative and turn it into a mess. In this case, Prabhudeva as director kept the train on the tracks, from the start to the conclusion.
So if you want to see a film in theaters, and you don't mind Salman, and you don't mind violence, this is a good option. If you don't want to see a film in theaters, OR Salman bothers you, OR violence bothers you, this is a bad option.