Yaaaaay, a review of a new movie! That I really really liked!!! With people in it that I really really like, and also Akshay. Although here Akshay is reminding me why I used to like him.
Whole plot in two paragraphs:
Dhanush is a Tamil med student studying in Delhi who is on a mission trip to rural Bihar with his class before going home to his village for his engagement. Sara is a Bihari girl who keeps running away from home where her family hates her and beats her. Her family kidnaps Dhanush and drugs him and drugs Sara and forces them to marry and then puts them back on the train to Delhi. Once they talk, Dhanush learns that Sara is in love with a circus magician and keeps trying to run away to him. And Sara learns that Dhanush is engaged. The plan is for them to get to Delhi and then separate. Only Sara's boyfriend is out of the country, so Dhanush takes her back to his dorm for now. And then invites her to come with him to his village for the engagement. At the engagement, Dhanush's fiancee figures out something is going on between them and then finds a photo of the forced marriage. She is furious and her father is furious and it ends with Dhanush declaring Sara IS his wife and taking her back to Delhi with him, where he tells her in Tamil that he is in love with her all of a sudden and it is killing him that she is going to leave him for her lover. At which point Akshay, the lover, shows up. And Dhanush's friend goes to meet them to give them money and learns AKSHAY ISN'T REAL. He is a hallucination of Sara's.
Dhanush's friend is a psychiatrist and explains that during her childhood trauma, Sara invented someone to love her for herself. And once she started to fall in love with Dhanush, she got scared and suddenly her lover "appeared". They will give her medicine and let her spend time with Dhanush until she forgets her lover. Dhanush patiently and lovingly spends time with Sara and her delusion, wooing her into forgetting her lover. Sara begins to doubt Akshay more and more until, finally, she "can't find him". Dhanush takes her to the train station to find "Akshay" and say good-bye. And finally she remembers everything. Akshay was her father, her mother's lover. They eloped but her family found her mother and her and dragged them home. Her mother took her and ran away again, they were briefly united with Akshay, and then the family found them again and killed her parents in front of her. She started imagining Akshay ever since then, the person who always loved and supported her. But now she is ready to let go of him and confront reality since she has found love and a safe place in real life. She says good-bye to Akshay and runs to Dhanush who is waiting for her.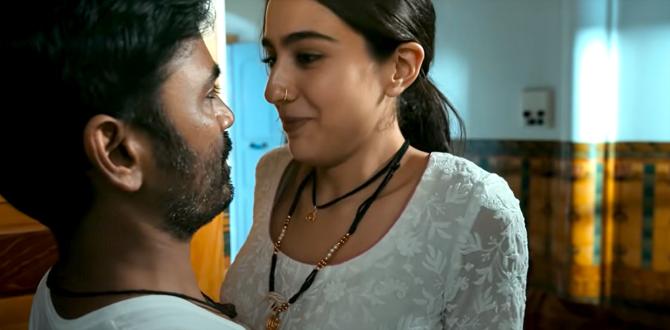 What makes this film work is Sara and Dhanush. Dhanush, for those who don't know, is Rajinikanth's son-in-law. And also, a star and respected actor in his own right. He started young, very young, so although he is only 38 now, he had a 20 year career. I told you, YOUNG!!!! You can see that in this performance. Just, massive acting experience, gone from the trying to hard, to the lazy star roles, and back again to the trying without looking like you are trying. And Sara, so far as I am concerned, is the most talented young actress working today. As one of the few people who actually got what she was doing in LAK, I have high HIGH hopes for her. And in this film, she delivers again. A performance that could have been wacky or tragic instead straggles the line between the two and is somehow both at once.
The typical way for this story to happen would have been a couple in a forced marriage, they hate each other, they fight, the audience knows they will fall in love because that is how plots work, but it takes FOREVER. But this movie goes in a way that is more surreal but far less dramatic and, well, stressful. Dhanush is in love with Sara from the start, gets a full on slow motion silly expression when he sees her. And Sara stars flirting with him almost from the start. The audience knows these characters are in love, and Dhanush knows he is in love AND that Sara loves him even if she isn't ready to say it yet. Because she almost said it. That's not the issue. The issue is Sara working through her internal trauma to reach a point of being ready to be married.
Really, this is the same movie as Love Aaj Kal. But everyone hated that movie because "nothing happened". Take that same story, Sara working through trauma to be able to accept love, and make the internal trauma external with Akshay, and suddenly it is clear what is happening.
The other story this reminds me of is Mouna Ragam, Mani Ratnam's classic slow post-marriage romance. In that case, the lover is a real person, who tragically died in front of our heroine and we don't find out until after she is married. It's a great movie, but my biggest issue is with that lover and the death. It doesn't feel integrated into the rest of the film, our heroine seems overall happy and untraumatized. But in this film, from the start, we have an integrated trauma.
We know Sara hates her family in a violent ugly way. The fact that they drug her and drug a kidnapped groom and force them to marry each other tells us that. Learning that she has created a hallucination as a coping mechanism makes sense. Especially since it also explains why she is still capable of love and joy, since she had her imaginary love to keep her going the whole time. The trauma is consistent with the whole story, and Akshay making that trauma visible is just a better way to tell the story in the film medium. And Akshay does a REALLY good job with his role. He is shallow and fake and over the top feeling, and then suddenly at the end when her real memories come forward, he is deep and heartbreaking.
I also applaud the film for finding the line between laughing at family abuse and letting it overwhelm the film. In Tanu Weds Manu, Kangana's family drugs her into marriage and it is "funny". That's a mistake, which Aanand L Rai corrects here. The forced marriage sequence itself can be played for laughs, but a family that would do such a thing is straight up abusive, not "funny". On the other hand, I don't want to see a film that gives me a million speeches about forced marriages and so on. This film accepts that Sara's family is horrible, and everyone knows they are horrible, and we don't need to keep talking about it.
Another film this keeps bringing to me is Judgemental Hai Kya. Which also had visible hallucinations, but I HATED that movie because it made those hallucinations into an element of power. In this film, Akshay is fun, but sort of shallow? As the film continues, he loses his magic (literally). He feels like something Sara can outgrow and be stronger afterwards. He is a flaw in her, if that makes sense? There is more magic in her time with Dhanush than there is in her hallucination. We want her to be healthy, to move on.
But really, again, the movie is just about Dhanush and Sara. It's two well written characters performed by two excellent actors and the film just sinks into their chemistry and their pleasant little story. Isn't that nice? No big set pieces, no huge concept, ultimately just a story of two people falling in love.