So, I saw Dilwale last night, and I will have many many thoughts, slowly unspinning from my head, over the next few days.  Rather than try to limit them all to one perfect post, I'm going to just go ahead and post as things slowly rise to the top of my consciousness.
The first thing that strikes me is that this movie is meant to be watched in a theater filled with rowdy and licentious SRK fans.  Not the ones who appreciate him for his acting abilities and keen business savvy, the other ones.  For instance, one of my friends was wearing this subtle, respectful, and tasteful piece of jewelry.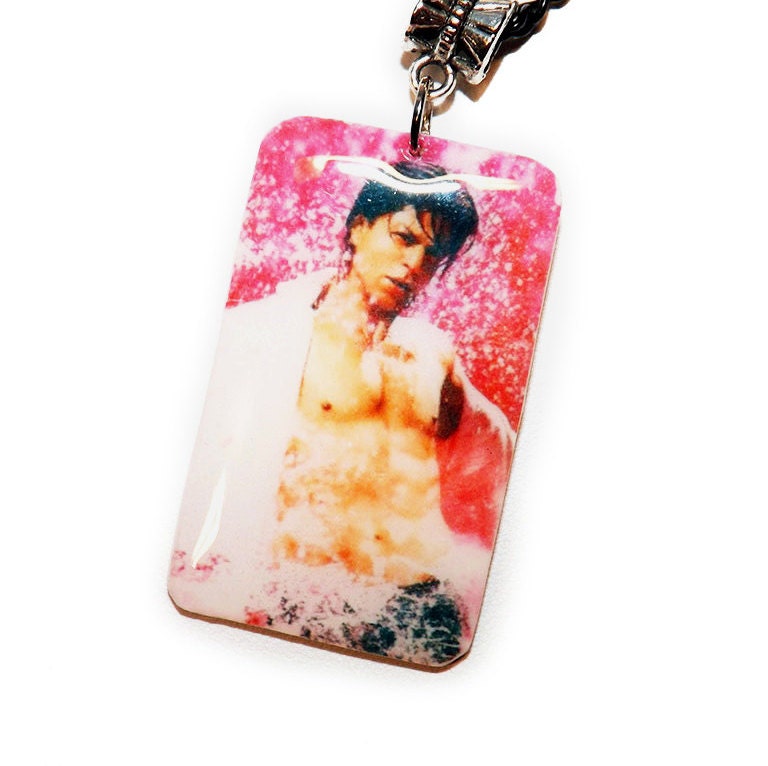 (purchased on etsy from the shop FreshAndRussianStyle)
So, I saw it with 5 passionate Shahrukh-ites, one patient romantic partner of a Shahrukh-ite, and one Aamir fan who we almost threw out of the car on the way there but eventually allowed to stay.  And so far as I can tell, that was pretty representative of the crowd as a whole, 5/7s passionate low-minded fans, 2/7s people who were terrified of us and trying not to be noticed.
Every wet shirt/shirtless scene was greeted with hoots and catcalls.  Every fight scene was talked over (unless it involved shirtlessness), while the romantic love songs were treated with the seriousness they deserved.  And every time Kajol and Shahrukh's eyes met and the music swelled, the cell phones came out and a dozen new homescreen images were created (for example, see the image above this post).  And if you are able to find cell phone footage of romantic scenes on youtube tomorrow, there is a good chance it is thanks the good people of theater 2 at the Old Orchard mall!
(I know this link will probably stop working within hours, I'll try to keep tracking down new ones as soon as they are available.  Also, slashfic friendly much?)