I turn on twitter this morning, and boom!  Romance everywhere!  Bigger version of the Shahrukh poster (still no title), new Half-Girlfriend song, and people are still tweeting about the last Raabta song.
Shahrukh first (always!).  We already saw the main visual from this poster ages ago, but I think the tagline and some of the background is new.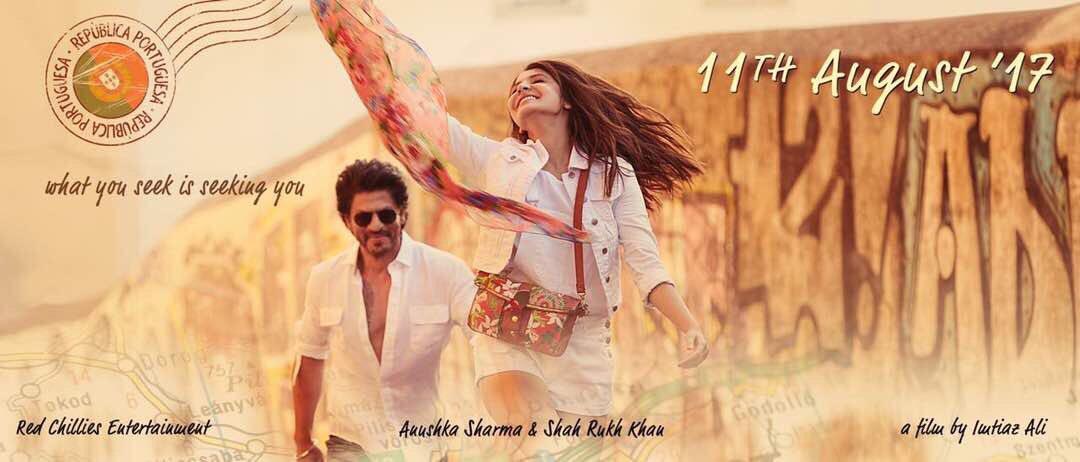 Now, am I seeing things or is there some kind of a message in the san colored background on the right hand side?  I'm getting "12 AD" maybe.  Which makes no sense and tells me nothing.
And then there is the little Portugal stamp, which just tells us that they are filming in Portugal, which we already knew.  And that the vacation setting will be a strong part of the mood of the film, which we also knew because it is an Imtiaz Ali film.
And then there's the "what you seek is seeking you" tagline.  Which is all lowercase and unpunctuated, which tells us that Imtiaz is still a bit full of himself.  But also adds like a strange stalker vibe to the way Shahrukh is following Anushka, right?  Oh, and I am assuming that Anushka is going to Portugal for some sort of "finding herself" trip?  Looking for a romantic interest, or her estranged father, or something.  And Shahrukh is supporting her quest, rather than having his own, but in the end she realizes he is what she wants and has been there all along.  Basically, French Kiss/Pyaar To Hona Hi Tha.
On other rom-com news, new Half Girlfriend song!  This is such a tricky relationship to handle, it's explicitly about the "nice guy" guy, the one who keeps hanging around and being your friend and hoping that you will give in and fall in love with him.  That guy is a terrible guy, that guy can sometimes turn into rapist-guy.  And what makes me interested in the film is that it doesn't seem to be pulling its punches about this whole thing.  Arjun is not getting any signals from Shraddha that she is interested, he is spending way too much time thinking about her and following her around, and he is kind of pushing too hard to make her react to him.
But, way down deep, there is supposed to be a sense that Shraddha is lonely and sad.  She doesn't necessarily need to be "rescued", but she might have stuff going on which is making her not able to relate to anyone, including Arjun.  She isn't the "remote ice princess" because she is a perfect female ideal like Arjun sees her, but because she is not a happy person.  Anyway, the point is I really like the moment at the end when she lets him keep holding her hand and holds his back.  It feels like she is doing it just to be nice, but at the same time like she can only do something like that just to be nice because she isn't able to feel anything, not because she doesn't feel anything for Arjun in particular.  Does that make sense?
And finally, Raabta!  Which is looking more and more Magadheera like.  Not because of the song, but because of this tweet:
Totally the old seer character from Magadheera, right?  Even the costuming kind of looks similar.
Oh, but the song!  Which does not look anything like Magadheera.  But is super cute!  T.J Stevens in the comments said it reminded her of early Shahrukh, which made me think, and I can kind of see it.  Only it's not just early Shahrukh, but those 90s heroes in general.  They were so much more open and happy and smile-y, instead of our modern angsty, or ironic and cynical, heroes.  But Sushant seems like a throwback to that early time in this song, super happy and unconflicted.
Oh, and there's also some Mere Pyari Bindu songs.  Place bets now on whether Parineeti will live to the end!  I don't know, this romance looks kind of too perfect, death feels inevitable.