This was going to be an all Varun week, in honor of his birthday (birthday post here).  But Vinod has knocked him right off the public consciousness.  Sorry Varun!  Maybe next year.
Vinod was hugely influential in a large part because of his looks.  He was a dramatically handsome man, in a way that few actors had been before.  And so I thought it would be fun to do a compare and contrast, see how his looks stack up to the best of the industry before and since.
I've posted this photo before in my Evergreen Heroes TGIF post.  I think it is the best he's ever looked, but opinions varied in the comments.
But does he look better than Shammi Kapoor, the original bouffant hero?
I don't know, I think it might be a tie!  But then, as said before, I am partial to this particular Vinod photo.
2. That's the youngest photo I can find, with his 1950s style bouffant, but this one somehow makes him look even younger, just because of that good little boy style hair.
Amitabh had that same hair early on:
I think Vinod wins this round!
3. I think it was in the early 70s, a few years into his film career, that Vinod finally found the ideal balance between that bouffant and the good-boy look.  Plus some swagger and sunglasses, and this is definitely dishy.
But is his swaggar better than his own son Akshaye Khanna?
I think the answer is a resounding "Yes! It is!"
4. You can see why he was beginning to be a bit of a national heart throb in this era.
Aamir has a bigger mustache in Talaash, and a tighter uniform, but that may not give him the edge.
Yes, I think I still have to give this to Vinod.  It's not just the height advantage, he doesn't want it as much, you know?  Aamir is all "OH yeah, I'm a COP!" and Vinod is all "yeah, I'm a cop, so what?"
5. He can even give Hrithik in Lakshya a run for his money in the "handsome young officers training student" character looks:
I don't even know who to pick here!  Might be another tie.
6.  Vinod was one of the early actors to realize the importance of beefcake in his films.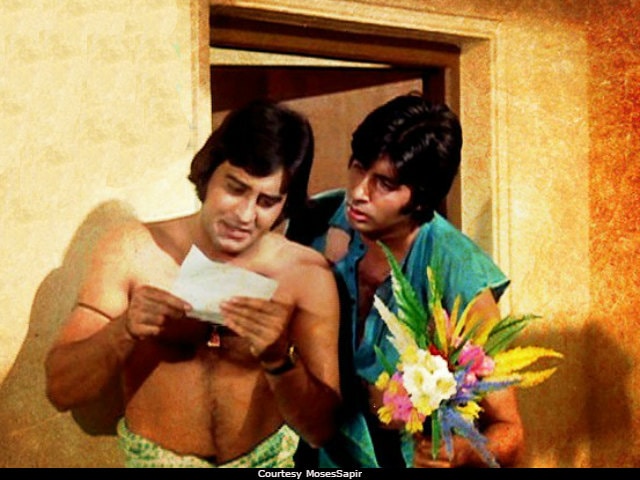 But Dharmendra came slightly before.
Sorry, Vinod, I've got to give this one to Dharmendra.
7. Vinod didn't limit his beefcake to films, he had no problem undoing a few buttons for a magazine shoot.
Filmfare still likes the motorcycle cover shot.  But is Salman any better than Vinod?
I think I may have to give it to Vinod?  The all denim look is a demerit, but he does give us a hint of shirtlessness and commit to the premise of the "motorcycle sexy tough guy" a little more than Salman.
8. Motorcycle sexy tough guy is good, but I think this might be favorite of his looks though, secretly hot buttoned up engineer type!
Also one of the best looks for Shahrukh (ID on halyard is the geeky glasses of today's era).
Boy, this is hard!  I think Shahrukh's hero might be a little too secretly hot?  Vinod is just a glasses pull and hair toss away from peak sexy, but Shahrukh requires a full costume change.  So I think maybe Vinod?
9.  And finally, Vinod returned in the 90s, still confident in his virility.  And, okay, it's not the best old-man-grasping-for-youth photo, but it's also not the worst.
This is the worst.  Oh Dev.  I appreciate your youthful spirit, but I wish you had dialed it back a bit in photographs.
Dev clearly wins this round for me.
10.  Here's the real challenge.  Vinod's most famous ad campaign.
Versus Hrithik's recreation of it.
Yeah, I think Vinod's is clearly superior.
Bonus: Okay, Varun's turning 30, I can't just let it go completely unacknowledged.
Varun with bouffant:
Varun with good boy hair:
Varun with sunglasses and swagger:
No Varun in uniform and/or with mustache.  But plenty of Varun beefcake!
And Varun with motorcycle.
Varun's Judwaa 2 look will probably be his first time playing hot nerd.  But he has done "hot straight-laced look" before.
And he definitely looks good in a leather jacket.