Phew!  We are almost to the return to the present day and the cathartic battle scenes!  But first, the last bit of sad.  And a subtle call back to something way way way way way back at the beginning of the film (part 19 here, you can crawl back from there)
Previously in Bahubaliland, all was darkness and horribleness.  Ramya, the Queen, ordered her faithful servant Kattappa to kill her son Prabhas because she thought Prabhas was trying to kill her other son, Rana.  Kattappa did it, although it broke his heart, since Prabhas was like a son to him.  And then after the killing he was surprised by the arrival of Rana, to gloat of the body and in so doing, reveal that this was his plan all along and Prabhas was innocent.  Kattappa, shocked at what he has done, goes back Ramya and confronts her with their shared guilt.  Ramya collapses in grief and guilt, all her motherly emotions she had been hiding finally bursting furth.
Okay, I honestly don't remember the next sequence of events.  It is all very rapid and confused.  Rana is there, and Anushka bursts in, and then Rana and Nassar are ordering Ramya around, and the people are outside, and Ramya makes an announcement and leaves with baby Prabhas 2, with Kattappa helping her.  But I just have flashes of moments.  I think maybe because everyone is so disconnected from each other?
Not as a flaw of the script, but a realistic touch.  When disaster strikes, everyone does kind of retreat to their own little world.  Ramya is lost, lost in her memories of Prabhas' youth, her mind snapped.  Kattappa is lost as well, dead inside now that he has nothing left to live for, both his loyalty to Ramya shaken by her gross error, and the one person he let himself love, Prabhas 1, now gone.  Rana is in the midst of his psychotic break, finally allowing all his damage to fly free in the world.  And Nassar is Nassar, he's always been horrible.
Speaking of Rana and Nassar, there was a thought I thought and then forgot (hey!  A poem!).  Anyway, now I have remembered it.  Nassar's disability has always been a fine line in the film.  Write from the moment he was introduced, Kattappa says in voice over that he was born disabled, but that is not why he was never king.  Prabhas -1 picked Prabhas 0 as king, because Nassar's mind was diseased, not his body.  And it was this weakness of mind which made him obsess over the mistaken belief that it was only his body that lost him the crown.  Because he could better accept that then the truth.
The Hindi subtitles didn't really make that clear, and there were various think pieces which apparently missed the point, so Rajamouli made it even clearer in this one, Kattappa has a whole big speech saying "Listen, Bozo, stop saying it's because of your physical disability!  You are a terrible person and that has nothing to do with your weak arm!"  But Nassar doesn't get it.
Now, Rajamouli is going at it a different way.  Nassar's weak arm was a sign of his weakness.  Not a sign from God, but a sign from the narrator.  Just like the bindi/tilak on everyone's forehead helps you recognize who is who and what is their essential character.  And the streak of grey in the hair, a beard, a beaded chain, it all has a meaning to help the audience follow the story.  Nassar's arm doesn't say "all disabled people are evil", it says "this person is evil and to help you remember that we have given him a weak arm."
Now, Rana didn't have a visible sign of his weakness, his illness.  He was seemingly tall and strong and perfect.  That's what everyone believed up until this moment.  Even his father, I don't think fully understood how damaged Rana is.  It was that moment when he killed Subbaraju, killed the alternative self, the good part of himself, that was the real turning point.  And to mark that, he marked himself.  He used Prabhas' knife to cut into his face the ugliness he felt inside, a visible mark of how he was just "wrong".  In case we didn't get it with Nassar, now we are really really seeing it, Rana's inner madness comes before his physical, not the other way around.
Ever since that moment, more and more Rana has been revealing his madness.  It's like the slash on his face opened up a gap and now his inner torment is leaking out all over the place.  Kattappa got a front row seat to it, and now Ramya is seeing it.  Only, not really, because like I said, she is still lost in her grief,
What breaks her out of it is Anushka, running in with baby Prabhas 2.  I said back in my very first review that this is a movie about two women.  And that is so clear in this scene.  All the pivotal moments were between the two women more than anyone else.  The first throne room scene, when Anushka is the first person to disagree with Ramya and to win the greater battle against her, convincing her son to leave her side.  And in the second scene, when Ramya tries to get her revenge and just sends her son father away.  And between that, the baby shower scene, Anushka conquers her again.  But now, at the end, Ramya finally accepts the defeat she was handed in their first meeting but refused to accept.
Anushka didn't just "win Prabhas" in that first meeting, she won everything he represents, Justice and Power and just over all right-ness.  Not through her womanly wiles, but because she was more just and fair and right than Ramya in every way, and therefore has naturally taken Ramya's place as the strong guiding light of Mahishmati/Prabhas.  Ramya has been denying and resisting this all along, but now, finally, she has to acknowledge the truth.  That Anushka didn't "trick" Prabhas, and that Prabhas wasn't corrupted by her.  Anushka was herself and Prabhas was the same noble man she knew, and he chose Anushka because she was better than Ramya.
That is what shocks Ramya out of her grief.  Seeing the woman coming in who, finally, she recognizes as her other self.  They may have their differences in how they see the world, in their temperaments, in their ethics.  But they both truly loved Prabhas, and they both are good strong women trying to survive in a difficult world and make it a little better.  All the things we knew about Anushka must come rushing back to her at this moment.  If Prabhas was never rebelling, never trying to get the throne, that means that Anushka married him out of true love, went with him into exile happily, spoke up in his defense because she saw him being abused, has suffered and remained faithful where Ramya has failed.
Anushka represents both the greatest sin Ramya has committed, the person whose life has been completely destroyed by her actions.  And also the woman she should have been, could have been if she had remained true to her heart and let it be her guide.  It's no wonder that when she comes rushing in, Ramya ignores everything else happening in the room and zeros in on her.
I don't remember if Ramya actually tells her Prabhas is dead, or someone else does, or Anushka just knows.  But again, we don't need the dialogue to know that.  It's all there in the gestures and the expressions.
Anushka does a fabulous job in this scene.  Her face tells us how she is feeling, and it isn't sad or angry, it's straight up panic.  She knows, for sure, that Prabhas 1 would have returned to her as soon as he could, that there is nothing that could have kept him from her side.  And so something must have gone terribly terribly wrong.
Beyond her face, her posture is amazing.  She is walking and holding her newborn, but she is walking broad-legged, clutching her belly, hunched over, with pain on her face.  This isn't one of those heroines who gives birth and runs a marathon (Bunty Aur Babli, I'm looking at you).  But she also isn't a heroine who gives birth and then slowly fades away (like Prabhas 1's mother did).  Her inner spirit is still there and her body is strong, and it is managing to combat the pain which is screaming at her until she can do what she needs to do, somehow drag herself to the palace, carrying her child with her, and demanding answers.
(I love this movie, but the ending is, just, no)
But once she gets there, and learns the truth (however it happened), she can't keep standing, the adrenaline which has kept her on her feet has run out, and she sags to the ground.  Not in an elegant princess like graceful fall, but a collapse.  And that is when Ramya is shocked out of her stillness and slowly goes to her, on her knees, and slides her hand, still bloodied with Prabhas 1's blood passed on to her by Kattappa, onto Anushka's foot.
This is as close as we are going to get to a "happy ending" in the flashback.  Or, maybe not "happy ending", but closure.  Ramya in one gesture is admitting both her guilt in all that has gone wrong for the past year, and that Anushka is the better woman.  Which by extension raises Prabhas back to his former position in her eyes, since he chose a good woman as his wife.  But it's small comfort, both for the audience and Anushka, considering that she has just lost her husband in the cruelest way, and is now alone in the world with a teeny-tiny baby to take care of.
Rana interrupts even this small moment between them, telling, or rather, ordering his mother to go outside and speak to the people, tell them that Prabhas 1 is dead.  The people have gathered in the palace courtyard, they must have sensed something is wrong.  I wonder how much time is supposed to be passed?  Kattappa certainly wasn't rushing back, and Anushka really wasn't rushing.  But if everyone knew that Anushka was in labor, knew that Prabhas left with his sword, and knew that he didn't come back, well, that would be enough to start rumors.
Rana ordering Ramya here, that's another sign of his madness slipping free.  He has hated his mother at least since that moment she tried to buy his forgiveness with gifts.  And now, now he doesn't bother to hide it, glorying in her weakness, in his ability to order her around.  This is his idea of a perfect world.  He is in charge, the women are broken and miserable on the floor, Kattappa is meek and silent, and Nassar is triumphing in the background.
But, like all chauvinists, his fatal flaw is that he underestimates women.  Ramya seems dazed, she is holding the baby that Anushka has passed to her, Rana has told her to announce Prabhas death and then they will kill the baby.  But as she exits, Ramya pulls inside and finds some deep well of strength, and after announcing Prabhas 1's death, she lifts up the baby in her arms, seeming almost possessed in her surety of her choice, even more sure than when she announced Prabhas 1, and declares that this baby, Prabhas 2, is the new ruler of Mahishmati!!!!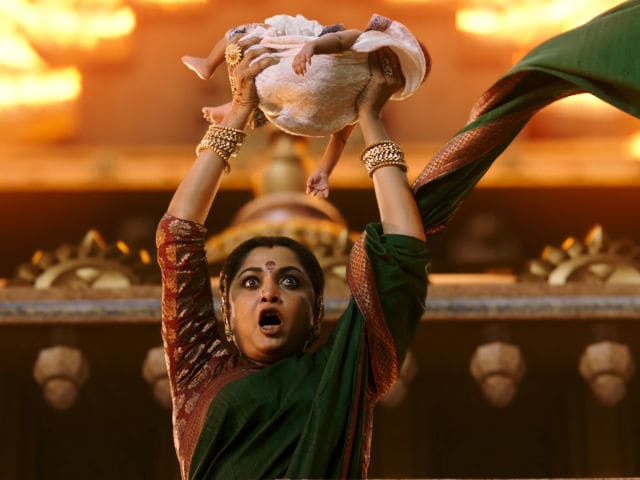 And suddenly the kingdom is put right, in its own way, has a fraction of hope to keep it alive.  And Kattappa, as the spirit of Mahishmati, has a small fraction of strength again.  He has something to believe in, Ramya has redeemed herself.  And he has something to fight for, this baby that is all that is left of the only person who ever truly loved him and who he truly loved (yes, Anushka is there too, but their bond isn't the same as what he had with Prabhas 1).  And so the two of them together, Ramya and Kattappa, put out their one last fight.  Ramya takes the baby and Kattappa holds off the men.  Ramya takes a moment to beg Anushka to come with her, and Anushka sends her off, telling her that if she wants to redeem herself, she must save this baby.
Way way back in my first post on B1, I talked about how that opening image is so resonate on a deep level.  Any time there is danger, we want to send away our children first.  You don't need to know a lot of background, you just need to see an older woman trying to take a baby to safety, and you know that the parents have been lost, somewhere, but have tried to send their child forward to a better life.  And now we get to see that moment.  Anushka is doing the hardest and best thing a mother can do, giving up her child for a better life, sacrificing her own future so that her child can have a better one.
And she is giving Ramya the greatest possible trust you can ever give another person, the safety of your child.  To Anushka, this baby isn't "the future of Mahishmati", it is something much greater, it is the little child she has just given birth to, just met for the first time, and the last remaining piece of the husband she has lost forever, and she is trusting all of that to Ramya's keeping.  And Ramya knows it, because this is not the first time she has taken up such a trust.  Prabhas 1's mother didn't live long enough to talk to Ramya, to give her this trust in person.  But Ramya, having just given birth herself at that moment, would have understood.  Would know that she died in fear for her son's future, and that Ramya owed it to her, and to this baby, to raise it well.  And Ramya has betrayed that trust.  Now she is being given another chance, by another mother who has no reason to trust her and yet is, and Ramya cannot fail.
Kattappa cannot fail either.  And so he digs deep and finds one more moment of strength.  Sweeping obstacles from in front of Ramya so she can escape (great moment of visual pun, him taking the door from his hinges to use as a barricade to push men aside, "opening the door" for Ramya).
And now a brief detour to Russia!  Chekhov, brilliant Russian playwright, had a saying about how to write a play.  He said, "If in the first act you have hung a pistol on the wall, then in the following one it should be fired. Otherwise don't put it there."  Chekhov was talking from the perspective of a writer, he was saying that you shouldn't include anything extraneous in your play.  But the concept has been simplified in media writing to be simply "Chekhov's Gun".  As in, any time the writer draws your attention to something in particular, you the viewer/reader/listener can be sure that it will be important later.
It was done so well in this film that I hardly noticed it, but way way way back at the beginning, in that scene when Ramya tried to buy Rana's loves with gifts, she gave him a bow and described it as specially made so that it would be accurate at even 50 yards.  And then 2 hours of other stuff happened.  And now, at the end, thanks to Kattappa's help Ramya was able to get out of the palace and down to the grounds.  She, and the baby, are about to step into a small boat when Rana pulls out his bow, this same bow, and takes aim, and fires, hitting her in the back and sending both her and the baby to sink into the water.  Ramya's guilt, her indulgence of Rana, it has literally killed her.  She handed him the bow that let him do it.  And remember this bow, because this is not the last we see of it!
(Not this bow, but one that looks a lot like it)
Once Ramya "dies", it all goes bad very quickly.  Kuntala is burned.  I was talking with Apu and Avani in the comments about this, about how Anushka's brother went from a happy gentle ruler to the harsh leader of a rebel band.  We only get one quick glimpse of him, but I think it tells us all we need to know.  He, and I think his wife, are in the mountains watching Kuntala burn.  They are in fine clothing, not armor, and it is torn and dirtied.  And they are clutching and comforting small children, in the same fine clothes.
I think we can see that the attack came so swiftly they didn't even have time to put on armor.  Rather than attempt to fight back, they focused on saving what they could, taking the children and getting out.  And not their children, we never saw anything that would imply they had children.  But these aren't orphans either, or weren't orphans until now.  Just like Ramya and Prabhas 2, they have been giving the great responsibility of saving the children of parents' who sacrificed themselves so their children might life.
That is the kind of responsibility that could change a man from what we saw in the past to what he became 25 years later.  Taking these children and teaching them to be hard and prepared, so they will not meet the fate of their parents.  Slowly gathering more children to him, as more parents die or send them there for safety.  Seeing that every moment of weakness has lead to another death.  And seeing his own weaknesses, that he can never be the leader they need, that his sister has to return if the kingdom will ever survive, if these children he has taught to kill and hate will ever be free.
Jumping ahead slightly, I think we all know that this character will never have a happy ending.  He has been too lost for too long to ever come back to peace.  And he knows that too.  He gathers with him the children of the country, because they are the ones who have hope, who can move forward.  It is too late for him.
But it is not too late for everybody.  Which brings us back to the present!  THANK GOODNESS!  The present, where the resilience of youth tells them that they can do anything, that they can conquer, that things will be bright and better again.