The Ramadan promo parade continues!  Tubelight is taking it easy, Salman just tweeting set photos, Shahrukh is doing the same with Jab Harry Met Sejal (blech, still hate the title).  Leaving the field clear for the hardcore promos of first looks and teaser trailers for other movies.
Let's start with the actual trailer, Toilet: Ek Prem Katha.  Before we all watch it, interesting timing, right?  Toilet is coming out a week later than JHMS (I refuse to type that whole thing out again) and JHMS just released title and poster, while Toilet has a full trailer.  It's smart, shaking things up a little in their promo schedule.  Now JHMS is going to have a clear field whenever it releases it's trailers, and I am guessing song teasers and music release and other promos will be similarly staggered.  It's either just that the two production houses have two different ideas for how to promote films, or that Shahrukh waited until Akshay's poster was out, then released his, and Akshay waited until Shahrukh's poster and title was out and we were all done talking about it, than released his.
Anyway, I really really like the trailer!  Which surprises me.  My big problem with this movie, all along, has been the title.  Doing a comic ripoff of "Gadar: Ek Prem Katha", it sounded like this was going to be some kind of gross comedy that was only funny because of the humorous juxtaposition with the other, better, movie.  But it's not a humorous juxtaposition, it's a serious one!
Gadar is about a man doing everything for the comfort of a woman, killing people and crossing borders and so on and so on.  But what this film is saying is that those village husbands who build toilets, they are just as epic and wonderful and full of love as Sunny in Gadar.  It's a different battlefield, but it is the same battle.  It takes a serious issue, which tends to get laughter when it is mentioned, or which people just don't feel comfortable talking about, and makes it serious again.  My seeing the title as a joke was my own blindness.  It's not a joke, the word "Toilet" can be just as important as the word "Gadar".
And then we have two posters.  Much less exciting to talk about, but might as well still mention them.  Well, Baadshaho is slightly more interesting/surprising.
I don't know what happened, maybe it's because the Gandhi family has sunk so low in power lately, but movies are FINALLY mentioning the Emergency by name!  It used to just sort of be there, in the background, not explicitly named.  But Agneepath said it, right at the opening.  And now Baadshaho is putting it on the poster!
And not only is it an Emergency film, it's an Emergency film where the "rebels" are explicitly the heroes!  Well, kind of rebels.  It's not like they are spreading pamphlets to inform people about wrongful arrests.  But they are trying to break through the police cordons and so on and so on.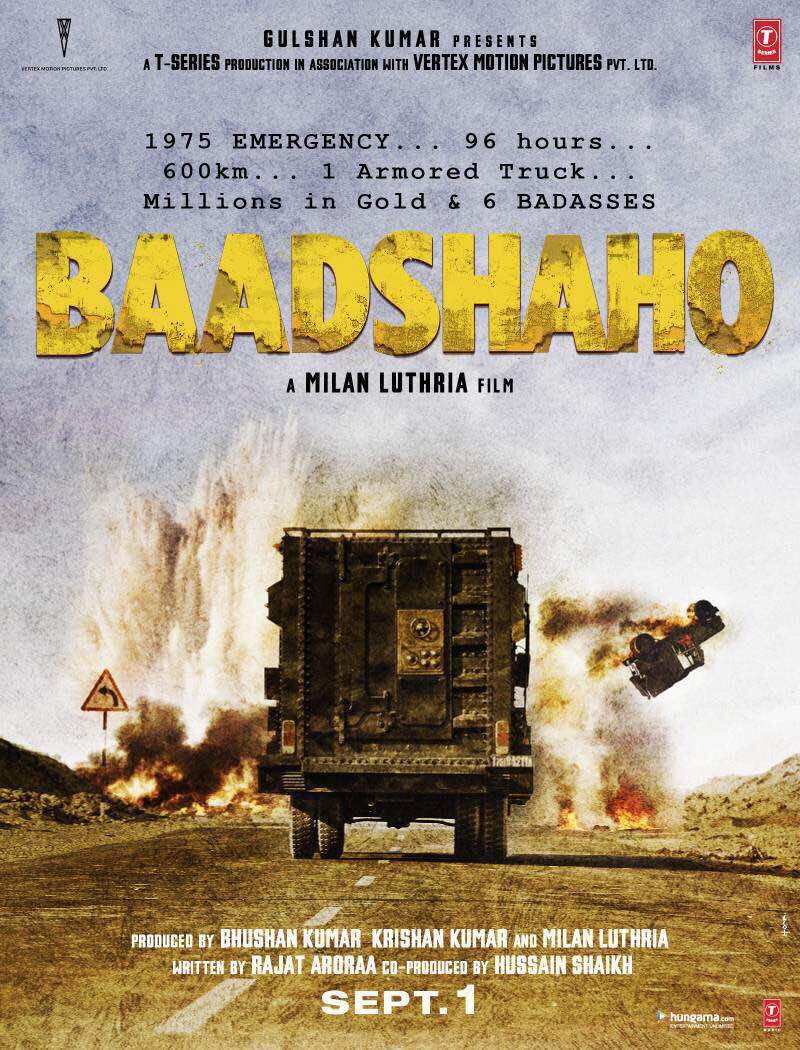 Plus, most importantly, Milan Luthria!!!!!!  Not sure how I missed that until now.  Or maybe I did notice it and just forgot.  Anyway, Milan Luthria!!!!!!  Who directed Once Upon a Time in Mumbaii, also set in the 70s, also starring Ajay Devgan, and one of my all time favorite movies.  Very very pumped to see what they do when they come together again.
And final thing to be excited about, or at least interested in, on the poster: T-series!  Their film production is ramping up faster and faster.  Going from Sanam Re, directed by the owner's wife with no international release, to a major picture with a major star.  I have a little voice in my head that wonders if this whole thing is in service of Mogul, that Gulshan Kumar biopic Akshay is supposed to be in.  Did they start the whole film wing and slowly build up experience and industry cred just so they could make a hagiography of the founder?  Well, I guess we will find out, if Mogul comes out and then the film wing shuts down.
And final poster I am interested in, JP Dutta's next!  You will be SHOCKED to learn that it is a war story with a large number of characters.  Or not, since that is what JP Dutta almost always does.  And why not?  Very difficult to make that kind of film, if he has the rare ability to do it, why not just make the same film over and over again?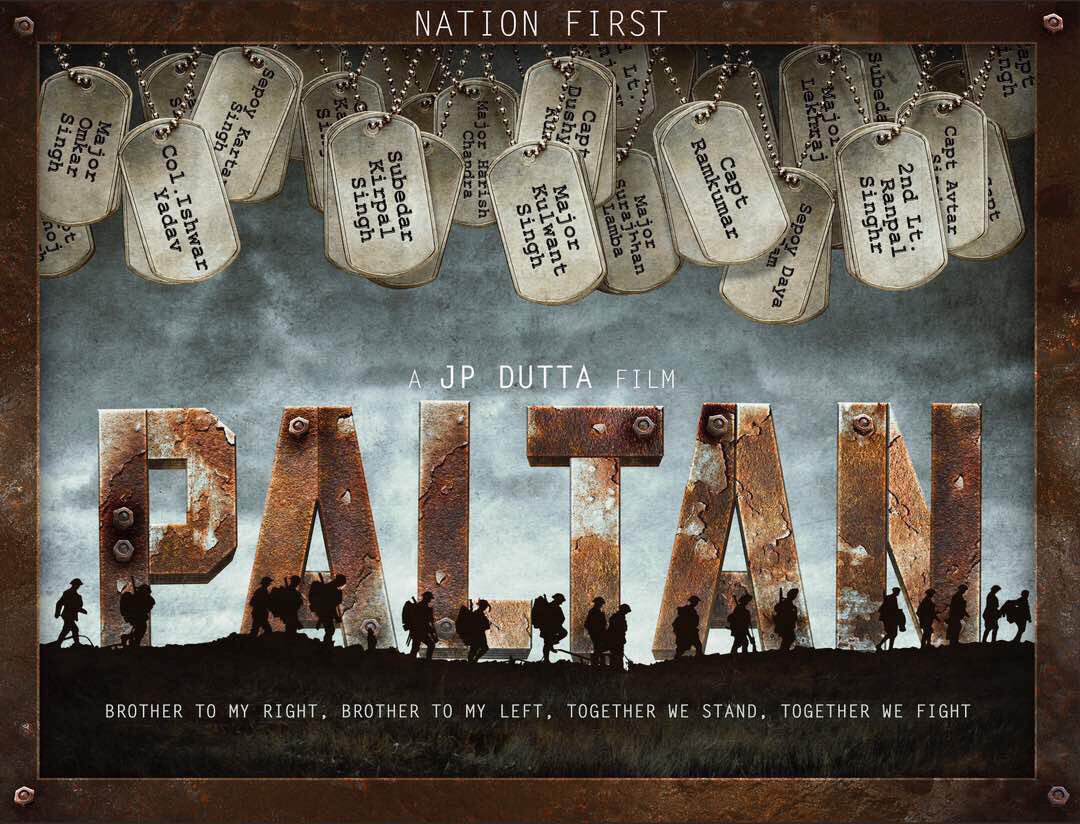 A quick google of the title tells me it is both the name of a Gurkha regiment, and a neighborhood in Dhaka, capital of Bangladesh.  So this is either a movie about a Gurkha regiment (fine with me, I loved the Gurkha segments of LOC: Kargil.  Especially because they were all based on real Gurkha's who really were that amazingly brave and heroic).  Or it is a movie about the 1971 Bangladeshi war.  Which is okay too, it will make a nice comparison with Baadshaho, one film triumphing the strong central government of the 1970s, the other one criticizing it.