I take one day off twitter, and everything happens!  It's not fair!  Shahrukh's movie has a title, and a bunch of new posters, new Tubelight song is up which changes the plot, and Jagga Jasoos…..well, that one doesn't really change anything, but it sure perplexes me!
Shahrukh first (as he is in my heart!).  The Imtiaz Ali movie has long been rumored to be named "The Ring", but that's all it was, a rumor.  There has been no title officially announced until just now, Jab Harry Met Sejal.
And there is a poster!  Well, two posters.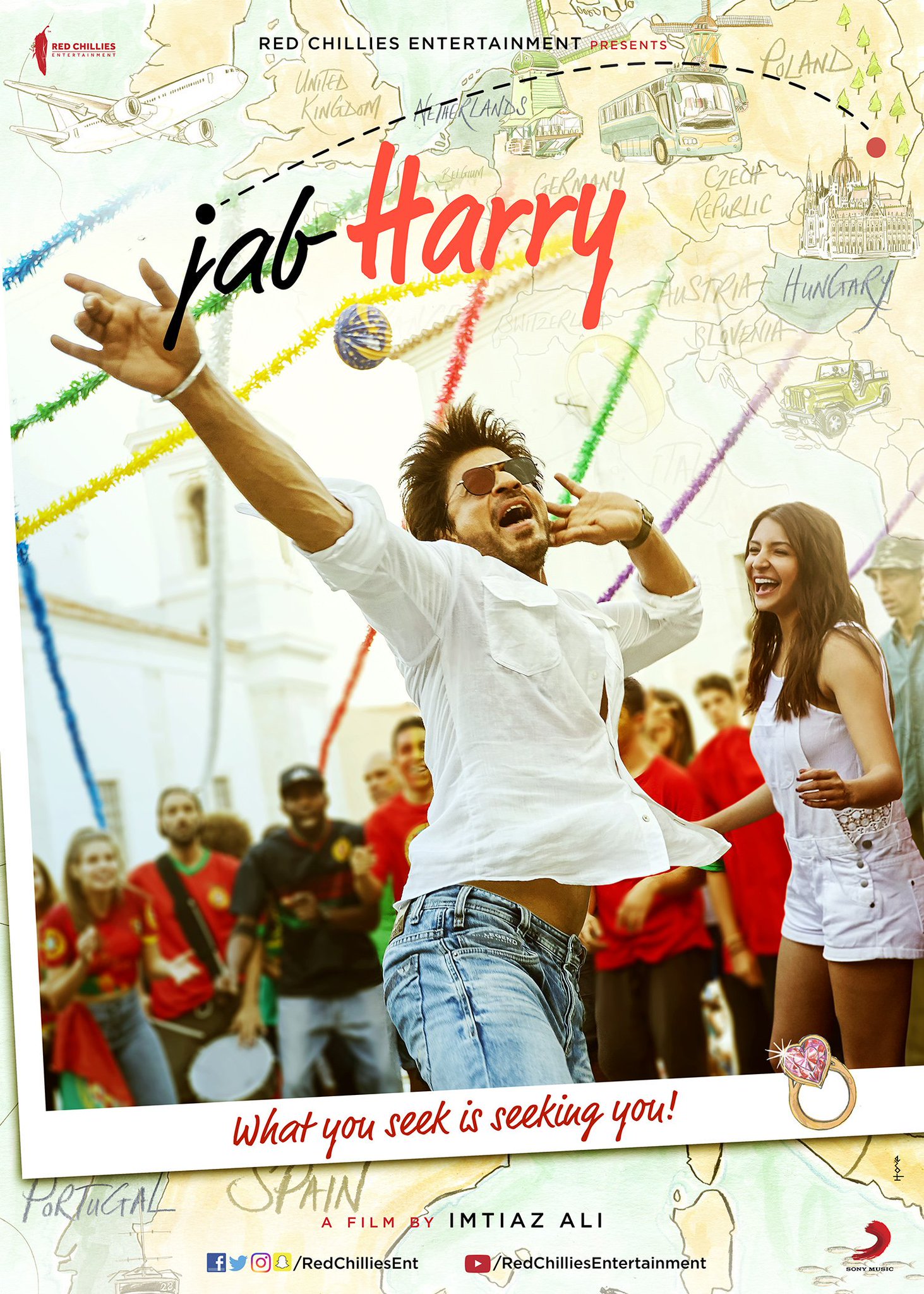 Title first.  This is possibly the stupidest title I have ever heard.  It's barely different from When Harry Met Sally, to the point where it isn't "a clever homage to a film classic", but rather "I'm lazy and this title is as much a ripoff as the film will be".
Plus, it's an American film classic!  You could say "oh, it's a combination of When Harry Met Sally and Jab We Met, synthesizing the two film traditions."  But I would disagree with you!  A title like that would be "Jab Hari Mil Gaya" or something.  This title is way way way too far in the Western direction.  Heck, it's way too far in the "exactly the same as an earlier title" direction!  Makes me feel like they don't think it can stand on its own too feet.
I feel the same way about Toilet: Ek Prem Katha.  And the two films were going to release alongside each other, which is interesting.  But no more!  Along with the title, it was also announced that Shahrukh is moving back to August 4th instead of August 11th.  Which means he is moving to avoid a clash, again (he did the same with Raees), and he is moving to a non-holiday weekend.  Which warms my little industry analysis heart!
First, with Bajirao and Dilwale and various other clashes, the narrative has been "Shahrukh won't move".  But clearly, he will!  You just have to give him a reason for it.  Not a reason like "we will sue you and ooga-booga".  But a reason like with Raees, Aditya and Salman came to him personally and asked him to move from the Eid date so Sultan would have a clear field.  I assume it is something like that here, there was a personal request and a conversation and the two film groups agreed that this was the best compromise.  That's what Shahrukh talked about as so frustrating with Bajirao, that they weren't even willing to sit down and have a conversation about it.
And second, no holiday!  This holiday release obsession is pretty new, along with the whole "tentpole" films planning.  In the past, in both India and America, films came out whenever they were ready to come out.  And people would see them because they wanted to see the film.  There was no point in trying to time it, because it wouldn't play in the same place at the same time anyway.  The major cities would get a copy right away in the big theaters, and then over the next few months it would slowly travel to smaller theaters, smaller towns, and around the country.  But with wide-releases, suddenly there was this big concern with the exact date it would be released everywhere.  And this new pattern started of surge and falter.  Big surge when a big movie released, slow faltering as time went on and interest in the film dwindled, and then big surge again with the next big release.
An August 4th and August 11th release date for two major films is bucking that trend.  They each get their own opening weekend, but they will have to stand or fall on their own merit, not just because it is a holiday and there is nothing else to watch.  And the theater owners won't have that "dwindle" period, they will just go smoothly from surge to surge.
And finally, let's talk about those posters!  One for SRK and one for Anushka.  Tells us basically nothing, right?  Except that SRK looks kind of goofy in that dancing still.  Oh, and they are traveling.  But, it's an Imtiaz Ali movie, we knew they would be traveling.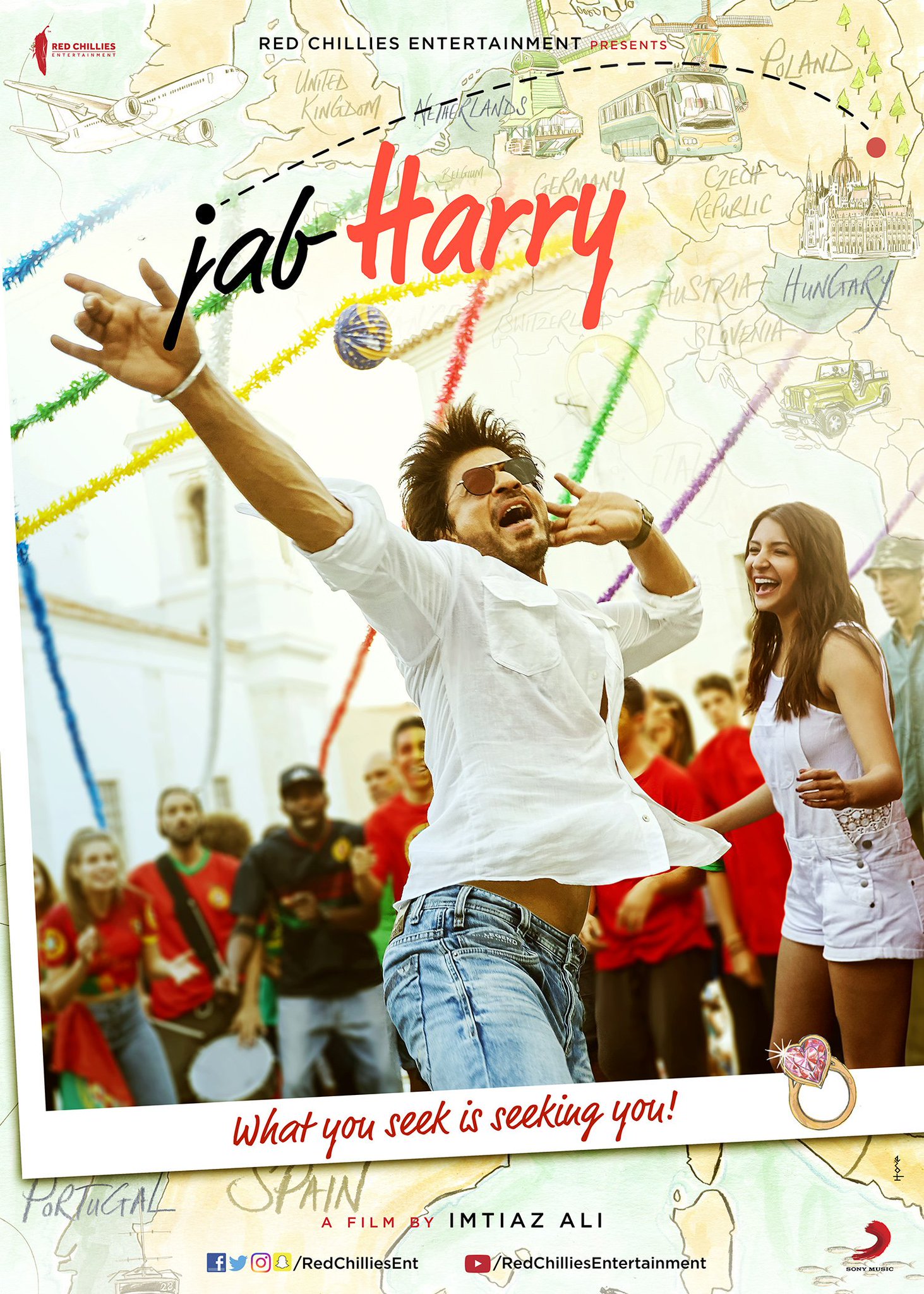 Moving on, Tubelight!  The news I enjoyed most out of all the films talked about today.  New song, which is legitimately touching.  And which sheds a new light on the plot.  We know from the other songs that Sohail and Salman are brothers in their small mountain village, that Salman is a bit "off" in some way, that Sohail gets drafted  (or reluctantly volunteers) into the army and has to leave Salman behind.  But it wasn't clear what happens to Sohail after that.  This song makes it pretty clear that he dies.  And I'm upset!  Just from the trailers, I feel like I really knew this guy, this sweet caring brother who just wants to shelter Salman from the realities of the world, without treating him like a child.  And I knew Salman, this kind heart who has never been alone before.  Oh, also, it goes along with my initial impression of this as a pacifist war movie.  The focus isn't on the glory of Sohail's death, but on the pain it leaves behind.
And finally, Jagga Jasoos!  WHAT THE HECK????  So, Ranbir is supposed to be a school boy?  Despite being clearly twice the size of all his classmates?  Is this like a surrealist move, we are supposed to enjoy the fourth wall breaking of him being so much larger?  Or is there going to be a plot explanation for why he is still in school despite being, like, 30?  Oh, and also, he sees Katrina at a wedding and falls in love with her?  This changes everything!  I was assuming their story would be meeting while on an adventure and falling in love then, not meeting and falling in love pre-adventure.  None of this makes sense!