Thanks to it suddenly popping up on Netflix (my Netflix list post is now woefully out of date, look for an update soon), I decided to rewatch Mughal-E-Azam.  And it's SO SO SO SO much better than I realized when I watched it before.
The first time I saw Mughal-E-Azam was in a classroom on my sister's college campus.  I was visiting her for the weekend and the Indian students' association or something was showing it.  This was early on in my Indian film years, so I had only seen maybe 20-30 films at that point, and knew almost nothing about film history or anything like that.  Didn't know who Madhubala was, or Dilip Sahib, or Prithviraj Kapoor.  Knew enough to know that this was a really big deal movie, but really you can see that just by watching it, it is obviously a really big movie.
(Big movie!)
A few years after that, I went to see Jodha-Akbar in theaters with my parents.  Because they were in town the weekend it came out.  The whole experience was kind of funny, we went to see it at a theater that was just about to go out of business, it felt like traveling through a ghost town to get there, it was just odd.  But what was also odd was watching it and feeling like I was seeing the prequel to Mughal-E-Azam, only made decades later.
What I realized on this rewatch of Mughal-E-Azam is that Jodha-Akbar is a prequel not just because it is the same characters only younger, but because it is so much less mature in its concepts of, well, everything!  Not that Jodha-Akbar isn't a good movie.  It's a really nice romance, that also touches on ideas of religious harmony, what makes a truly powerful ruler, and big ideas like that.
(this sequence alone elevates it to "more than a romance" status)
But Mughal-E-Azam is a Great Movie.  Because it doesn't just "touch" on ideas, it is only about ideas.  The characters and the story exist because the filmmakers wanted to make us think, about what makes right and wrong, about the needs of society versus the needs of the individual, about sacrifice and justice and judgement.  And in order for us to think about these things, the characters and the story have to also make us care about them just for them.  These are not perfect idols reciting political dialogues, these are real breathing living people that we care about and understand.  Because that's life, these big philosophical questions don't exist in a vacuum, we have to be able to apply them to situations we care about and people we care about.
And the center of all of this is Akbar.  The romance in the film, that's the catalyst but it's not what matters.  What matters is how people react to it, the situation it creates for the characters around our central couple.  And the greatest of these is Akbar (Ha!  I made a pun!).  This is not a movie about a young couple falling in love across class boundaries, this is a movie about an aging Emperor who has his righteousness tested to the greatest degree in his old age, and comes out the other side victorious.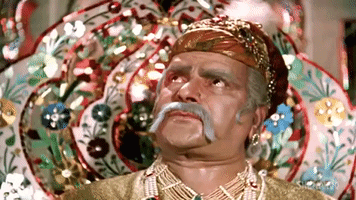 (This is the film, Akbar/Prithviraj trying to find the best solution for an impossible situation)
SPOILERS SPOILER SPOILERS SPOILERS SPOILERS SPOILERS SPOILERS SPOILERS SPOILERS
I could do a whole post just on the visuals for this film, or the performances, or (of course) the real life drama on set.  But watching it this time I realized that all of that, wonderful and amazing and unbelievable as it is, comes second to the moral dilemmas the film sets us.  That's dilemmas plural, because they just keep happening!  Again, as in life.  One choice sets us on a path to another.
It starts with that very first choice.  Akbar/Prithviraj, desperate for a child, goes on a massive pilgrimage to a priest's shrine, after which his wife gives birth to a son, his only son.  Which isn't historically accurate, I don't think?  And nor is Jodha as his one and only wife or a whole bunch of other stuff in this movie.  But, unlike Partition: 1947 this kind of historical air brushing does not bother me.  Because the filmmaker knows it is historical airbrushing, he tells us in the very first frame of the film that this is just legend and we should take it as that, not fact.
The reason he wants us to start with this legend is to show us, from the first, the conflict between the Emperor and the man.  The man wants a son, he is walking across the desert barefoot for it.  But the Emperor cannot travel alone, and so behind this lone figure in the desert, we see dozens of elephants, horses, a whole court following him.  The man is followed and overshadowed by the Emperor.
But, at the same time, the man wears this power lightly.  Right away I was reminded of Hrithik's intro in Jodha-Akbar, in which he wears a simple cotton dhoti and tames an elephant, casually carrying his power within himself, not with jewels and silks.  In the same way, Prithviraj is introduced as Akbar not in a court scene with his silks and his fountains and all that, but alone in the desert in simple clothing, and yet still dominating over the mass of elephants, people, tents, and everything else that is following him.  Akbar has learned how to be a man, and yet stay an Emperor.
(this is Akbar.  Relaxed, casual, riding the elephant he tamed himself)
But the question is, can he be an Emperor and stay a man?  And the answer is no.  Prithviraj knows that already, by the time we meet him he has grown up and learned everything his responsibilities entail.  The last small part of himself that he wanted just for himself was a son.  And he cuts out that desire immediately when it conflicts with the needs of the Empire.
In the second sequence, we see the failure of this human desire from Akbar.  He wanted a son, and now he has a son, but this son is a disaster.  He is enjoying all the fruits of his father's labor without any idea of the price.  Our prince young Dilip is introduced drunk and enjoying dancing maidens, as a young teen.  Which I guess wasn't that strange, PC Barua was a prince too and he was married at 14, and this was in the late 20s/early 30s.
Young Dilip doesn't understand, that being a prince doesn't mean you get to enjoy more than anyone else, it means you get to enjoy less.  And his father tries to teach him this lesson, but in the worst way possible.  Rather than teaching him the purpose of ruling, he teaches him the price.  Sending him off to war as a young boy.  He grows up only knowing the two extremes of life, the palace and the battlefield, not the people who live in between and are the purpose of it all.
So yes, Prithviraj made a mistake.  A mistake in letting his son be spoiled by the palace maidens as a youth, and then a second mistake in sending him away to battle before he was ready.  And the end result is a prince who is a great warrior, and a great poet, and a great lover.  But does not fully understand what it means to be a great ruler.
However, after this point, I don't think Prithviraj makes a mistake.  When I first saw this movie, back when I was a teenage college student, I bought into the whole idea of our perfect romantic young lovers and the mean old man who couldn't understand them.  "Pyar Kiya To Darna Kya" and all that.  But now, as an adult, I can see that we can sympathize with our young lovers (as Prithviraj himself does) and yet still believe that Prithviraj's actions are correct.
Dilip and Madhubala really don't even get much time together to be young lovers.  A couple flirtatious songs, a night of kissing and poetry, a secret meeting in his chambers, and then they are discovered.  But, after this very little bit of time, right before they are discovered, Dilip is promising to make Madhubala queen, that all of Hindustan will be entangled in her tresses.  It's romantic, right?  But it's also really terrible for a ruler to say.  He needs to put Hindustan first, and Madhubala second.  And himself third after the other two.  And that is what Prithviraj fears.  And knows is happening, if his son has so lost any sense of responsibility towards the nation that he is ignoring a direct decree and spending time with a servant girl, that means the longer he is with her, the less responsible he will get.
(He's already spending time picking between two beautiful women based on their singing abilities.  Instead of learning the laws of the country, and considering alliances that might strengthen the throne)
Indian film tends to provide us with two versions of love.  Both of them somewhat unique.  There is the overwhelming passionate love, like we see here with Madhubala and Dilip.  And in Indian film, it is more romantic, more beautiful, more poetic, than in any other film tradition.
But there is also the love that makes you grow the heck up!  Which I see done more often, and with more variations, in Indian film than in other film traditions.  Maybe because marriage is considered such a dividing line in Indian culture between childhood and adulthood?  And so the process of falling in love and committing to someone else is also a process of growing up?
Dilip and Madhubala's love is absolutely of the first kind, not the second.  But their love inspires people around them to great feats of the second kind.  Love for a friend, a husband, a daughter, it makes people grow into superhuman nobility and sacrifice.  While our central couple remains focused purely on each other, not the greater good.
And so we have our conflict.  Madhubala is an innocent, a servant girl who is pursued by and cannot help falling in love with a prince.  This is all Dilip's fault, clearly.  But Prithviraj cannot punish his son because Dilip isn't just his son, he is also the heir to the Mughal Empire, a pivotal part of the peace of the kingdom, to banish or execute or otherwise remove him from the situation would be a problem.
And so Prithviraj is placed in a position with only one exit.  He cannot force his son to stop loving the servant girl, because you can't force that.  He cannot remove his son (now damaged by love that has blinded him to duty) from the line of succession, because that would throw the kingdom into an uproar.  And so the only remaining option is to remove the servant girl, the object of love, and wait for the infatuation to pass.
(Poor Madhubala.  It's not her fault, but there is no other solution)
But this is also wrong.  "Pyar Kiya to Darna Kya", love is not a sin.  On a personal level, Dilip and Madhubala are in the right and Prithviraj is in the wrong.  But Prithviraj cannot afford to consider the personal level, that is an indulgence, he must consider all of Hindustan.  And for all of Hindustan, Dilip and Madhubala are wrong wrong wrong.
(while the romance is what we are sold on the posters, the film itself opens and closes not with Dilip and Madhubala, but with India speaking)
One thing I hadn't caught on my earlier viewings is just why Madhubala was an inappropriate wife for an Emperor.  She isn't just a "palace maiden", she is less than that, a maidservant.  The women in service to Durga Khote/Jodha seem to be of high birth.  Most likely royal maidens or at least nobles who were sent to the palace as a great honor to serve the Empress.  For Dilip to fall in love with one of them would be acceptable (that is Nigar Sultana/Bihar's plan, to make Dilip fall in love with her).  But Madhubala is less than that, the daughter of a serving woman who is briefly allowed into the royal chambers and presence thanks to serving a poor artist who was commissioned to make a statue.  It is a big deal and a huge honor for the king to even speak to her.  And in order for her to be allowed fully into the royal presence, she must be given a whole new name, "Anarkali", because it is such a radical change in status.
Prithviraj isn't saying Dilip can't marry her because he is "mean", Madhubala is not qualified to be an Empress.  We never see her issuing an order, discussing larger events, interacting with anyone besides Dilip and her own sister and mother.  She is a good person and a beautiful woman, but she does not have the training to be an Empress.  That is why she keeps protesting when Dilip promises her things.  She isn't saying "I am not worthy" because she has low self-esteem or something, she is being strictly accurate.  She is not someone that he should be saying these things to, not like this.  And Dilip is ready to hand over the Empire to her.
If anyone is "wrong" in this film, it is Dilip.  But then, we can see why he is like this.  A spoiled boy sent off to war, craving beauty and love, he returns to find that love and is overwhelmed by it, instantly placing it above all other virtues.  If his father had taught him to love justice and empire as a young child before he was spoiled, or if he had grown up in the palace able to receive the love of his mother, he would not be so starved for love as an adult, and so sure of his rightness in all he desires.
(I love the way Dilip, even in a love scene, still stands with military bearing.  It tells us so much about the character.  Or else he is wearing  a girdle to look good in the period costumes, one or the other)
What makes this not just an interesting film but a Great Film is that our central 3 figures are not the only ones who have these layered decisions to make.  Prithviraj must choose between punishing an innocent girl and allowing the heir to the Empire to be destroyed, and thus the Empire itself.  Later, he must choose between forgiving that heir's open rebellion, or warring with him (setting aside the whole issue that this is his son, is it better to maintain stability by keeping the line of succession in place, or maintain stability by putting down rebellion?).  Madhubala must choose whether to give in to the man she loves or follow what her common sense is telling her is correct and avoid him.  And, later, whether to accept her imprisonment and unjust punishment, or fight back one last time and declare her love with pride.  And finally whether she will continue to be pushed between opposing forces or make a decision for herself on how she wants to die.  Dilip must choose between following his heart no matter where it leads and taking a moment to think of the bigger picture.  And, okay, he never really makes that choice, just plunges in headlong.  Which is why he is THE WORST.
But then there is Dilip's best friend, Ajit/Durjan Singh.  He grew up on the battlefields with Dilip, in service to the Empire.  When Dilip revolts, his duty tells him he must stay with the Empire, and the army to which he has devoted his life.  But his friendship vows tell him he must follow Dilip.  Making this even more complicated, Ajit has been a reluctant witness to this whole romance.  All along he has protested it, but has also not taken the step of reporting it to the Emperor.  He has chosen friendship over duty to the Empire.  But, he has done so unselfishly.  His inner desire is to stay serving the Empire, not fight in this cause that he knows is both unjust and doomed.  And yet he overcomes this desire because his friend needs him.  Ajit is my favorite character, I liked him even in the first watch.  But I realized later that he is also a very Karna-like character (Karna is my favorite character in the Mahabharata).  He is fighting on the "wrong" side, the adharma side, but he is doing so for noble reasons.  And thus his death is noble, the most noble death we see in the film, struggling from his sickbed one last time when hearing his friend needs him, before dying in front of an alter, with the garland of the God falling onto his body.
(Ajit, The Best)
And then there is Ajit's father, Murad/Raja Maan Singh.  He was the first person we saw speaking to young Dilip, punishing him for using the sacred scales of justice as a plaything.  And in return Prithviraj gave him control over Dilip's upbringing, sending Dilip out with him to the field of battle.  And he also has to make a choice, whether to follow Empire and his friendship with Prithviraj in leading the forces against his foster son and his own son, or to choose rebellion with those he loves.  He chooses the correct route, defending the Empire and the greater good.  But we see that it is a choice, not a blind obedience.  At the end of the film, it is Murad who stops the execution of Dilip at the last minute when he sees Madhubala appear.  Aware that this execution was not about Dilip's death alone, but rather about maintaining the security of the Empire, and Madhubala's appearance gives an alternative safer route to doing so.
And there is even Niger Sultana, who is "bad", but I find the way in which she is bad fascinating.  She has no concern for anything but her own success and following the person most likely to ensure that success.  She is introduced knowing exactly what to say to please the Queen, her current superior.  And then she plans on how to ingratiate herself with the prince.  And when she learns of the prince and Madhubala's love, her first reaction is not "how will this affect the Empire?" or "how will this effect people I care about?" but rather "how can I use this to my own advantage?"  She moves with the winds of fate, constantly choosing the side most likely to give her an advantage with no consideration of what is actually the better choose.  This is bad, this is weak.  It is the same actions as Ajit, but with opposite motivations. which is what makes all the difference.
(Also, she may be gay?  Go 23 minutes into the film and tell me what you think.  It's just a fascinating character!)
And it's not a film that gives us a simple good woman-bad woman situation.  Because we also have Madhubala's mother who is simply a good loyal woman that loves her children, and Madhubala's sister Sheila Dalaya who isn't good or bad, just cares about her sister and is fearlessly blind to anything beyond her sister's happiness.  The female compliment to Ajit's male loyalty to Dilip (in my alternative version, Ajit survives and they get married).
And then there are my two favorite characters.  Durga Khota's Jodha and M. Kumar's mad sculptor.  I love Durga because she is not perfect, but she overcomes her imperfections.  And because of what she brings out in Prithviraj.
Dilip and Madhubala represent a powerful but shallow love.  Durga and Prithviraj give us an alternative, a love that has stood the test of time, that is no longer beautiful and poetic, but is something better than that.  This is something I feel like the Jodha-Akbar "prequel" captured perfectly.  Their love story would clearly be a slow love story.  Two people who may have been attracted to each other, but also got to know and respect each other before fully falling in love.
They only have a few scenes together, but I love how clearly those scenes outline what is between them.  When Dilip's first battle scarred armor comes back, Durga angrily throws it in Prithviraj's face, clearly still not fully forgiving him for banishing her son.  However, she does it without questioning his authority to have banished Dilip.  She may be angry with him as a wife and mother, but she does not weaken him as Emperor.  This feels like the kind of line you work out after decades of marital negotiation, and a lifetime of training for these sorts of roles.  This is something that I don't think Dilip and Madhubala's love would have survived.
And later, we see Prithviraj cheerfully joining in Durga's celebrations for "Rama Navani" (I think?).  I mentioned this scene in my discussion of Bajirao because it was such a simple moment of a healthy interreligious marriage.  They have their own beliefs, but when Durga needs him, as her husband, to join in, he will.  Again, this is the kind of compromise and understanding that I don't see Dilip and Madhubala ever reaching in their relationship.  And clearly Ashutosh Gowariker agreed with me, because again it is something he showed in his version of their earlier relationship.
And finally, there is the two big scenes, before and after the battle.  Prithviraj, wracked with misery, is going to defend his Empire by destroying his son.  And he goes to his wife for support, as she has supported him in every way until now.  And she can't do it.  Until she can.  That line, "replace my sindoor with the blood of my son", that is HARD CORE.  Out of context, it sounds like some bloodthirsty battle cry type thing.  But in context, it is about what a marriage is.  Her love for her son is real and deep.  But she respects her husband as a man, and a husband, and a Emperor.  And so if this is what he needs to do, she will trust him and want him to succeed.  This is love, not the moonlit nights and the fountains and the erotic feather play.  It's trusting your husband above yourself, and trusting your wife to choose you above all else.  Durga and Prithviraj, Jodha and Akbar, stand in argument against Dilip Madhubala/Salim Anarkali, and prove their emptiness.
And then there's the sculptor.  Who is, pretty clearly, the stand in for our director.  He argues that his work is there to question, to cause doubts in the mighty, to bring revolution and change.  He brings Madhubala into the life of the royal family by making her stand in for his sculpture.  And he leads the singing of "Mohabbat Zindabad" when Dilip is about to die for love.  But does he really want their love to succeed?  I don't think so.  I think he wants what we get, the Emperor wracked with doubts and challenges, not resting in his power but struggling with it.  He is there as a catalyst, an agent of change.  One of those "permanent revolution" types.
And then there's the ending.  The first image of the film is Hindustan.  The other image that recurs is the scales of justice.  Symbolizing the internal debate, the constant struggle to perfectly balance those scales.  Prithviraj has, with great struggle, reached the decision that the only solution is to accept Madhubala's sacrifice and let her die.  It will remove her from his son's life, and the life of the kingdom.  In a way she would never be willing or able to do if she were still alive.
But what he doesn't know is that the humble maidservant who brought him news of his son's birth years ago, and who he gave a ring as a promise to fulfill any request, is Madhubala's mother.  In my memory of the film, this is a woman we had never seen before.  But I remembered wrong.  In fact, one of the most interesting things is how we see the homelife of Madhubala.  Dilip sees her as this perfect thing that has come into his life to change it forever.  But we, the audience, see that she is human.  She has a sister who teases her, and a mother who fusses over her.  They are a simple happy human family.  Which is, again, a reason that she is not fit to be an Empress.  We have seen the homelife of the royal family, and it is not about these simple human connections, it is about duty above all.  Could Madhubala ever learn that?
The ending is slightly contrived, Madhubala's mother demanding her daughter's life.  But it is also perfect.  Prithviraj has to put the man above the Emperor one last time.  But this is the only situation in which he must.  The man has to be able to contain the Emperor, to serve him.  And what he cannot give up is his honor.  His wife, his son, his friends, we saw him willing to lose all of those.  But a promise lightly given to a serving woman, that is the one thing he cannot afford to lose.  Because that would mean the Man is broken and cannot support the Emperor any more.  And so he must find a way to serve both necessities, and thus allow Madhubala to live.
What I had completely forgotten is that we don't see Dilip again.  He has one last night of romance, and then is left behind as the other characters move on.  Because Dilip is THE WORST.  No, really, Madhubala and her humble happy family deserve to go on.  They are us, the common people, who are just trying to do the best they can and let the Empire go on without them.  And Prithviraj deserves to survive because he is trying to keep his promise to these people, to protect them.  His saving of Madhubala is not a reversal, it is setting his world right.  He loves Madhubala, and all the people like her.  That is why he serves.  And watching her and her mother and sister walk away together, that is his reward.  That these 3 people are able to live good lives, that is the purpose of his life, that is his higher concern, at all times.  And, conversely, these 3 small people being able in some way to strengthen the empire, that is the greatest purpose for them.