What is it about men in ties?  Maybe it's because there's a kind of "I'm a grown up who knows how to do stuff" feel to it.  And then when they get loose, there's a kind of "I'm about to get naked" feel to it.  And it's extra special in Indian films because western style suits are only for special occasions.  Or, every single scene in Jab Harry Met Sejal.
I'm gonna start with one of the first films to lean heavily on the cool tailored suit look (instead of whatever that baggy monochromatic thing was they were doing in the 90s).  Before Ghajini, remember Aamir in Dil Chahta Hai?
And then a recent one!  And I have no idea what is happening here, but Salman looks soooooooooo much better than in all the other suit photos I pulled up for him.  Baggy, monochromatic, and often mulleted as well.  Why Salman?  WHY?  Why did you do that to your beautiful young self?
Now, Shahid knows how to work a tie!  Look, he's like young and boyish and not confined by society, but also could be confined if he wants because he's got the right shirt and tie.  And also everything is a little loose, like he is finding his clothes confining and just can't wait to rip them off in front of us.
John Abraham never seems full comfortable in clothes.  In a good way.  Like, "this much body can't be contained by clothing" kind of way.  And the slightly too small tie look is just helping with that.
See?  Even he doesn't know what he is doing in this many clothings.
On the other hand, Ranveer glories in clothings!  "More layers, more layers!", he says.  I don't know if this version of the tie is exactly sexy, or adult, but it is interesting.
You want sexy, you got to go with Ranbir in "Badtameez Dil".  This is maybe the only time I have been actually attracted to him.  Because he looked like a grown-up for once!  But a super fun grown-up.
Look, even the back up dancers can't keep their eyes off him!
Oh man, this photo shoot!  Some photographer out there has the same sort of "oo, loose tie!" feeling that I do, and convinced Siddharth Malhotra to just go with it.  Not sure if this is supposed to be putting on or taking off clothes in our imaginations, but either way it is good.
And here he's got that kind of "sleeves rolled up, tie loose, ready for action" look, which is also very very good.
I like how carefully and sensitively he is tying his jacket.  See, he is the kind of strong mature person who wears a perfectly matched tie and shirt, but also cares enough to want to tie his jacket correctly.
Now Akshay, Akshay doesn't care about being sensitive or careful.  He doesn't even have to look at what he is doing, he is so mature and used to clothing.  The tie is just there, unnoticed.
Although sometimes his tie is so sexy that the clothes try to blow off of him.
Obviously, have to throw in a Hrithik. Who looks very very good in a tie, because he looks good in everything.  But the tie also gives him a kind of maturity that works well with him.  Act your age Hrithik!  It's sexy.
See what I mean?  Silver fox Anil Kapoor, most attractive he has been in years in Dil Dhadakna Do.  Wear those ties Anil!  Wear them for us!
Arjun may not be so sure about this whole thing, but it's true, the tie makes him seem older!  Which is a good thing, these chocolate boys are a lot more attractive when they seem a little older.
Okay, you ready for the grand finale?  The inspiration for this whole post?  The man who has brought the tie look to new height in India and, in fact, the world?  Yes, of course I mean Shahrukh.  Look at him smiling!  He knows it too.  He knows he owns the fitted suit with tie look.
Oh yeah, even without the beard, it's still good.  Without the beard, and with the stupid poofy and yet wet look in the hair that I hate.  But those "oh yeah, I perfectly matched my shirt and pocket square, but went with a contrast for the tie because I am a rebel!" eyes are drawing me in.
Okay, I have to go back, one more "yeah, I've got the beard now and a skinny tie.  Yeah, that's better" kind of look.
He's so good, he doesn't even have to take off the glasses to fix the tie.
"What, you think I should consider changing to a different formal look?  Yeah, I'm not doing that."
"It makes me laugh to even consider it!  Instead, I am going to do an entire film primarily wearing ties!"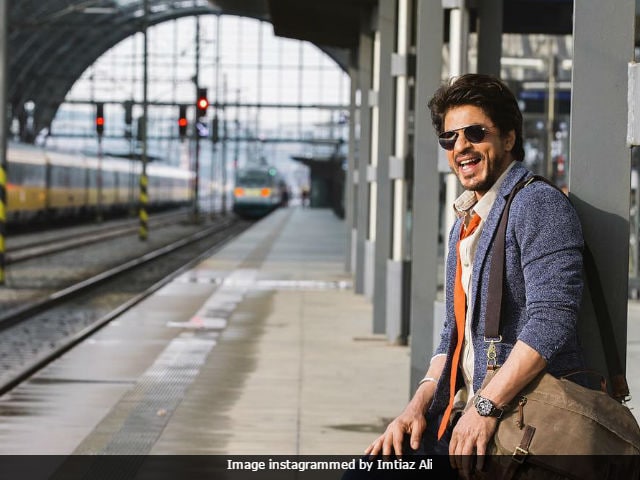 "And then I am going to flagrantly loosen my tie and roll up my sleeves, right here in public, with no concern for the sexual display I am putting on!  And in sunglasses too.  Like I don't even care about the over-whelming emotions I am causing in passersby."
Now, in my original "classy" version of this post, I ended with that image.  But then I thought "well, everyone's going to complain in the comments if I don't include the most famous SRK tie picture".  And of course I hate to make you all unhappy.  So yes, that is coming up.
First though, brand new photo, no idea what is happening, LOVE IT.
And finally the famous one.  Which may or may not have been my computer wallpaper for a few months.  Now this is how you wear a tie!