This is essentially a joint post.  I am not lucky enough to have a copy of this book, but Gwen from the comments is and put up excerpts for us from each section. YAAAAAY!  I want to post them here to make sure you all see them, and also add on what I can, that is, a little more background information about each film/director.
First, Gwen's intro:
It will soon be a year since the gigantic silver book called SRK: 25 Years of a Life was published. Shahrukh himself liked the book and attended the launch. Because I am super fan in California, I ordered the book right away – and waited many months for it to arrive. It was big, heavy, beautiful, silver, full of pictures and expensive. So the chances are you have not tasted from the banquet of essays each of his directors shared in this exquisite coffee table book. For my own pleasure, I lifted out special parts from each – making up only about one eighth of each essay. So you see, there is plenty left to help you decide to purchase your own copy. I share as one fan to another – and thank Margaret for the space to do so – don't miss the surprise Snippet #31 and #32. Enjoy!
Based on previous excerpts I have read, I think these are not comprehensive snippets, so if you have the opportunity to buy the book easily and cheaply, you should still do it!  However, if you are just desperately curious about the content, thanks to Gwen, we have a start.
Snippet #1 from the gigantic silver book – SRK: 25 Years of a Life – Director of Fauji 1989 – I am known as the man who made Fauji and by default Shah Rukh. I didn't make a superstar; I simply chose the right man for a job I had. He wasn't the typical good-looking boy, but he had a distinct quality to him that the camera loved. I think every superstar's journey begins with a strike of lightening, like a touch of divine intervention. That gift seemed to come to Shah Rukh in the devotion of his mother. I met her twice and both times was awestruck by her unconditional love for him. For her, the whole world, even her own existence was on one side and Shah Rukh was on the other side. When you have such intense blessings on your side, it has to make a difference. He works so hard and with such single-minded focus that success was inevitable. Still years, age and success will wear you down. The rarified air that you breathe will eventually thin and sooner or later, you'll have to come down to earth. It's the coming down part that the true test of your character. That's the one thing I pray for superstar Shah Rukh – a happy life even when he climbs down from Mount Everest.
First excerpt from Lt. Col. RK Kapoor.  As you can see from the name, Shahrukh's first director had a bit of an odd background, an army man turned TV film producer/director.  The story I have heard about him is that he hired Shahrukh, and then expanded his role over the course of filming as he came to appreciate his hard work and willingness to do whatever was needed.  He was also, of course, the only director to know Shahrukh back in Delhi, before he came to Bombay.  Fauji was an interesting way to get a start, because Indian TV was interesting that year.  Since satellite hadn't arrived in the country yet, the state TV had a massive reach.  But on the other hand, it had modest budgets and low pay, and so you would end up with a random young man from a Delhi theater group being hired for a role in an ensemble drama just because he had the right look and would work for fairly cheap, and work hard, and then that same performance would play through out the country.
Snippet #2 from the gigantic silver book – SRK: 25 Years of a Life – Director of Dil Aashna Hai 1992 – Shah Rukh worked with me on my first film as a director. I remember thinking he had these really large, soulful eyes. They've got this burning anxiety, very restless, needing to do something new. His eyes are stormy with so much energy and passion that it's difficult to look away. On first meeting, Ravi dada caught hold of him and began the endless process of taming his hair. He continued to be Shah Rukh's makeup man til his dying days. So Ravi dada was my gift to Shah Rukh for all his help on our shoot. I remember he was really intense and grasped things at lightning speed. My young daughters would sometimes give me stress and Shah Rukh would say, "You go home, I'll take care of it." So there were actually some scenes that he himself has directed. His thinking is so sharp that often his dialogue delivery is too rapid. Slowing down for the work to catch up has become second nature to him now. He'll always be 10 steps ahead of everyone!
This is, of course, Hema Malini!!!!!  A massive star in her own right, and the first one to teach Shahrukh how to be in movies in Dil Aashna Hai, the first film he worked on although it was not the first one released.  And also, of course, not an experienced director.  Which kind of makes me believe her story about Shahrukh directing his own scenes.  He was coming off of several years of theater work in Delhi, plus the lengthy Fauji shoot.  He would know how to work with actors and turn on a camera.  Which would be good enough for what Hemaji would need from him to match her work.  Oh, and of course one of those "young daughters" would grow up to be an actress herself, starring in her mothers next directing attempt years later, which Shahrukh helped launch in gratitude for getting this chance years earlier.
Snippet #3 from the gigantic silver book – SRK: 25 Years of a Life – Director of Raj Ban Gaya Gentleman 1992 – I've known Shah Rukh since he took his first baby steps in the field of acting. The thing I found most appealing about him then was that he knows he's this really good actor, but he never puts himself ahead of the people around him. He respects other people's expertise and knowledge as much as he respects his own. By accident I'm on such intimate terms with such a super star. I'm friends with the dreamer in him, not the star he is today. When the whole world sings your praises, it's hard not to believe in your own greatness. But he maintains a very healthy balance. Shah Rukh is like family. When he bought Mannat, I was so happy for him and Gauri because I knew they were a couple who deserved to see that success. It wasn't about the money; it was about seeing the faith of a couple in love paying off. No one but Shah Rukh has made Shah Rukh and no one should take that credit away from him.
Aziz Mirza!  Who had directed him in Circus, his other big hit TV series before his films.  Aziz was part of the reason Shahrukh even came to Bombay, having promised him to help him get work if he took the leap.  And Shahrukh paid him back, Aziz went on to be his business partner in Dreamz Unlimited, and his most common director (Raju Ban Gaya Gentleman, Yes Boss, Phir Bhi Dil Hai Hindustani, Chalte Chalte, Kismat Konnection).  Really, Aziz is in the Shahrukh business more than the directing business.  He has never made a film NOT with SRK.
Snippet #4 from the gigantic silver book SRK: 25 Years of a Life – Director of Baazigar 1993 – Shah Rukh wasn't our first choice. But no hero would touch such a negative role. It must have been fate, because once we started shooting, we realized that a newcomer was exactly what we needed for the role. At narration time he said he wanted to hear the story the way we visualized it and only then he'd be able to understand whether he fit into the vision or not. We had just begun talking and he started performing. In his mind, he was already playing the part – with five variations for each character. He was unstoppable! It was like jumping on a speeding train! That is how Shah Rukh came on board. His emotional range is spectacular. He spoils the director as well as challenges him. For a new-comer to walk the fine line between the hero and villain right till the end of the film is more than can be expected from anyone. You ask for one variation, he'll give you seven. He doesn't leave things to chance. He calculates and then works very hard to eliminate all possible risk. He works so hard and with such single-minded focus that success was inevitable.
Abbas-Mustan!  The directing brother pair who always wear white and have spent every moment of their life together.  This was only their 3rd film, following up the surprise massive success of Khiladi.  Which also means it is the second time in a row that they served as star makers (Khiladi of course being what made Akshay into a star).  It was a risk for Shahrukh as well.  Now, it's an established thing, Abbas-Mustan does a twisty plot stolen from Hollywood with an anti-hero and sexy songs, rakes in the money.  But back in 1993, it was a bit of a risk for Shahrukh to take a plot like this from semi-untried directors.
(Dang, I should have included this in my sexy songs post!)
Snippet #5 from the gigantic silver book SRK: 25 Years of a Life – Director of Maya Memsaab 1993 – One word describes him and that is firework. He just exploded onto the scene. SRK radiates this force field, this kind of magnetism that you can't stop yourself from being drawn into. He actually thrived on the challenge of presenting the sexual overtones in the film. Once you're a big star, your stardom can absorb the gambles that don't pay off. But to start your career with a gamble takes nerves of steel. In the middle of the shoot, his mother fell seriously ill. He juggled between Bombay, Delhi and Shimla on an everyday basis without complaint or losing his commitment to a low budget project. As he took up three dark films, I think it was his huge risk appetite that got him notices and set him apart. Those were magical days when the two of them were madly in love and gaining in popularity. When you work with Shah Rukh, you realize how much he loves his work. He loves cinema beyond everything else. And because he loves what he does, he never stops learning or listening. He brings exuberance, electricity and charge to a project.
Ketan Mehta.  An arty director, who Shahrukh took a risk on working with in an arty film right when he was on the threshold of mainstream success.  Shahrukh isn't the only Khan Ketan has a relationship with, he technically launched Aamir in Holi, a small campus film that was forgotten allowing for Aamir to be relaunched in Qayamat Se Qayamat Tak.  Aamir went back to him for Mangal Panday, a very different kind of film.  Interesting that Shahrukh was always willing to follow his vision no matter where it lead him, whereas Aamir took him and tried to make him into something different, big budget and epic instead of small and internal.
Snippet #6 from the gigantic silver book SRK: 25 Years of a Life – Director of Anjaam 1994– There's just something about him on screen…This quality that you can't quite define or put your finger on. More than a good actor, Shah Rukh is a powerful actor. He makes you want to believe in him. While shooting he was living in this small room as a paying guest. One day I was in his house and through the window, he showed me this Parsi bungalow and told me that he'd bought it. I thought he was joking. It was an expensive house and there was no way he could have afford it. He wanted to pay for it in full within two years and take possession. With Shah Rukh, you just knew he would make it happen. His confidence is stunning. He came to Bombay with a list of 20 directors he wanted to work with, and went about checking off each of them. He gives you the respect of a personal relationship even while saying no to your offer and dealing with people in a professional capacity. Now that he has this wealth of experience, he should go crazy experimenting with new subjects and shades. Sometimes, I feel that his stardom comes in the way of his evolution as an actor.
Rahul Rawail, an interesting career.  He made 3 films in rapid succession in 1980 and 1981, the 3rd one being a massive massive hit, Love Story.  And then he just kept going, coming out with another film every few years, some hits and some failures.  None of them ever really in the same genre.  Action films, love stories, noble social justice films, all thrown in together.  He was one of the most experienced directors to work with Shahrukh in this era of his career.
Snippet #7 from the gigantic silver book SRK: 25 Years of a Life – Director of Kabhi Haan Kabhi Naa 1994 – Neither Cirus nor Kabhi Haan Kabhi Naa were planned for him, yet it was his destiny. I can't say that I had any part in his success. I was to become the vessel through which he'd travel his first few miles on the road to success. When he started getting all these film offers, I kept advising him toward all the wrong films! He was coming to Bombay to become a star. Acting was simply a means to the end. Even when he had no money, he behaved like a star. When he is on your sets, he's there 500 per cent. There's nothing he won't do, and do over many times. He works on faith completely – in himself and his director. That's a God-send for the director. Every choice an actor makes either opens or shuts certain doors. Shah Rukh made the choices that made him a super star. He has maneuvered his career in such a way that when people go to the theatre, they go to see him, not the character or the film. They react to Shah Rukh and his personality
Kundan Shah.  Who has a permanent place in film history thanks to his first film, Jaane Bhi Do Yaaro, the cynical angry comic picture that held a mirror up to Indian society.  And then he started working in TV, co-wrote and directed Circus with Aziz Mirza, before returning to film.  Kabhi Haan Kabhi Naa was his second film, very different from the first, but still with that touch of unique brilliance.  It's also generally considered one of Shahrukh's all time great performances and films, by Shahrukh and others.
Snippet #8 from the gigantic silver book SRK: 25 Years of a Life – Director of Ram Janne 1995 – Signing Shah Rukh was an instinctive thing. We didn't do an audition, but I wanted to see how he perceived his character. The minute he read the first line, I knew he was it. He reacted to the script. He didn't act out the lines, he spoke them. When pitted against veterans, he took on the responsibility of perfection onto himself, when even seasoned actors didn't do that. It is ironic that the man who has become a brand unto himself today once stuck out like a sore thumb in a crowd because he couldn't be bothered with image management. Even as a newcomer he had a very clear understanding of what he was being offered, what he wanted and what he could deliver. His success was a combination of vision, maturity and talent. What astonishes me that being the driver in his vast world of important things, it's up to him to keep the car running. But no matter how full is gets, the old passengers are never asked to leave, and there's always space for new ones.
Ram Jaane was the second film Shah Rukh did with Rajiv Mehra, after Chamatkar.  Of course, Chamatkar was a much less difficult role.  Not only was it a fairly simple character (good sweet country boy), he was surrounded by Shammi Kapoor, Nasseeruddin Shah, and others who could do the heavy lifting for the plot.
Snippet #9 from the gigantic silver book SRK: 25 Years of a Life – Director of DDLJ 1995 – When I decided to make DDLJ, I knew I had to have Shah Rukh. In those days, he was two people at once. Most of his roles were about this brash, arrogant and aggressive person – all the things he isn't in real life. In real life he was an honest, well-read, kind boy. That was the side of him I wanted to bring out in Dilwale… I wanted the reel Shah Rukh to make the transition to the real Shah Rukh. Initially he wasn't excited about the role. He was expecting an action hero's role and I was asking him to play a soft, romantic character. But his respect and reverence for my dad, Yashji, wouldn't allow him to say no. I had come to know that his ultimate goal was to become the biggest superstar in the country. I told him that he'd have to become every mother's son, every sister's brother and above all, every woman's fantasy to realize his superstar dream. As an actor, I think he is the best actor in the whole world and that we've seen only 10 per center of his talent. That 90 percent is still to come and blow us away.
Obviously, this is Aditya Chopra!  And the biggest statement isn't in anything he says (this is essentially the same story that has been told and repeated over and over again about Shahrukh's reluctance to take the role), but that he is saying it.  A notorious recluse, he still cares for and respects Shahrukh enough to be willing to contribute a statement to this book.
Snippet #10 from the gigantic silver book SRK: 25 Years of a Life – Director of Zamaana Deewana 1995 – I was struck by his very captivating personality. His warmth is infectious. People were saying that he was going to be the next Amitabh Bachchan. But I always told them, No, he's going to be the first Shah Rukh Khan. He seems to have unlimited reserves of energy. He has so much energy packed in him that it can be very easy to go overboard and overact but he had learned to rein it in and give just what the character required. He showed me respect by not smoking in front of me. I couldn't be happier for him as I've watched him evolve as an actor. But I do feel that somewhere He has gotten trapped in his own image. My sum up is that he came on the scene like a volcano and has kept going like a whirlwind. There is a madness in him that only truly gifted people possess.
Ramesh Sippy, maker of the greatest film in Indian history.  Not this one (although I do like it), but Sholay of course.  Thus Shahrukh's extreme respect for him.  And I am sure this was one of the names on his list of directors, if not THE name on the list.  And so when Ramesh Sippy gives his opinion about Shahrukh and Amitabh, he really knows what he is talking about.  He direct them both at a similar point in their careers, when their persona was already set but they were just now reaching the peak of stardom.
Snippet #11 from the gigantic silver book SRK: 25 Years of a Life – Director of English Babu 1996 – Working with Shah Rukh is a bit addictive. He's a bad habit that you can't kick. I've never met a man like Shah Rukh. He had stardom written all over him. Even as a newcomer, he only did things his heart was convinced about. Once he agreed to do the film, he became my pillar of strength. It was like everything he touched turned to gold. He is professionalism personified. He swims against the tide. He'll continue the shoot even when injured. He is one of the kindest people I've had the misfortune of knowing. Misfortune because once you get used to that, the bar is raised too high for you own good. He's a very quick actor. He understands what he had to do and delivers at lightning speed.
Interesting, this is one of only two films that Praveen Nischol directed.  Mostly he is a producer.  Possibly because Shahrukh truly did spoil him and he didn't want to direct anyone else after that.  But more likely because Shahrukh saved him from ever having to direct again, gave him a big enough film to get noticed and let him keep working.  Also, random thing, but he is another Delhi boy!  Born there ins 1948.
Snippet #12 from the gigantic silver book SRK: 25 Years of a Life – Director of Pardes 1997 – I love Shah Rukh and I hate him in equal measure. When you're with him, you will think that you are his closest friend. The moment you go away, he is closer to someone else. Again within minutes you'll be fall in love with him all over again. He has that kind of charm, which is essentially the trait of a Delhi boy to seduce. Back then he made the decisions he needed to achieve the kind of grandeur he has today. He converted his craft into a business model of a 600-million-dollar brand. In that sense, he showed a path to other actors that they could not have imagined. He proved them all wrong by showing them that he could keep his place as the king of Bollywood despite all his peripheral activities.
Subhas Ghai!  Starmaker.  Usually his films are bigger than the actors in them, often he will cast unknowns and bring them to the world, or take slightly known actors and reintroduce them.  That's what he did with SRK in Trimurti, gave him a little boost when he was starting out.  But by Pardes, Shahrukh was his equal, it was as much a Shahrukh Khan movie as a Subhash Ghai movie.  And by now, Shahrukh is probably one of the few stars who is too big to be in a Subhash Ghai film, he would be bigger than the film.
Snippet #13 from the gigantic silver book SRK: 25 Years of a Life – Director of Koyla 1997 – He had a very sharp understanding of what his director wanted from him. When you find actors who understand you, you don't feel like leaving them. He's not traditionally good looking, but there's something about his eyes that pulls you toward him with serious charisma. For Koyla we shot for sixty days at 20,000 feet about sea-level. It was difficult; he gave his all and never complained. When I was set to launch Hrithik, Shah Rukh was thrilled. Time has not changed the man I've known. Success has only changed his external world, not his internal being or his soul. He is a combination of talent, star power and genuine goodness of being. That's the real reason why he will continue to rule the hearts of the country.
Interesting quote to get.  This is Rakesh Roshan of course, Hrithik's father/Svengali.  When Hrithik was launched, there was a lot of talk about Hrithik versus Shahrukh.  But here is Hrithik's own father/manager/puppet master saying that he loves Shahrukh, and Shahrukh was nothing but supportive.  Of course, Shahrukh owed Rakesh.  Not just for Koyla mentioned here, but for Karan-Arjun back before he was big.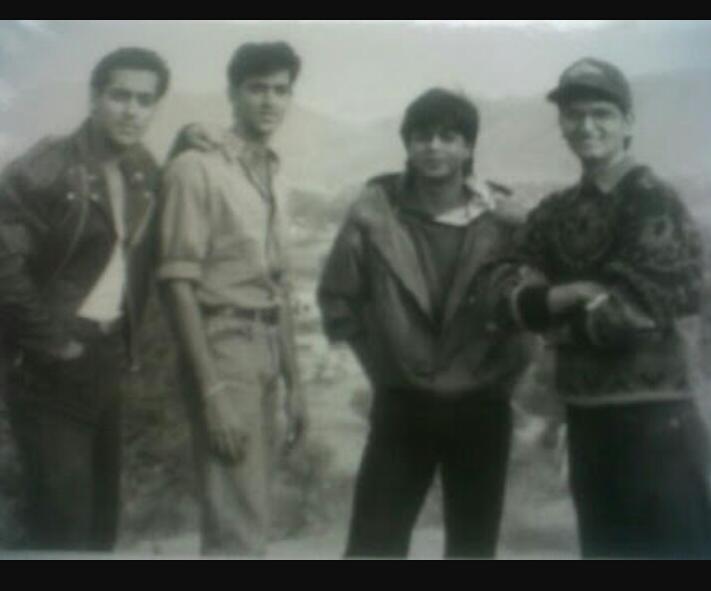 (I love this photo from the Karan-Arjun shoot)
Snippet #14 from the gigantic silver book SRK: 25 Years of a Life – Director of Dil Se 1998 – I had heard of his dedication and commitment, but experiencing it first-hand was something else. He is like a blank canvas for his directors. I was amazed with his willingness to do just about anything that the film required. He doesn't act in a film, he makes the film with you. He is willing to give a shot over and over without complaining. That reduces the director's stress substantially. But his fans make shooting in public places very difficult. There is no stealing a spontaneous shot with him around. I was also impressed with his constant attempt at innovation. As a film-maker you start feeling that you have a responsibility toward his fans. So unless you have material that justifies a star of his stature, you don't take it to him. He knows how to use his charisma to enhance his persona on screen. That is hard to resist in an actor.
Mani Ratnam.  One of the few directors in India (along with Ramesh Sippy, Kundan Shah, and Mahesh Bhatt coming up) of who it can legitimately be said that Shahrukh should be honored to work with him, not the other way around.  I like his careful wording, describing the difference between the actor and the star, the work ethic and the charisma.  This is a man who has worked with everyone from Mammootty to Rajnikanth, he knows stars and he knows stardom.
Snippet #15 from the gigantic silver book SRK: 25 Years of a Life – Director of Duplicate 1998 – I first saw Shah Rukh when I was giving an interview. He was overhearing, yet listening with complete absorption. He was greedily taking in everything with a look of intelligence. Intelligence is hard to find and harder to forget. That's my first memory, years before he became King Khan. I've come to know him as a man of many contradictions. His thoughts are a tangled mess of intelligence and courage, but his approach to life is deceptively simple. He received death threats from the underworld during our shoot, but there was no panicking or hysteria from his end – only humor and grace. And though both my films with him were flops, he gave me the same respect as he gave to directors who had given him blockbusters. It's this charity of thought that has made brand Shah Rukh Khan what it is.
Mahesh Bhatt.  A very nice man, and a very smart man who has been around a long time.  And also, when he chooses, a brilliant brilliant director.  Again, there is a careful balance in his comments.  He acknowledges that his films with Shahrukh were not the best (Duplicate and Chaahat), but he does not minimize his own position in the industry, his ability to understand stars and actors, and everything else.  And, of course, Shahrukh gave him respect.  The man is a legend.
Snippet #16 from the gigantic silver book SRK: 25 Years of a Life – Director of Josh 2000 – Shah Rukh has that magnetism that can hold the audience – even through the shades of a complex character like Max – that are difficult to understand. Even before he came on sets, he had worked out Max's mannerisms, his walk, his thought process exactly as I had visualized it. I was told he and Aishwarya would not be accepted at siblings. That is the part I enjoyed the most in Josh, breaking norms and boundaries. Once Shah Rukh has the character frozen in his head, all his energy is spent in refining the nuances of his performance. Watching him do that is beautiful. And he does so many things at the same time. It's not that he can't handle it, but the other actors struggle. He can pick up a scene from exactly where he'd left it weeks ago. Working with Shah Rukh is like being swept away by a whirlwind.
Mansoor Khan is Aamir's cousin (I think, maybe second cousin), and directed him in 3 of his biggest hits, Qayamat Se Qayamat Tak, Jo Jeeta Wohi Sikander, and Akele Hum Akele Tum.  And then Josh came up, and Aamir dropped out.  So these comments come from a background of someone who had only worked with one star before, and a major star at that, and now was experiencing something different for the first time.
Snippet #17 from the gigantic silver book SRK: 25 Years of a Life – Director of Asoka 2001 – Shah Rukh is different from other actors. His questions were endless about the whole movie-making process. I've always felt he was on a constant exploration, a discovery trip, always eager to experiment. For some unfathomable reason he lights up the shot. That's a very exciting thing for a director. He is like a blinding sun. If you're his friend, he'll bring madness with him. When he walks onto the sets, something changes in the air. It's a really positive change. He doesn't say no to his directors. He is literally the face of Bollywood and has specific ideas about what he wants the body of his work to show. He works at keeping the explorer inside himself alive.
Santosh Sivan is primarily a cinematographer/Director of Photography/Cameraman, not a director.  And so when he talks about "lighting up a shot", that's really what he means, the way SRK looks through the camera.  In addition, Santosh is not a "Bollywood" guy, he works in art films and southern films.  And so he means that, for him, an outsider, Shahrukh was the face of "Bollywood" to him.
(Did the cinematography for Dil Se and a handful of other Ratnams.)
Snippet #18 from the gigantic silver book SRK: 25 Years of a Life – Director of Devdas 2002 – Shah Rukh was always my first choice because he has the most expressive eyes in the industry and personally I think he carries tragedy the best. I was very happy to see that he had no problem adjusting to being one component in a complex machinery instead of being the engine around which the car was built. He became part of the journey instead of making the journey of Devdas about him. I think that was one of his biggest contributions to the film. He never once got impatient with the many hours it took the women to get costumed. That gave me the freedom to focus on getting the best possible shot instead of cutting corners so he could leave. If you get into the pattern of not going that extra mile, it will show in the end result. I was never put in that spot and I owe Shah Rukh for that. I am a quiet person and Shah Rukh is a talker. He is very well-read and can talk about almost anything under the sun. So when I meet him, he is chattering away at top speed, showing me his latest gadgets with childlike enthusiasm while I listen and laugh.
Bhansali, finally acknowledging that costumes are more important to him than performances!  It's interesting that he remembers Shahrukh being relaxed during the shoot, this was one of the biggest gambles of his career, taking this much time off for a film that could turn out to be a total disaster.  And yet he was apparently calm once he had made the decision, completely committed.
Snippet #19 from the gigantic silver book SRK: 25 Years of a Life – Director of Hum Tumhare Hain Sanam 2002 – Getting Shah Rukh on board was Madhuri's idea. He had seen my Tamil version. But I didn't understand a word of Hindi and my English was all broken. Still he agreed to do my film because he knows he is a possessive husband himself. I couldn't believe my luck to be working with three big stars. But slowly, as we started shooting, my fears evaporated because all three of them are the most dedicated, unegoistic people I have ever worked with. It took us 5 years to complete because of financial troubles with the producer, but not once did Shah Rukh lose faith in the project or give me problems with dates. In those five years he became an even bigger superstar, but he was still the same humble, unassuming self.
K.S. Adhiyaman, as he says mostly a southern guy.  But he'd worked with big stars on big movies in the south, he wasn't totally out of his depth.  What is interesting is that Shahrukh has walked out of projects before in similar situations, all stars have.  Projects the public barely even knows about, two scenes shot and then the director gets in financial trouble and everyone walks away.  That he did not do so here, and nor did Salman or Madhuri, shows a certain amount of judgement on his part in terms of who he wanted to offend, which film was worth making, and just plain who was a nice person that he wanted to help out.
Snippet #20 from the gigantic silver book SRK: 25 Years of a Life – Director of Kal Ho Naa Ho 2003 – This movie had to be postponed for 7 months while Shah Rukh had back surgery because we didn't believe anyone else could have said the dialogues the way he did. Saif initially was anxious about possibly being overshadowed. But Shah Rukh is someone who goes out of his way to help his co-actors push their limits. He already knows that he was going to do a fabulous job, so he does everything he can to make his co-stars look good and do better. He'll read with them and give them tips to try out, always managing to add that little extra that isn't in the script but takes it to another level, as if to complete a scene. What makes other actors edgy is this innate ability to own the scene. Still we disagreed about the death scene. Since then I'm happy to see his fire from afar
Nikhil Advani, kind of odd that they haven't worked together again.  Although they have worked with a lot of similar people.  Arjun Rampal, Farhan Akhtar, Priyanka Chopra, Juhi Chawla, lots of overlap.  Really interesting what he says about Saif and SRK, I think this is Saif's all time best performance, he almost over-shadows Shahrukh, not the other way around.  Oh, and it was in the middle of this shoot that Yash Chopra started to die, so Shahrukh was in a strange place mentally, the whole shoot was a little odd, not surprising that there are odd memories of it.
Snippet #21 from the gigantic silver book SRK: 25 Years of a Life – Director of Main Hoon Na 2004 – When I decided to turn director, there was no doubt in my mind that it had to be with Shak Rukh. I like idiosyncrasies and eccentricities in his characters because that's how he is. He's a mad man. I don't see him as a romantic actor. But waiting three years for him to begin shooting was tortuous. And we've had issues between us over time. You must know I didn't and still can't see him as my cash cow. Those difficult days are the foundation of our friendship. He has spoilt me for every other person I worked with after him. He taught him to do whatever it takes for a shot. I had the discipline, but he gave me my work ethic. Everything else aside, he is someone who will give his all for my film.
Farah Khan, one thing I find interesting is her refusal to see him in a romantic light.  Which kind of reminds me of how I am with my long term friends!  Sure, other people may see them as "Sexy" or romantic or whatever, but I just see them as the interesting person I know.
Snippet #22 from the gigantic silver book SRK: 25 Years of a Life – Director of Swades 2004 – Mohan has an intimate charm to his character. It's different from the blinding charisma that Shah Rukh the superstar exudes. Tapping into that uncharted part of his personality and funneling it into the character was what made Mohan special to me. Shah Rukh has this ability to learn and rehearse his lines at record speed. After he learns his lines, all his focus is on using his entire body to emote. It is fascinating to watch and that's what makes him magnetic. I've known Shah Rukh long before his stardom. But the actor-director relationship between us wasn't clouded by our early friendship. Shah Rukh is unique in his obedience to the director. Each take is with equal enthusiasm, making him a pleasure to watch and direct. I know there are still come elusive parts of his personality that some storyteller someday will tap into.
Ashutosh of course was his co-star and roommate during the Circus shoot years earlier.  Shahrukh was his first call for Lagaan, and he was gently turned down, so gently that there was no animosity.  And once he had a script that would be perfect for him, Swades, Shahrukh was eager to work with him.
Snippet #23 from the gigantic silver book SRK: 25 Years of a Life – Director of Paheli 2005 – The lead role in Paheli was very intricately layered and I felt only Aamir or Shah Rukh would be able to do justice to it. Working with him reaffirmed my belief that he is a fine actor with complete mastery over his craft. He slips into his character's persona very fluidly and very willingly adapted to all of its demands. As a producer, he made some things very easy and was a dream to work with. It had to have been outside his comfort zone, but he let me stay true to my identity as a director and my dream for the movie. I think he is a wonderful producer, a fascinating actor and above all, a wonderful human being.
Anol Palekar was a star in his own way before he became a director.  Specializing in what were considered "middle-class" roles, small slice of life films like Baaton Baaton Mein.  And so when he discusses Shahrukh's willingness to act and be fluid in characters, he really knows what he is talking about.
Snippet #24 from the gigantic silver book SRK: 25 Years of a Life – Director of Chak De 2007 – Shah Rukh owns the room when he walks into it. His offices were a living, breathing embodiment of the person he is. So many people love him. He carries that knowledge with so much grace. There's no arrogance, just a comfortable acknowledgment of that fact. He isn't a superstar on the inside. He doesn't live or behave like he's God's gift to mankind. When shooting, he gets into the character and then the character takes over. So many times he'd come up with these little gems that would take the scene to another level altogether and you have to trust him to make the character come alive in his own way. For the duration of Chak De he was the center of my universe. When you enter the sun's orbit, there's little chance of you looking at anything other than the sun.
Shimit Amin is a cross cultural guy.  Raised in Florida, worked in La for a while, before starting to edit and write and otherwise do film stuff in Bombay.  Chak De, of course, was just an unbelievable gift.  This great script with a massive star in the lead, you would never think a film like that could be made, and yet it was.  So it's no wonder he was blinded a little bit.
Snippet #25 from the gigantic silver book SRK: 25 Years of a Life – Director of Billu the Barber 2009 – For me, it's very important to like the people I'm work with. And it's impossible not to like ShahRukh. He takes care of the people around him, regardless of whether they can further his career or not. We both are people that invest in relationship as much as we invest in our movies. He never uses his star status to put himself above the director. While shooting I realized that he doesn't really act, he just behaves the way he believes is right. I think it's his spontaneity that's made him so popular. In my opinion, there are only two things that he can't do. He can never play a poor man – because his body language, his demeanor, his carriage everything is that of a star. The second thing he simply cannot do is reach for shoots on time. Our film didn't do well but that hasn't affected my relationship with him. To continue trusting someone takes intelligence.
Priyadarshan!  A very interesting director, worked with all the top names down south, then moved up north and worked with the top names there.  He comes at things as both an insider and an outsider in the Bombay industry.  Notice how he has no problem criticizing SRK, which makes his compliments stand out even more.
Snippet #26 from the gigantic silver book SRK: 25 Years of a Life – Director of My Name is Khan 2010 – I truly believe Shah Rukh is a man above words. It is ironic that he was the most reluctant romantic hero I've ever encountered. I learned that Shah Rukh is very emotionally intelligent. You'll see that a lot of his career decisions are made from his heart. His is one of the most unplanned careers I know of. We've done so much work together that there is no need for me to direct or instruct him. I write scenes knowing how he'll act them. He acts them out keeping in mind my sensibilities. When I say cut, he knows whether I'm happy or not. At some point, I think Shah Rukh will definitely become a director – and a superb one – at that. First, he needs to structure his mind which is like an over-active machine of ideas and he needs to order them and follow one path so that he can really channel his genius.
Karan, of course, has no perspective.  He is Shahrukh's best friend/brother/partner/everything.  I have heard what he says here before, that they don't even need to talk onset, they just know what the other needs and expects.  Varun Dhawan mentioned it in interviews about Student of the Year, he had AD'd on My Name is Khan, and he was grateful for Karan's patience with him, after seeing how with Shahrukh there was no need for patience, or instruction, or anything else.  He also said that he had seen that kind of director/actor relationship before, it's how his father is with Salman.
Snippet #27 from the gigantic silver book SRK: 25 Years of a Life – Director of RaOne 2011 – Just being around Shah Rukh, you learn so much about, life, the industry and the burden of stardom. He is many different personalities rolled into one person. You need to enter his world and become a part of it to be able to work with him at such close quarters. When he gives you time –whether it's 30 seconds or 30 minutes- he is all yours. You're the most important person in the universe for him in that time. Whether it's an award-winning director or a fan, he treats them with the same attention. He is too dynamic to fit into any one box. As a person, he's one of the best I've come across in the industry.
Anubhav Sinha had a long career before he worked with Shahrukh, but he never had a career out of the shadow of Shahrukh.  That is, his career started in 2001, Shahrukh was already dominating the box office at that point.  It's not like Ghai or Sippy or Ratnam, who were around before him and kind of watched him "grow up" at the box office, Sinha is the first director to be "younger" than him in terms of career.  Oh, and he also made Dus which I unashamedly LOVE.
(How can you not love this?)
Snippet #28 from the gigantic silver book SRK: 25 Years of a Life – Director of Don I & ll 2011 – Both Don and SRK have immensely magnetic personalities, they radiate a force field that draws you in. Considering the amount of preparation he does beforehand, he is surprisingly easy to work with. While he is a director's dream, his DoP's love him even more. He is the most non-fussy actor I know. He has no preferred angles or side and doesn't rush to the monitor to see every take. He doesn't care where the camera is or what he's being made to wear. The best thing I liked was his uninhibited way of making the character his own. At this stage I think he's not taking full advantage of his power and position. He should. That is part of the reason I have no immediate plans for Don 3. I don't want to take him to a place where he's already been to, twice before. That would be against what I hope for him.
Farhan Akhtar.  Well, first, this totally makes me think it is a Hrithik slam, right?  The comment about "non-fussy" actors, with the implied "unlike the last guy I worked with!"?  Besides that, of course, Farhan's comments come from a high degree of experience, as a director, as an actor, and as his father's son, who grew up watching Amitabh and others navigate their careers.
Snippet #29 from the gigantic silver book SRK: 25 Years of a Life – Director of Jab Tak Hai Jaan 2012 – Shah Rukh acts with his eyes. The audience feels it with him. That's why they love him. The romance is visible, but not audible. He understands my vision of love. He has so many layers to his personality. He can start out as one person and by the end of the film, he is a completely different person. But he takes you along on the journey. For the duration of the film, you feel like he's given up all his inhibitions and bared his soul to you. But he's an enigma. If he's not in the room with you, he's not yours. He belongs to everybody and nobody. The audience is hungry for him even after they come out of the theatre.
Yash Chopra.  This isn't the most interesting quote he has ever given about Shahrukh, which just says something about how often they have worked together and how close they are.  Actually, now that I think about it, this is a remarkably formal statement.  Nothing about him personally, just him as an actor.  Perhaps a sign of how close they were, that Yashji prefers to keep their personal life together personal.
Snippet #30 from the gigantic silver book SRK: 25 Years of a Life – Director of Chennai Express 2013 – His biggest and best quality is the conviction with which he does everything. Shah Rukh is the best producer to work with. He was with me every step of the way. When he comes on the set, he doesn't come as a huge star with an entourage, he comes alone and is excited about everything. We never had a bad day; Shah Rukh just wouldn't let us! He loves what he does and he never wants to stop doing it. Very few people can make you feel special. Shah Rukh has that ability in him. He will charm his way into your heart.
Rohit Shetty.  A bit of an odd couple director/actor pair.  Comic/action director Rohit probably never expected to work with super romantic superstar Shahrukh.  And yet they got along well after all, a sign of Shahrukh's ability to charm and relate to anyone, and Rohit's ability to be open to that.
Snippet #31 – Samar Khan, author of the gigantic silver book SRK: 25 Years of a Life – My interviews with 30 of the directors who have championed Shahrukh over the years have enabled me to cover an aspect of his personality that I hadn't perceived before. And each time I saw him through their lens, a new Shahrukh Khan would emerge. He is the sum of all the characters he has ever played. It was this statement by him that launched the journey of this book: "I leave a part of me in every film that I do. A part of my soul stays behind." What makes him the superstar that he is? Is it a chemical formula, the elusive X factor, his undying passion? Or is he, as he himself says, a fluke? These directors shared his journey, saw his weaknesses and encouraged his strengths. Yet he comes up with new pieces of his puzzle every day!
Samar Khan comes out of journalism, not film.  A bit unusual, most of the people who have written about Shahrukh are film people, for instance Mushtaq Sheikh and Still Reading Khan.  Perhaps Samar is preparing to leap between industries?  Anupama Chopra started out as a pure journalist (graduate degree from Northwestern University, around the corner from my office), and then slowly became more of a film industry personality.
Snippet #32 – Shahrukh Khan's forward to the gigantic silver book SRK: 25 Years of a Life – Sometimes I'm not sure whether I gave form and shape to the characters I played or whether unwittingly they gave me more facets than there ever had existed. Each character took a piece of me and departed, leaving behind a little of themselves. These characters gave my life a direction that I wasn't in complete control of. Now, too, these characters continue to propel me forward with a force so surreal that I can hardly believe this is anything but a fantastic dream. The business of dreams is a scary one. One false promise, one unconvincing trick, and the dream ends abruptly. The charm and success of these characters took masterful storytelling. This book is a spirited reminder of the blessings I have received in the form of all these characters. If you read closely, they tell a great deal of my own life as Shahrukh Khan.
Interesting that he stayed focused on the "characters", while the director's comments were in fact equally about character and about Shahrukh Khan the actor/person.  Perhaps he didn't know how personal the book would become (notice the directors he was closest to, Karan and Adi and Yashji, tried to keep it professional)?  Or perhaps he was endeavoring to remind us that, ultimately, what people see on film sets or onscreen is not the "real" Shahrukh, that is something else that only those truly close to him get to see.