I am still just gently dipping my toe back in the news pool, so I expect you in the comments to provide more information and background than I have after skimming headlines for the first time in a week.  But there are some stories just too big to miss!
I think I will start at the end and build up.  First, the RK Studios fire was more extensive than first reported.  Which is bad, because it destroyed a lot of stuff and destruction is bad.  But it is good because it means it gives the family a chance to rebuild.
They should have rebuilt ages ago, most studios in Bombay should have, there's a terrible lack of basic facilities like bathrooms.  Or air conditioning.  But, that means you have to pay for the alterations, figure out how to do things, all of that.
Now, RK Studios is a blank slate.  And, I assume, they also had fire insurance which means they have the capital for a serious rebuilding.  There's no way to ever replace the historic value of the original location, but at least the pure commercial value of it can increase.
And who knows?  Maybe this will be a psychological fresh start for the family as well!  Finally getting out from under the Raj Kapoor shadow, finally producing a successful film without him, turning RK Studios into a real working Banner again!  Probably not, but maybe!
Next story, which a friend emailed to me on Friday and I've been debating whether it was worth acknowledging.  And finally decided "oh why not?"  Ranbir Kapoor and Mahira Khan were spotted together in New York!!!!
Which could of course be absolutely nothing.  They had interacted previously at an awards show, perhaps they bumped into each other while both filming on location and enjoyed a quiet chat.  But, there were rumors of something going on since back at that awards show, and generally rumors don't come from nowhere.
(Awards show thing.  Look how cute!)
They don't necessarily always mean what people think they mean, for instance, a rumor of a relationship based on interactions at an award show could actually be because Ranbir was trying to cast her opposite himself in something.  But putting the rumors on top of these new photos, then it becomes enough of a thing that I am willing to repeat it in a blog post.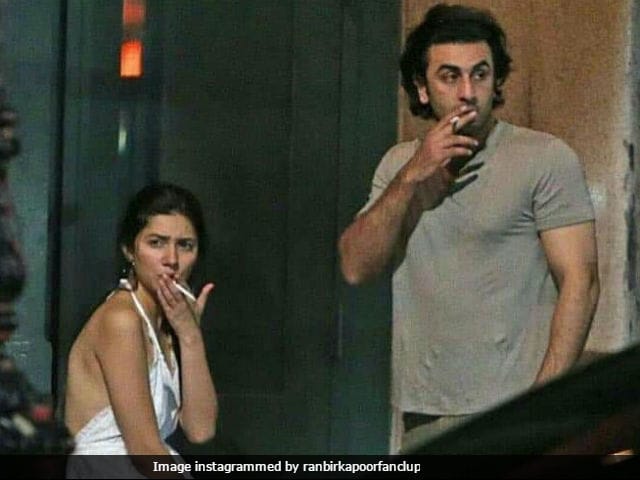 (new photos)
Naturally, The Internet immediately leaped on Mahira.  For smoking, for wearing a dress that revealing, and for being a woman with Ranbir Kapoor.  Apparently you just can't have your photo taken with Ranbir without getting into trouble!  Mahira and Katrina should start there own little support group.
A bunch of random people like Parineeti Chopra spoke out in support of Mahira, partially I am sure because of a sincere desire to confront this kind of online nastiness.  And also partially to grab of some of these headlines.  Ranbir himself draaaaaaaaaaaaged his feet.  Partially I am sure in an effort to kill the story before it really got started.  But he finally came out and said:
I've gotten to know Mahira in a personal capacity over the last few months. She is somebody who I admire and respect, for her achievements and even more for the person she is. It is very unfair the way she is being judged and spoken about. What is also sad is the inequality in judgment just because she is a woman. I request you to stop the negativity and move on with your beautiful god gifted lives. Peace and love
The headline here is "I've gotten to know Mahira in a personal capacity over the last few months".  WHA!?!?!?!?!  So, that's confirmation then.  They really did hit it off at that awards show and start some form of a relationship.  I mean, "personal capacity" means relationship, right?  Even if only a friendship?
I am kind of thrilled!  Although I think she could maybe do better.  I was going to congratulate Ranbir for finally finding an appropriate romantic partner, and then I realized I was being unfair to him.  He has always dated age appropriate women with similar levels of personal and professional experience.  And Mahira is another one.  32, very successful career in the public eye beginning back in 2006, she is no innocent young thing with nothing to talk about.
And she has the same kind of international cosmopolitan connections that he does.  Ranbir studied in New York, Mahira studied in LA.  And they are both global stars, Mahira in her TV shows more than movies which were smash hits everywhere from India to the middle east, and Ranbir with his films that (when they play well) play well everywhere.
The really exciting stuff is her personal life and what that would mean for the Indian media and society having to deal with a woman like her.  She is a Muslim woman from Pakistan, which means she tends to be modest in her official public appearances, and uncomfortable with onscreen affection (as we learned during the Raees promos).  But, she also lived in LA by herself as a teenager, worked as an MTV VJ, and is comfortable casually smoking outside in New York with Ranbir.  I love that these contradictions are present and are something that we will now have to deal with as people who follow film.  Because yeah, people are complicated, society is complicated, religion is complicated.  You can't just label her as "conservative Muslim" and move on.  And you also can't label her as "free-thinking modern woman" and move on.
And finally, she's divorced!  With a son.  A divorced single mother dating the Kapoor heir.  That's amazing.  And I cannot wait to see how this plays out.
Finally, big big news, rumor has it that Red Chillies is in negotiations to buy the Hindi remake rights to Vikram-Vedha!!!!!  Which could end up not happening at all, I mean the headlines are all screaming "Shahrukh's next film is Vikram-Vedha!", but then you read the actual story, and they haven't even bought the rights yet.
However, if it does happen, this could be good for Shahrukh in a lot of ways.  First, one article I read said that this would be a quick cheap shoot.  Which it would be, the whole film is pretty stripped down and simple, and if Shahrukh is taking the Madhavan role, it would be even more simple for him, the majority of his scenes are small one on one moments in just a few sets.  A chase scene and a couple of action sequences and that is it.
We've been talking a lot about what Shahrukh should do next, and one thing that we discussed was cutting out the big budget films with the big releases, especially the romances, and trying something small and different.  This would be that thing.  A cop movie that is strictly plot based, not spectacle, with a tiny romance that mostly involves arguing with his wife.  It could easily be filmed for only a few crore (depending on the rest of the cast), released in targeted markets, and promoted based on the story idea, not the cast.
That's how Madhavan did it.  Well, not the targeted markets thing, but the trailers and everything got you intrigued by the story as much as by the actors.  And you came out of it talking about the story, not just the stars.  I think that's one of the things I mentioned in my review, how remarkably unegotistical Madhavan was in this film he produced, taking a backseat and being less of a "hero" so that the story could shine.
This would also be the kind of mature interesting role we have been talking about for SRK.  The hero has to be an experienced mature cop.  Madhavan played it as maybe late 30s-early 40s.  But it could easily be as high as 50, throw in a line about how he is always passed over for promotion, add some kids in the background to his family scenes, and Shahrukh could play his own age.
The big question would be casting.  We are all assuming that Shahrukh is playing the Madhavan role, there is another role equally if not more important, Vijay Sethupathi's role as the antagonist.  The obvious cast is Shahrukh and Nawazeedin.  They already did a bit of the cat-and-mouse thing in Raees, this would just be more of that.  Sanjay Dutt might also be kind of perfect, the "bad guy" who you can't help but be charmed by.
But, thinking entirely out of the box, I would kind of like to see Shahrukh take that role, the antagonist, and give the "hero cop" part to someone else.  It's a rare script where the two leads truly do have almost equal importance.  This could be the movie that brings together Shahrukh and Aamir, Shahrukh and Salman, Shahrukh and Akshay or Ajay or any of the other real big names.
That's all just speculation, but then this whole story is speculation right now, so why not speculate!