Good morning!  Shahrukh waited to come out to greet his fans until I was awake, which was terribly considerate of him.  Well, for me.  Not for the poor fans who had been waiting all night and day.  But that's just part of the November 2nd story, what else has been happening?
Like last year, and like for Gauri's birthday just a few days ago, the celebration was a house party at the Alibaug weekend house.  Which seems nice.  If it is anything like my families weekend house, the place is set up for hosting, so all you have to do is get the people there and let them scatter and enjoy themselves.  A lot more relaxed than throwing some huge evening party in evening clothes at Mannat.
I wonder if it also makes it easier to host people you don't know that well?  The guest list is a mixture of friends of 25 years, and people he doesn't seem to hang out with otherwise but has worked with recently.  Not like I think he hates Katrina or Deepika or Alia or Siddharth, but they aren't on the same level of friendship as Karan or Farah or even Suzanne Khan.  But if you are doing a hangout house party at a weekend house, everyone can find the person they want to spend time with, go off to a corner and talk, do whatever they want, and the host doesn't have to be there all the time.
Anyway, photos!
(Love Karan's permanent photo face!)
Oh, and just like last year, Suhana came along and was allowed to invite one of her friends, which is really nice.  So she could be part of this "grown-up" party, but didn't have to spend all her time with the grown-ups.  This time she invited Sanjay Kapoor's daughter and Chunkay Panday's daughter, which means of course Sanjay and his wife and Chunkay came along too, because that's what you do when your daughter is invited to an "adult" party, you come along as well to make sure she is safe.
Although some of the grown-ups came down to hang out with the kid's party, like Suzanne Khan.
The one odd thing, to me, about the Alibaug house is that they usually leave to go there straight from Gateway to India.  If you've never been to Bombay, Gateway to India is kind of like the Eiffel Tower or (in Chicago) the Water Tower or the Statue of Liberty in New York.  It's historic, it's a landmark, it's always surrounded by people.  And, since the 26/11 attacks, it is surrounded by scary security forces.  So seeing people just casually walking over to it and jumping down into a little pleasure boat is very odd.  Especially when those people are movie stars.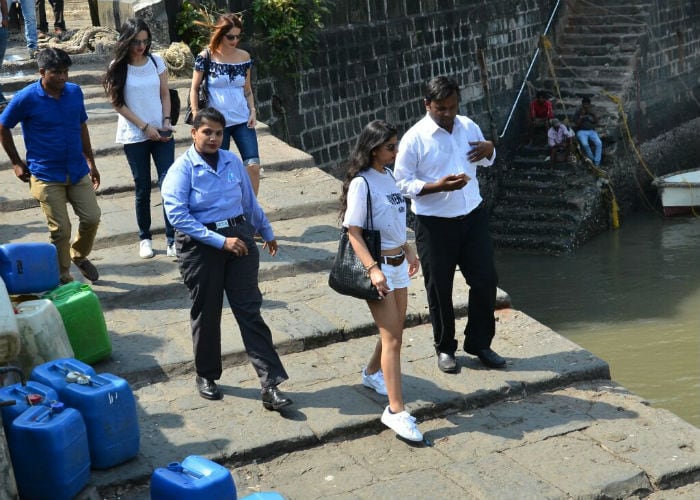 (Gauri and Suhana leaving)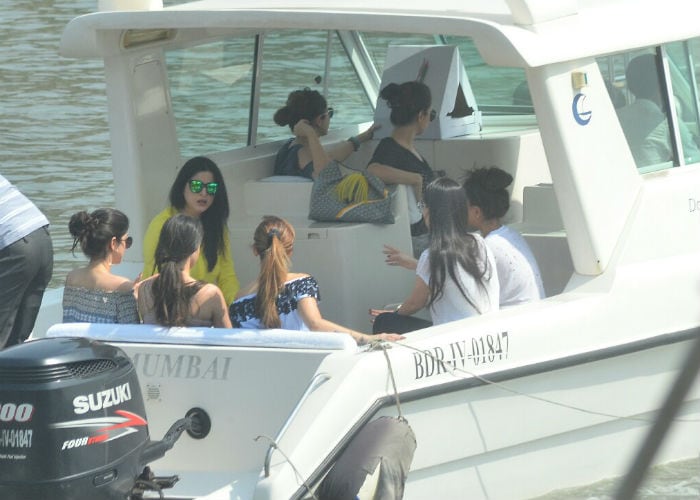 (the group on the boat taking off from Gateway)
But I guess it is probably a lot more pleasant.  You can take a little boat ride and be let out right at the house, instead of fighting traffic all the way.  And I am sure it is easy to maintain security and privacy for the house with everyone arriving that way.  Well, almost everyone, Shahrukh and AbRam helicoptered in.
And Shahrukh did make some acknowledgement of the media, he took a second to go out the door and wave to the reporters even while at the vacation house in his vacation shirt.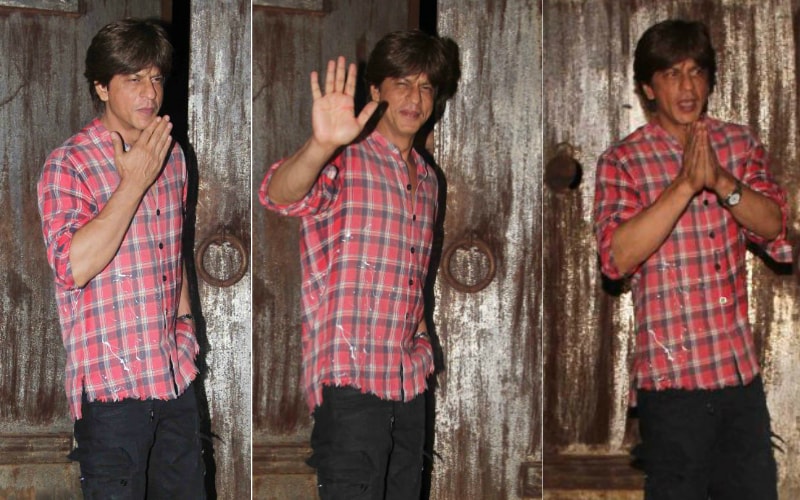 Meanwhile, back in Bombay, the crowds had gathered, as always.  There were a couple of articles that tried to make it sound like "oh, how depressing, Shahrukh wasn't there for them!"  But really, I don't think they minded.  I mean, I've been having a party all month and he isn't here either!  It's about being together and just enjoying the day.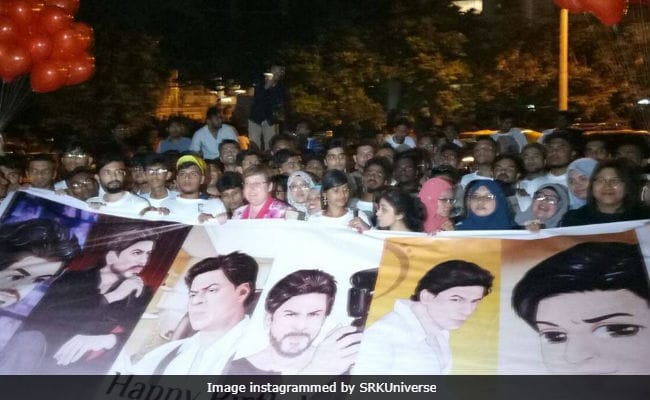 But he did finally come for us, right at the time I was waking up on the other side of the world.  And brought little dumpling AbRam!
And then sent him back inside.
And salute
And big arms
We still have some things to look forward to, that's not the end!  There's still the twitter celebration.  Aamir has been heard from:
Shahrukh just posted his own photos, including AbRam CLOSE-UP!!!!!!
And Karan
But no Amitabh, no Salman yet.  I am sure they will be heard from.
And there is still the annual birthday press conference!  Which this year will also be a "hey, go see Ittefaq!" press conference.  But it will still be witty and meaningful and so on.
And if we are lucky, there will also be the birthday message to us all!  A little twitter video saying how much he loves us and how grateful he is.  Fingers crossed!