NOT my best friend!!!!  She is pushing for that commitment, but I am holding film against it, because that is the kiss of death.  Once you say "best friend", the relationship ends immediately (in my experience).  Like when celebrity couples get tattoos of each other (Saif and Kareena excepted).  But I will say "closest friend".  And, weirdly, she has the exact same birthday as my father.  Which creates a little testing of loyalties every year as I try to schedule them around each other.  Also Mickey Mouse, but I never really do anything to celebrate him, so it doesn't really effect my plans.
Right, my closest friend!  Who I met through coffee and Rocky Horror.  She was working at the Starbucks next door to the movie theater where I was working, and we had a mutual friend who I knew through working at the movie theater and she knew through being in a Rocky Horror shadow cast with her.  Anyway, we all got used to her giving us free coffee and eventually I invited her over to my place for one of my weekly movie nights.
(Sexy Shahrukh also has probably made friends through coffee)
Big mistake at her first movie night, I showed her DDLJ.  Which is not a good first movie, because it is kind of slow and Shahrukh never takes his shirt off.  But she still came back for another one, and I think that time I showed her Om Shanti Om, or more specifically "Dard-E-Disco", and then she was hooked.  And the moment a few months later when I realized we might be getting to the "super close friends" point was when I realized I knew the moment she liked best from the song.
And she knew the moment I liked best.  Knows it very well because every single time we watch this song I start going "wait, the thumb thing!  Did I miss it?  Did it already happen?" and she has to say "No no, remember, it is after this!"  Or, by this point, I just say "Oh! Wait!" and she says "no, you're fine".  And other people in the room look at us like we are insane.
I also know her favorite moment from this song.  Which is strangely her favorite Shahrukh song, and one of her favorite Shahrukh movies.  Anyway, she likes the moment at 4:20 when Juhi kind of ricochets off Shahrukh because her breasts are so bouncy.
Of course, my favorite non-Shahrukh song is "Tu Hai Meri".  Which we watched together on the big screen when she seduced me into running away from a church meeting so we could see Bang Bang together before it left theaters.  And again, thank goodness I have her to help, because it's another one where every time I watch it I think I have missed my favorite part and she has to reassure me I didn't.
(It's the double shoulder pop at 3:20)
Meanwhile her favorite non-Shahrukh everything is Dostana.  And Desi Boyz.  Why?  I don't know.  The heart wants what the heart wants.  And sometimes the heart wants odd fake stripping with a surprisingly romantic love ballad in the background.
We share the most important thing in life (Shahrukh), but otherwise we really don't seem like two people who should be friends.  For instance, she used to do Burlesque and now does drag, which is very different from my "go outside after dark and leave my cozy apartment?  Madness!" attitude towards life.  Although again Shahrukh brings us together, we can both enjoy this scene.
And from the burlesque side, there is also this over the top confident sexy lady option.  Although I am beginning to be a bit tired of this song, after having been forced to play it over and over and over again for years.
She also likes this song, likes it well enough that she did an act to it.
She did an act to this one too, which puzzles me because it was a sexy lady Burlesque act, not a drag act, and yet the lyrics make no sense for that since they are clearly male gendered!
We've been friends for over 7 years now, which I know because Shahrukh just tweeted about the Ra.One anniversary and that was the first movie we saw together in theaters.  Complete with her dancing in front of the screen over the end credits while I stood to the side and held her purse.  Which pretty much perfectly encapsulates our relationship.
And some final birthday treats for her:
Like I said, Dostana.
Most recent film we saw in theaters.
Coffee and SRK!
No one doesn't like this photo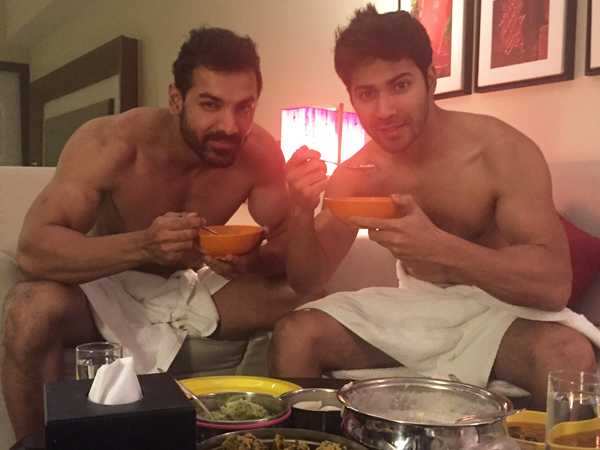 And finally, from the man himself: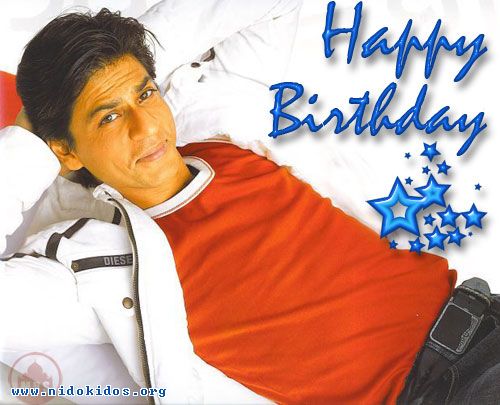 (also Mickey Mouse, now I feel bad for ignoring him)