A happy post! To balance the serious one from earlier today.  And also because I looooooooooooove Yash and Roohi.  Most serious and concerned babies ever!
First, let us have a look at the birthday boy and girl!  And, call me crazy, but is Roohi actually reaching out?  For once?  Instead of hiding behind Yash?
Although this video from the party confirms that, as always appeared in still photos, Roohi is the more needy twin while Yash is the more brave and adventurous one.
https://www.instagram.com/p/Be5fNBMl1wR/?utm_source=ig_embed
Anyway, a bunch of people came.  AbRam continues to be Over It in terms of papparazzi outside his car.
Taimur, on the other hand, still gets a kick out of all the flashing lights and things.
It was an interesting mix of guests, a fair number of them had children around the same age.  Tusshar brought Lakshman.
Shahid's wife and daughter were there.
Aish was there with Aaradha.
And Salman's adorable nephew Ahil
Soha was there, but apparently without Inaaya.
Kiran Rao came, but apparently without Azad.
Rani was there with Adira, but no photos of her were made available (if they were editing photos that hard, they should have gotten rid of this one of Kareena, she looks TERRIBLE!  In a "bad angle and bad lighting" way, not like she is actually bad looking)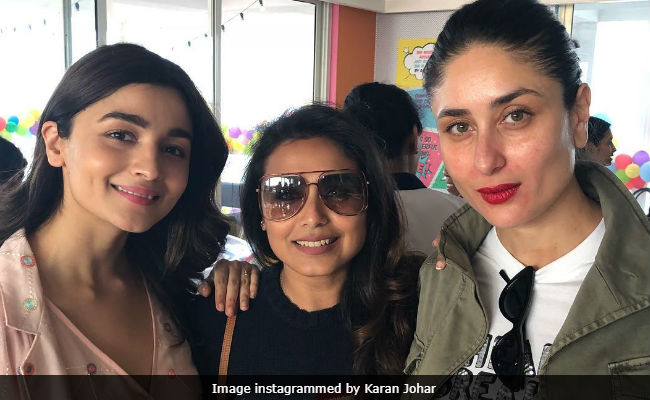 Speaking of, Shweta also looked terrible.  Maybe Karan just has really really bad lighting in his apartment?
Varun was there, looking shockingly mature and manly with a beard and a baby.  Why can't he play this kind of person onscreen?
And my favorite, Manish Malhotra looking as stylish as always, but with a baby attached to him!
Alia was there and posted a cute message to her "siblings"
Alia was dressed very impractically, by the way!  Looked great, but it is not what I would wear were I to play with a messy clingy grabby baby.
Alia was part of a small contingent of non-baby having guests.  Most of them were like Alia, so incredibly close to Karan that of course they would be invited.  But Aditi Rao Hydari?
And Deepika?  I mean, I don't think they have a feud with him or anything, but I've never heard they are super close.
Even among the having-kids crowd, there were a few people who were a bit odd.  Aish and Karan, not enemies by any means, but also haven't heard they were super close.  Kiran and Karan too.  And Shahid's family.  And Soha.
So I think Karan, on a smaller level than Adi with Adira's party, is trying to do a bit of networking and baby connection making.  He invited people with children of a similar age, so that Yash and Roohi can start making those lifetime bonds that Karan himself was jealous of when he first started getting into the really really filmi crowd.  And he invited people without babies, just because it was a bit of a networking opportunity for himself.
(oh, also, Alia's photo has sparked a lot of talk about Yash being "white".  First, Yash is an adorable baby and that's really all we need to know about him.  Second, lighting is weird, things can look different.  Third, none of our business what backgound Yash's biological mother has, all we need to know is that she was a generous soul who helped Karan form his miracle family.)