I finally watched it!  Partly for Maddy, partly for my beloved Amit Sadh (if you like him in this, WATCH RUNNING SHAADI!).  They were both good.  And I am putting it up as a "Tuesday Tamil", even though it is in Hindi, because really we are all watching if for Maddy mostly, and he is a Tamil industry guy. (part 2 here)
The final episode is releasing on Amazon Prime on Friday.  So I will summarize the first 6 episodes in two episode chunks over the next few days, and then finish with the last two on Friday.
Episode 1:
This is primarily to establish our two leads, and the issues that determine their life.  Madhavan is a single father, Christian, of a 6 year old son who is dying of cystic fibrosis and needs a lung transplant.  Amit Sadh is a troubled alcoholic cop who tracks down a corrupt underling who gave them a bad drug tip, beats him, and takes the drugs from him.  This is captured on video by the crowd watching and ends up on the internet.  Amit is chastised by his superior officer, but doesn't care.  His estranged wife comes to see him and says she wants to sell the house and get a divorce, it comes out in that conversation that their daughter died 3 years ago in that house which is why Amit doesn't want to leave.
This is a great opening episode.  It follows a formula, but with slightly new content.  I should back up, the idea of the multi-episode crime thriller with interconnected characters and secrets and a place that is as much part of the story as the characters, and an overall sort of theme running through it, this is something that has gotten very popular in the past 10 years or so, The Killing and Fargo (the TV show) and Luther and Broadchurch and True Detective and many others.  The one it reminds me of most is The Fall.  A show where we follow the investigator, Gillean Anderson, and the murderer, Jamie Dornan.  Where the killer has moments of generosity and empathy that we can't find in our detective, where we are lost in the small stories surrounding them, moments of kindness and evil.  And most of all, where it is all about a bigger theme.  In the case of The Fall, it is about misogyny.  Gillean Anderson plays a female detective who scares the men around her because she acts "like a man", she has sex without guilt and she will call out any casual assumption or judgement from them of what a woman should be like.  And also calls out those assumptions on the part of the audience, the moments when we want her to be softer or kinder just because she is a woman.  While our killer, Jamie Dornan, is seemingly soft and kind and understanding and caring, a stay at home father and part time therapist.  But he feels the need to dominate woman and all that kindness hides the most vicious misogyny of all.  It's a complicated show, which keeps adding on complications each season.  In a way I suspect this show will as well, taking our two main characters on a journey which shows exactly what kind of opposing forces they are, and how the world of Bombay around them influences that.
And it is the same kind of show that this hopes to be.  We meet Madhavan, and he is smiling and warm and kind.  He loves his son and he loves his mother.  And he is good at his job, coaching soccer.  He seems stable and safe and solid.  And we can sympathize with his concerns as well, his son desperately needs a transplant, but when he casually starts speaking with a family at the hospital after overhearing them talking about the possibility of donating organs, they are offended at the idea, and retreat to the commonly understood rule from Hinduism that the body must he intact.  We, the audience, are with Madhavan, the show even gives him a line of Hindu scripture to support his argument, we are frustrated and angry at a society that brushes aside the idea of donating organs without even considering it.  This is where the particular setting starts to come into play, Bombay where there are so many people who are seemingly disconnected, but only a very few special ones are willing to be part of the web of organ donation.
And then we meet Amit.  Drunk, violent, doesn't seem to care about or be able to connect to anyone, including poor Hrishikesh Joshi, his assistant (I know he has a title, but I don't understand the Indian police hierarchy, so I am going with assistant).  And a solitary person, while Madhavan was introduced in the middle of a party surrounded by family and friends who all loved him, Amit is introduced barely functioning at work, and not able to respond intelligibly to normal conversation from Hrishikesh.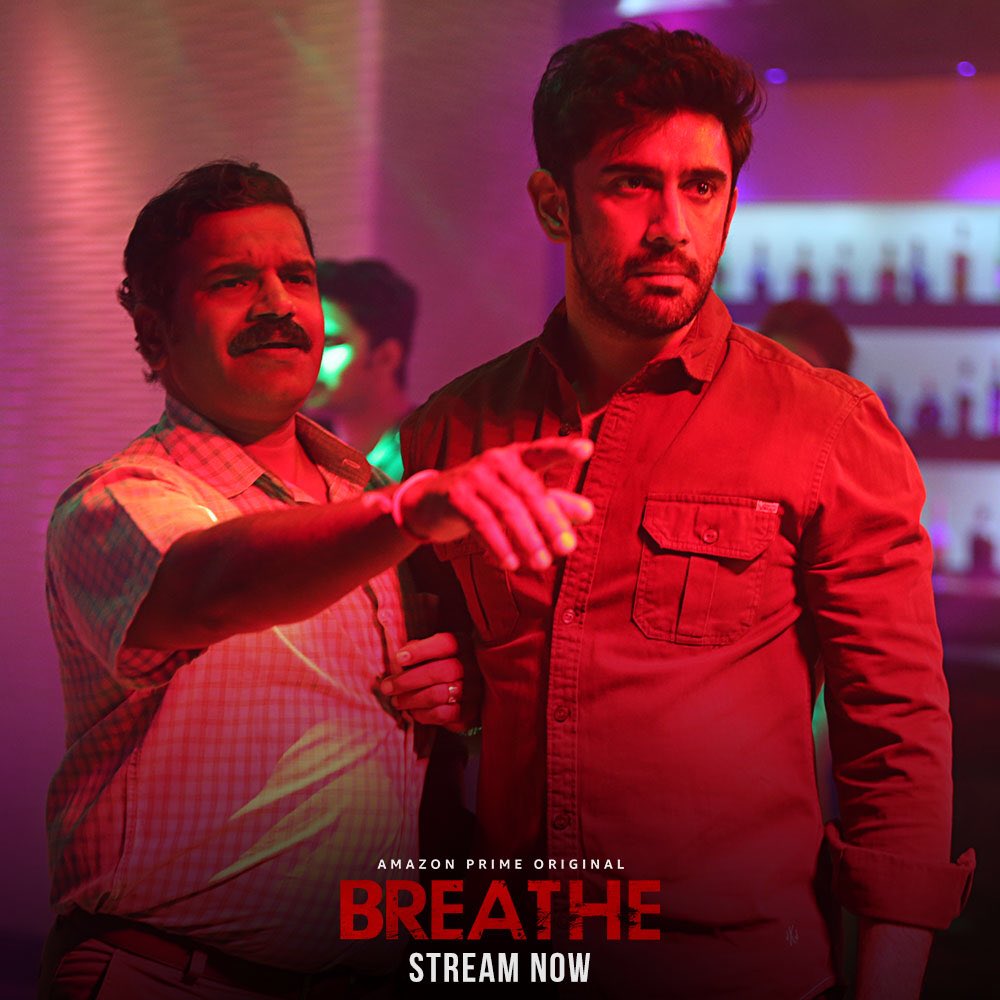 But there are some interesting moments of darkness in Madhavan and moments of light in Amit.  We see Madhavan first competing in foosball at his son's party.  He is playing against one of the guests who is getting angrier and angrier.  Madhavan is smiling and happy, but still not able to stop enjoying his moment of victory.  A guest brings a large generous present, and Madhavan refuses to accept it, explaining that he doesn't want it to be a "last" present for his son, doesn't want it to be obvious that no one expects there to be another birthday.  Later, he gets the call that his son is in the hospital while coaching a match and yelling at one of his players to play his best or else not try.  Madhavan may be a smiling happy generally good man, but he is also very competitive, very focused, and very unwilling to give in ever about anything.
Amit, on the other hand, is a very unpleasant person.  But a very smart cop, he figures out the scam his subordinate was running by passing on a false tip and tracks him down.  And also not a brutal cop, he doesn't even watch while the other officers beat a suspect, preferring to search the room.  Later he hits his subordinate, but only so he will hand over the drugs, and then leaves him.  He gets no joy in winning, or seeing others lose, just wants to solve the puzzle.  And he does not care what other's think.  When his boss yells at him for causing a public scene, he just walks out.  Very different from Madhavan's need to smile and please everyone while still winning over them.
Episode 2:
Madhavan knows his son will die unless he receives a donation in the next few months.  He knows that there are 4 possible donors living in Bombay, and his son is 4th on the list for a donation.  He starts doing research on each of the donors.  Finally, he sneaks into the apartment of one of the donors and tries to kill him by exacerbating his asthma.  He fails, the man survives in a coma.  At the same time, Amit is struggling with increasingly depression.  His wife comes to visit and says she wants a divorce, and also wants to sell their house.  He refuses since he says their house is where memories of their dead daughter lives.
This is probably the worst episode for Amit.  It's just dull on his side of things.  We just get a little more of a glimpse into his life.  His wife Sapna Paddi wants to sell the house and get a divorce.  But Amit won't do it, won't let go, says their daughter is still here in this house.  That's it really, just a lot of talk about real estate.  The most interesting scene is when he visits the house of his subordinate Hrishikesh for his wedding anniversary.  His family flutters around Amit and we can see from how they respect him that, at some point in the past, Amit must have been really special and good to them.  It's an extension of what we saw earlier with Hrishikesh, he is clearly worried about Amit but is not willing to sell him out to their supervisor, he still respects him that much.  And Amit, meanwhile, is distracted the whole time he is there by staring at Hrishikesh's little girl.  Oh, and we see Sapna at work in her gallery flirting a little with Anuj Sachdeva, one of her artists.  Some of the people around Amit are beginning to be filled in, but there is no real forward movement.
(Sapna does a good job in her role, but OMG is this outfit at the premier terrible!)
Very dull, but it does make the theme of the show snap into place.  It's about fatherhood and family, and the urge to somehow control and protect your family above all else, including the safety of over families.  Amit failed as a father and now he is falling apart.  But Madhavan won't let himself fail, he will do whatever he has to do to keep his family together.
We also get their two wives filled in.  Madhavan's wife, we learn in this episode for sure, is dead.  And she made him promise to take care of their son before she died.  And now Madhavan won't let her go, he is determined to keep that promise, he begins to have visions of her, and he visits her grave to report on his efforts.  Meanwhile, Amit's wife is still alive and moving on.  And Amit is "letting" her.  Sort of.  He shows up at her work and insists on talking to her, but he is not trying force her to come back to him, he just wants to sit at home and drink and think of their daughter.
Along the same lines, while we see Sapna slowly starting a relationship with someone new, we also see Madhavan starting a relationship.  With his son's doctor.  She teases  him about how he is always late, he is smiling and charming with her.  It is the same kind of charming friendly flirty interaction that Sapna is having with Anuj.  Only we the audience know that Madhavan's smiling face is hiding a calculated plan.
So, that is our theme.  The father, the husband, who is he?  With Amit, we know, he is visibly broken.  But what about the men who seem so perfect, so charming?  Can we trust them?
(Of course we can trust him!  It's MADDY!)
Oh, and we also get our first murder, or rather attempted murder.  Madhavan stakes out a middle-aged man who lives with his son and daughter-in-law and grandson, tricks his way into their house without the guard seeing him by pretending to be a delivery man, then comes back the next day after doing reconnaissance and sneaks in again by setting off a car alarm so the guard goes to check it.  He forces the man to run on a treadmill and blows dust in his face, then uses up the inhaler and puts it by his hand to make it look like he had an attack and the inhaler had run out.
There's some interesting things about these murders, which are just sort of a fun mental game for the audience.  Madhavan did research online which the audience saw through superimposed writing, which tell us that the murders must appear to be accidents in order to prevent an autopsy which would make the organs unusable, and that they must be committed without harming the rest of the body.  So Madhavan creates this accident and causes a sudden heart failure which will not damage the lungs.  Only, because he has to be so careful, he also runs the risk of not succeeding in killing his victim, which is what happens here.  The man slips into a coma.
These murder sequences are also where you realize why Madhavan was cast in this role.  While Amit does a good job making his troubled young cop magnetic, Madhavan is giving an acting masterclass.  He plays the cheerful loving confident father.  He plays the charming man on a date.  He plays the careful planning killer.  He plays the shaken but determined killer in the moment, clumsy and unhappy with what he is doing but still carrying it out.  And he plays the awkward delivery man, the stranger at the door, all kinds of roles as part of carrying out his plan.  And in each case, Madhavan manages to not only perfectly capture that moment, but to make it look like his character during the rest of the film, to make us see Madhavan-as-Danny-as-deliveryman.  It's the kind of thing you can only do after decades of experience, which of course Maddy has.
If you enjoyed the above post, or anything else you have seen on this site, please donate to help offset costs:
To help support my work, donate to the site, $1 or $2 or $20 or $200, however much you want.