Monday Monday, news news.  Nothing really exciting, like a contract dispute or something, but still some things for us to chew over.
Rishi Says he Wants Ranbir to be Married
Well this is lovely!  Ranbir is already talking about "settling down" in that way that people do when they hit an age milestone and something shifts in their heads all of a sudden.  And now Rishi is saying he wants grandkids (although, doesn't he have grandkids already through Riddhima?  I guess they don't count because they aren't Kapoors). (story here)
Here's the actual quote:
I settled down when I was 27, Ranbir is 35. So he should think about marriage. He can marry anyone of his choice; we don't have any objection to it. I want to spend time with my grandchildren before I am gone.
And about Alia in particular, Rishi said:
Jo hai woh hai, sabko pata hai.I don't need to say anything more.
But Rishi, you DO!!!  You do need to say more! Because I don't speak Hindi and I don't know what you mean!
Anyway, it is still most likely this whole thing is just for promotions.  But there is also a slight chance that we will see Alia disappearing into the role of "Kapoor Bahu making babies".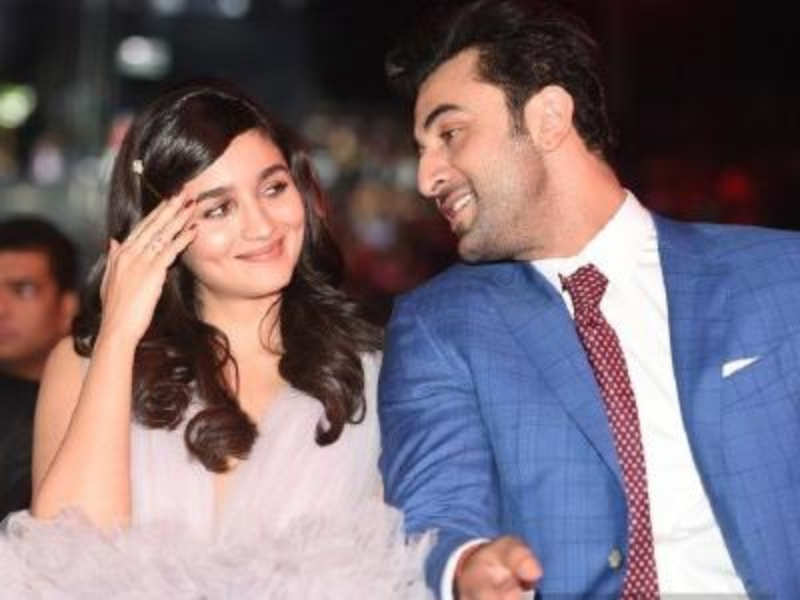 Sacred Games Only Has One Thing to Talk About
Ha!  It's not just us!  One of the few real comments I got on my Sacred Games posts was "wait, is that supposed to be Salman and Kat?" (story here)
The show has statements on religion, violence, family, police, and on and on and on.  And the only thing we want to talk about is how it is related to movie star scandals.  Another reason the Indian audience will be a hard sell on streaming, we (I say we because I am part of the audience for Indian content) are tied deeply to our stars.  Anything cultural will always be in their shadow.
Anyway, the first thing BH felt necessary to report on related to Sacred Games is the possibility that Salman and Kat are represented by an abusive controlling movie star and his beautiful movie star girlfriend.  Because there is mention of a hit and run case, of a feud with Ranbir, of abuse.  But the flip side is, maybe those are just buzz words thrown together in a haphazard way and it's not supposed to be exactly Kat and Salman.  I lean towards the second myself, because there's also stuff that doesn't fit.  The "Salman" character is very young and doesn't seem to be that big of a star, just a medium star with a powerful father.  And the "Kat" character can actually speak Hindi.
(These guys.  She kind of looks like Kat, but then all model types kind of look alike.  He looks nothing like Salman)
Bharat, Ba-huh?
This is one article with a whole lot of information in it.  Clearly the Bharat team is just throwing out leaks and BH is picking up whatever they find interesting.  And some of these leaks point to a good movie, and some point to a bit of a mess. (full story here)
On the good movie side of things, Salman plays a young man who has to rise up and take care of his family after his father is lost in Partition.  He ages through the decades from a little boy in 1947 to an old man in 2000.  His name is "Bharat", and it is also the story of "Bharat" the country.  That sounds interesting, young man forced to lead the family hits Salman's public persona as well in an unusual way.  And Salman is good at being kind of "son of the soil" if the script is right.  And hopefully he is playing his real age at least for part of it.  Oh, and Jackie is playing his lost father, that also sounds potentially good.
And then on the bad side of it, Salman and Priyanka are supposed to age together through 5 separate make-up looks.  I have a bad feeling about this make-up.  I don't like it when actors have to act in heavy make-up, and I also don't like being distracted by watching them wearing different kinds of make-up in different scenes.  There's also supposed to be a lengthy flashback to Salman and Priyanka's love story, which seems like an awkward fit if the movie is supposed to be about keeping his family together and so on and so on.  Oh, and they are currently filming a circus bit with Disha as an acrobat and Salman as a motorcycle stuntman.  And that sounds like blatant pandering to the Sallu fanboys in a way that could ruin the rest of the movie.
So, hmmm.  I'll still watch it, but I'm not going to get my hopes up.
(This is the poster of the original, and this is the movie I want to see Salman in.  Nice average family doing nice average things, not motorcycle stunts and epic romance)