Question from Procrastinatrix!  Which I really liked so I am using.  We have talked a lot about the movies or TV series we want from him as an actor, but what would we like to see him do beyond that?
I know this wouldn't be possible, but I would love to see him go back to theater.  It wouldn't be possible because no matter how hard he tried and how humble he was and how good he was, it would still be covered and watched as some kind of Shahrukh Khan stage extravaganza.  Maybe if he was playing a role like King Lear (he would be SO GOOD as Lear!) under a fake name and with a lot of make-up and it only came out months later that he was in it?  What do you think?  And what theater role would you like him to play?
(Put him in something like this, change his hair, maybe a bald cap, and don't promote it, and you could get away with him on stage again)
Oh, and then the other thing I would like to see him do is some kind of podcast.  Can you imagine?  Like his Ted Talks, but not in the stupid Ted Talk format.  Instead him sitting down with interesting people, not movie people but like his favorite authors or academics, and having long free-ranging conversations.  What do you think, Shahrukh as the host of a talk show for big thinkers?
(Shahrukh in a long free-ranging conversation with the head of Netflix?  Tell me you wouldn't listen to that!)
What else do you think he could/should do?  More philanthropy, more direct political commentary, more writing?  More kids?
Oh, bonus question that came up in the comments yesterday and I am hoping to build momentum so we can make it happen: Aryan marries Malia Obama.  Tell me you wouldn't be down for that!  Imagine Gauri and SRK and Barack and Michelle hanging out!  Imagine Sasha and Suhana becoming best friends!  Imagine the international opportunities for doing good works and pushing political agendas!  Imagine the b-story love story between Aryan and Malia's bodyguards (his big scary thug like guy who's been with him since childhood, her professional female secret service agent who always follows the rules?)  What do you say, yay or nay?  I figure if we all put it on our dream boards or whatever, we can make it happen through the power of positive thinking.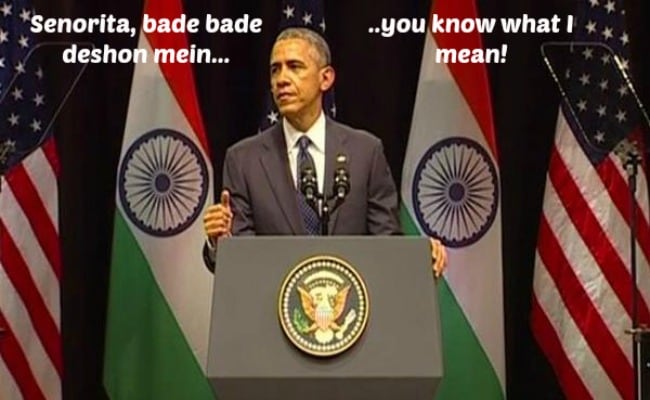 (Look, her father already quoted his father's dialogue!  It's the perfect opening!  She goes to LA for spring break with college friends, they end up at the same party, sparks fly….)