Another TGIF repost!!!!  And if you like this, I can keep it up for the next few days of holiday stress.  There are many many TGIFs in the archives.  Although you have now seen the 4 best ones over the past two days.

First, I mentioned this in a comment and then did some research to confirm it.  And, yep!  The reason men have less body hair is because of The Pill.  The pill messes with female testosterone/estrogen levels, making them need less contact with men to keep their hormone levels even.  And it mimics the experience of pregnancy to some degree, making you crave a nurturing type.  And, generally, kills a bit of that "I am ovulating and I want sex with a man who will get me pregnant!" part of the attraction process. So, in other words, the women of America went from wanting this, the man who can get you pregnant with a look and is just spewing testosterone everywhere but has no interest in making you breakfast the next day:
To wanting this, the little boy man who can't spare any testosterone, or get you pregnant, but can rub your feet and be a nice thing to lean on at night.  Not that there's anything wrong with that (I think.  But feel free to disagree in the comments!), but it is different.
And as America/Hollywood goes, eventually, so does the rest of the world.  India resisted a really really long time, but thanks to the liberalization and globalization and other buzzwords, our Indian movie stars are now following the messed up estrogen lead of the west and losing their TESTOSTERONE EVERYWHERE kind of looks. But let us today take a journey back in time to the golden eras when men were men and chest hair was chest hair.
Hello Sanjay!  I hate the hair on your head, but the rest of it is good.
Oh yeah, this is the good one.  See how tired and manly he is?  So manly that Raveena is almost afraid to touch him and yet desires it?  This is what I was saying about women craving testosterone to balance themselves.  She's so un-testosterone-y, and she really really wants some of his.
Salman, because he is a FOOL, gave up on the whole "manly" thing pretty early in his career.  Which means this is just a bunch of screenshots from Maine Pyar Kiya.  And will anyone complain about that?  Here he is posing on a bicycle.
A different angle.  Notice this is also when he had actual muscles that looked like muscles.
And finally, the classic shot.  Which is somehow on both the DVD case and the poster.  Isn't Rajshri supposed to be a family company?  Also, again, testosterone craving!!!!  She is all woman, he is all man, she's going to suck the testosterone out of him.
You know how you can tell when I guy is really comfortable with his own manliness?  When he is willing to be surrounded in a womb like pink environment, and is still manly enough to dominate it.  Of course, Abhay is a Deol, but I always think of him as the weakest Deol. I guess even the weakest is still strong enough to take over any silly little pink bedroom he is put into.
For comparison, let us take a look at the second strongest Deol.  Who is so manly that he is pulling off not only the chest hair, but proudly showing off armpit as well.
(Yes, that website is still active and updating.  Link here: http://shirtlessbollywoodmen.blogspot.com/)
This photo is so great!  I mean, sexy, obviously, but also almost classy and arty?  Or am I crazy?
And one more!  A candid, we have caught him coming out of the shower.
Now, someone I have no embarrassment or surprise over having stomach flutters with, Akshay Kumar.  Especially beautiful 90s Akshay.  With the bangs and the big eyes and all.
He really embraced that whole casual male model look in his photo shoots.
Okay, this shirt is a bit much.  I could do without it.  Not just because this is a chest focused post, but even besides that, I could do without this particular shirt.  Really, not great.
I could do without THIS WHOLE THING.
But this is very very nice.
A candid look!  Bursting up out of the water to surprise us!
And finally, a comparison.  One of these is more manly than the other.  Gee, I wonder which one?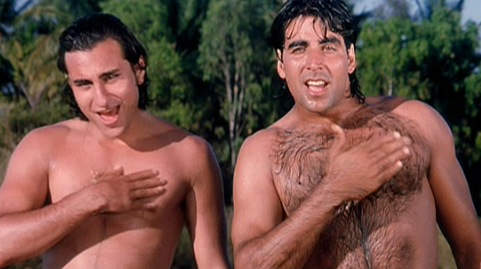 Oh Amitji!  Back in the day, before men had to be sculpted within an inch of their lives just to take their shirts off.
Here, have some Deewar!  Where he is all "whatever" about gorgeous Parveen Babi leaning on him.  Also, I love that she is wearing more clothes than he in this shot.
Shower Scene!!!  Two manly men, hanging out.
Poor Amitabh, his gentlemanly modesty is affronted.  He most have been attacked by raging hordes of hormonal women not on The Pill, desperate for his sweet sweet sperm.
And finally, a little treat for us all that I did not think existed, Hairy Prabhas!
Oh, and of course, because objectification is nothing without subjective rankings, who "wore" it best?
I think I will have to go:
Amitabh
Sanjay
The Deols
Akshay
Salman (if he had kept it up into maturity, THEN he might have ranked higher)
Prabhas (sorry, you would have been higher, but this is a very competitive list)