I just reread my original review, and it was quite good, but there are so many other interesting points to discuss that I didn't even touch upon! I'm excited!
This movie came about, according to Karan, partly because he looked at all the marriages around him, and none of them were happy. What I find interesting in that statement are two things, first that he is talking about "marriages" and second that he is talking about "around him". This movie is critiqued in general as yet another Karan rich people problems movie. But he is trying to be accurate, he has only observe the marriages AROUND HIM, he is not going to overreach and try to deal with how marriages might be unhappy in other classes. And second, he is talking about marriages, not "couples". The more I think about that idea, the more fascinating I find it.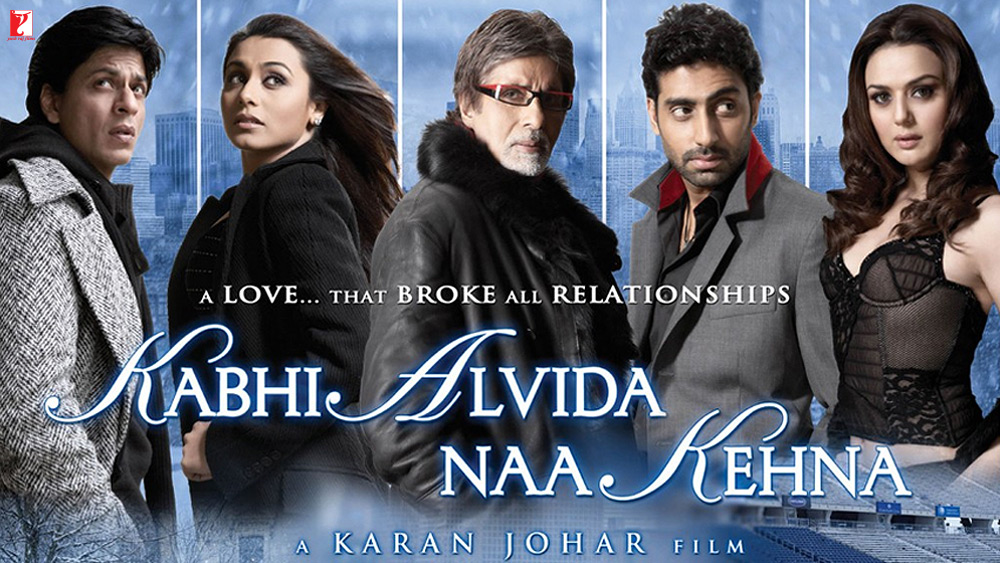 This is a movie about social rules versus human nature. "Marriage" is a social definition, "couple" is just two people. The same idea comes up again and again in this movie, what does it mean to be a mother? A father? An in-law? What are the rules we are supposed to follow versus what is in our heart? "Husband" and "wife" are the two strongest rules at play, but all the others are in here also.
Karan, in his usual speaking-before-thinking way, said that all the marriages he knew were unhappy. But what I think might be more accurate is to say that all the people he knew who were trapped and defined by "marriage" were unhappy. It's one thing to share a life with the person you love, it is something else to start by being put into a strict social role and having the exact person you are with, and the person you are, expected to follow along.
This film has 6 central characters, and each of them ends up rebelling against the social role they are supposed to play. Amitabh as the "patriarch", Kirron as the "mother-in-law", Preity and Rani as the "wives" and Abhishek and Shahrukh as the "husbands". It's not a coincidence that Amitabh and Kirron are both widowed, Karan wanted to focus in on their roles as parental figures. But the younger generation, then are husbands and wives, and also children, and also parents. And in all of those ways, they are feeling trapped, the distance between the emotional truth inside and the social structure outside is growing and growing and they are being pulled apart by it.
The title of the movie is "Kabhi Alvida Na Kehna", and I think it works to say "say good-bye but don't say good-bye". Say good-bye to the rules of what marriage is, what family is. But don't say good-bye to the people involved. It's okay to love someone and be in their lives outside of what the rules are for how you are supposed to be together. A different version of the movie would have the social roles firmly restructured and everyone divided like a wall came down between them, and that is the happy ending. This movie says "no, you don't have to do that, you can find a way to always be friends".
I'm gonna reach back to American social history to better explain what I mean. Until maybe the 1970s, the common wisdom was that divorce "confused" children, that it was good for there to be a firm line. One parent kept custody, the other parent disappeared as though they never existed. If the custodial parent remarried, the new spouse was the "parent" of the child as though the original parent never existed. But then things changed and we started to accept the idea of just finding a new way to be, a new kind of family arrangement where everyone still loved each other, they just weren't around each other every day. I think that's what this film is trying to say. Just because one form of a relationship ends doesn't mean you can't build something new on the ashes. Don't be afraid to break a relationship, you won't lose everything, you can start fresh.
SPOILERS SPOILERS SPOILERS SPOILERS SPOILERS SPOILERS SPOILERS SPOILERS
I'm gonna go in chronological order, including the things that we don't actually see. Rani is orphaned at a young age, teenager perhaps or younger. She is taken in by loving family friends, Amitabh and his wife and their son Abhishek. Amitabh's wife dies, the family is struck by grief, but they have joy in the idea of Rani marrying Abhishek and officially becoming part of the family. Meanwhile, in India, Shahrukh is the only son of a single mother Kirron. His best friend from college Preity proposes marriage. Shahrukh is a star athlete, he is the primary wage earner while Preity gets pregnant, has a child, and raises the baby with the help of Kirron. Preity goes back to work and at the same time Shahrukh has a career-ending accident. 4 years later, Amitabh has rejected the idea of a "perfect" Patriarch and become a funloving horndog. Kirron is still snarky and snappy at her son and approves of her working daughter-in-law. Shahrukh is a bitter stay at home parent. Preity is a super successful workaholic. Abhishek is an event planner who parties all the time. And Rani is infertile and unattracted to her husband. Rani and Shahrukh meet, become friends, bond over their bad marriages, and finally start an affair. They break it off and tell the truth to their spouses, both marriages end. 3 years later, Rani and Shahrukh meet again and Shahrukh proposes.
Okay, let's focus on the most important thing our two leads (Rani and Shahrukh) have in common: they are physically incapable of fulfilling the proper marital role. Rani is a wife, she is supposed to have a child. Shahrukh is a husband, he is supposed to be the physically stronger one who provides for the household. But, they can't. Both marriages start out from a place of strict social order. Rani will marry Abhishek, have a child, re-form the family group that was lost when Amitabh's wife died. Shahrukh will marry Preity, provide for the family and child. But once that becomes impossible, what is left?
The answer is, "not enough". I think this is what Karan is talking about with unhappy marriages. If you go into marriage because you want to be married, you will be disappointed eventually. The "perfect marriage" does not exist. Your husband will lose his job, your wife will be a bad cook, something will happen. But if you go into marriage because you want to be with this one particular person, none of the rest of that matters.
It's not just your expectation for your partner, it's your expectation for yourself. Rani got married wanting kids. She can't have them, and suddenly she doesn't feel like a "wife" any more. Shahrukh got married expecting to be the more important successful partner. He isn't that any more, and he doesn't feel like a "husband".
Karan gives them both clear physical issues preventing them from being "normal" husband/wife, and he gives the audience a clear physical sign of the issues in the marriage. Karan uses sex very well here. The marriages aren't falling apart because of bad sex, the sex is bad because the marriages are falling apart. Shahrukh doesn't feel desirable and Preity's calm confident "I don't need you" attitude is not helping. Rani feels old and broken and Abhishek's boyish eager teasing is not helping her feel young.
On the other hand, the affair is an emotional affair for a long long time before it turns physical. This is not two people who passionately physically desire each other. These are two people who really like each other, and know each other, and feel happy together, and all of those things eventually make the sex good.
If we take this version of the theme, two people incapable of filling the social roles in their marriages who find true love outside of marriage which re-affirms their worth as people, then the decision to tell their spouses everything has a different meaning. It's not about returning to the marriage because they are "supposed" to, it's about trying to restart their marriages on a new path. They have broken out of social rules, they are returning home because they choose to return home, and now it is up to their spouses to choose to stay with them, or not.
The end of the marriage isn't the affair, the end of the marriage is Abhishek and Preity saying "no, I am not willing to forgive and start over as two flawed people. You've broken our marriage vows, you've broken what I thought this relationship meant, and there is nothing left". It's a realization that was a long time coming, the only thing keeping them together was a pretense of fulfilling the social order. Once that pretense is wrecked, nothing is there.
What makes this film radical is the epilogue. Turns out, once you break free of social rules, you have to work hard to build something new, but it is better in the end. Preity becomes a better mother, Shahrukh a better father. They even become better friends to each other, there is a real sense of caring in their brief interactions. Abhishek and Rani have a harder row to plow, but it ends in the same place, Abhishek acknowledging her place in his life and vice versa. Rani and Shahrukh do the inner work to build independent lives for themselves. It's not the end, no one ever says "good-bye". They just keep going on their lives and breaking new roads. Culminating in the ending. Shahrukh and Rani get together not because they are guilty over an affair, not because society says they must, not for any reason at all but that they want to be together.
The film is still flawed of course. The characters are taken just that much too far past regular people and into stereotypes, from Amitabh's "Sexy Sam" to Preity's "hip young magazine editor". The narrative balance is all out of whack, the affair takes forever to get going with all these twists and dead ends. And then the epilogue section, the one with the biggest moral of the film, is rushed. But the kernel of it is genius, a man and woman crippled and unable to do what they are supposed to do in their relationships, which brings up the question of what "marriage" is if it can't work the way you expect it to work?