Thank you Molly for bringing up this topic! I'm really excited to dig into it and then hear what you all think.
Let's talk Virginal Romances! There's two kinds in pop culture. The first one, which I don't think of as "real" virginal romance, is the couple who has not had sex but really wants to. Think like Arjun Kapoor and Alia in 2 States. They are college graduates, they like each other, they start dating, and they have sex fairly quickly. It seems clear it is a first time for both of them, but it isn't scary or strange or anything, they are adult people and can handle all the emotions that come with sex. It's a virginal romance only in that they are technically virgins when they meet.
But the other kind, the one I find far more interesting, is the "virginal" romance where the entire relationship revolves around inexperience, around finding your way in uncharted territory. Qayamat Se Qayamat Tak would be the classical film of this type. Our hero Aamir and heroine Juhi are achingly young. They barely know how to communicate with each other, a brush of the hand is exciting and scary, and in the end when they run off together, they build a children's play house instead of a real house and Juhi doesn't even know how to cook. The romance comes because they are so in love, they are willing to overcome all obstacles, including the obstacle of their own inexperience.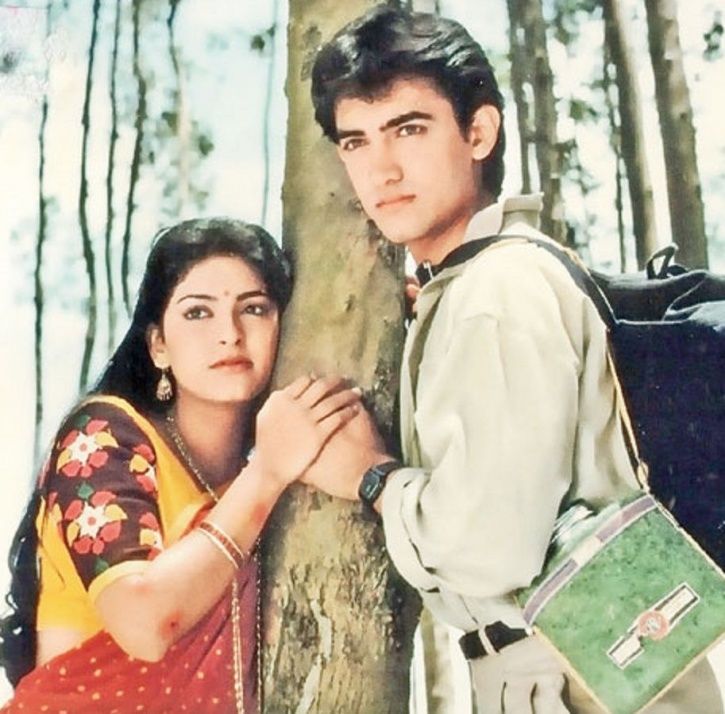 There are LOADS of movies of this type in Indian film. It's not unique to Indian film, the concept of first love is magical, and it's intriguing to see the purity when it shows up in very young people who don't have any ability to lie to themselves about what they are feeling. But in Indian film, this isn't just a rare film here and there, it is a whole genre.
The main genre is the "virginal romance" where the hero and heroine are both that special kind of pure. But there's also the half-virginal romance, which is the other common genre. Our hero is cool and experienced and confident. Our heroine is painfully naive. In a lot of movies this is almost played for laughs, like it is "sexy" that she doesn't understand any part of what is happening. Or at the very least, that it is desirable. But it can also be played in a really sweet way, Mani Ratnam is great at this. Because the reality is, in Indian culture, a young woman will be less sexually experienced than a man, even if just in terms of having knowledge without real experience. In the Mani Ratnam films like Roja, or Bombay, it's about the hero gently helping his new wife to understand what she is feeling and not be afraid of it with a goal of sexual equality. The realistic belief is that, for most Indian couples, the man will be more experienced than the woman. And some movies make this attractive, some of them just deal with the reality, some of them even make it an ideal.
I have no issue with the many movies that deal with the half-virginal couple just as reality. For these two characters, this particular woman would logically not be experienced. But I do have an issue with the ones that treat it as default, like a man is born knowing everything about sex and a woman is incapable of real knowledge until after marriage.
Which brings me to the rare half-virginal couple where it is the MAN who is less experienced!!! This is not supposed to happen, this is unusual, and so the filmmakers can't just mindlessly follow stereotypes, they have to think it through. So we come from a starting point of knowing this will be a very well written interesting unique character.
On top of that, what does it mean for the man to be a virgin? Let's look at, for instance, Shahrukh's character in Rab Ne Bana Di Jodi? It's not just that he has not had sex, it is that he has no concept of love in his life even. And then there is Anushka, who had a boyfriend before, even if she did not have sex (which she might not have, since she was very young and a "good girl"), she had certainly kissed and held hands and knew what love and attraction felt like. In a patriarchal society, this is a delightful power flip, for the woman to be "on top", as it were, for once. What makes it REALLY delightful is that the man finds this attractive! It's part of the whole package, someone who can fill in his gaps, why wouldn't he want it?
Let's look at another half-virginal romance with Shahrukh, his first film Deewana. The heroine Divya is a widow. Even if she has not yet had sex (which the film barely leaves open to interpretation just in case the audience is uncomfortable with widow remarriage), she has been in love, made a lifelong commitment, done all of those things. And our hero is a feckless young man who has never known love. He is attracted to our heroine because she HAS loved before, and loved so deeply. He respects that in her, and tries to emulate it.
A good half-virginal romance is quite quite good. But a bad one can be quite QUITE bad. Again, you are breaking the mold so you have to find your own way. And occasionally the way you find is total hatred and just plain nastiness in a way that society normally makes you hide a bit. For example, Ginny Weds Sunny. In which our nice "good boy" virginal hero feels effortlessly superior to the more experienced heroine, and tries hard to "fix" her. Before eventually succeeding and convincing her that she really wants a nice "good" boy. Sigh.
Anyway, that's what I've got! The idea of a "virginal" romance being beyond just sex, and more a whole idea of not being fully mature, awake to yourself yet. That this romance can be two "virginal" characters with a fragile kind of love, OR an experienced man gently guiding a virginal woman, OR (rarely) an experienced woman gently guiding a virginal man.