Yaaaaaay, a SPOILERS review!!!! If you just don't have the energy to watch this movie but are curious about it anyway. Or if you can't do horror but want to know what it is like. Or if you have seen it and are DESPERATE to discuss. But if you like horror comedies with a feminist message, you can also save this as a special treat and NOT read this review.
Whole plot in 2 paragraphs:
Our heroes Varun and Rajkummar are part time kidnappers/bride brokers in a small town. They get a commission to kidnap a young woman Janvhi, but then there is a fight at the wedding party and they are told to take her to a cabin and hold her until they get further orders from the groom's side. Varun sees the bride climbing the walls and freaks out, but then is won over when she sweetly asks him for food. She escapes later and Varun sees her as a possessed spirit who meets his eyes and seems almost interested in him. Meanwhile, Janvhi's father goes to the police and explains that Janvhi was supposed to be married last year only a ghost possessed her while she was preparing for the wedding. Varun and Rajkummar try to convince their boss that she is possessed but he doesn't believe it. He wants to complete the commission, so Varun and Rajkummar take Janvhi away. Rajkummar plans to hold a fake wedding ceremony which will bring out the spirit and make her leave Janvhi. Varun wants to marry the spirit for real. In the middle of the ceremony, Janvhi suddenly takes control and stops the ceremony. Instead, she marries "herself", the regular Janhvi marries the ghost spirit possessing her. She rides off happily on a motorcycle, leaving both boys behind.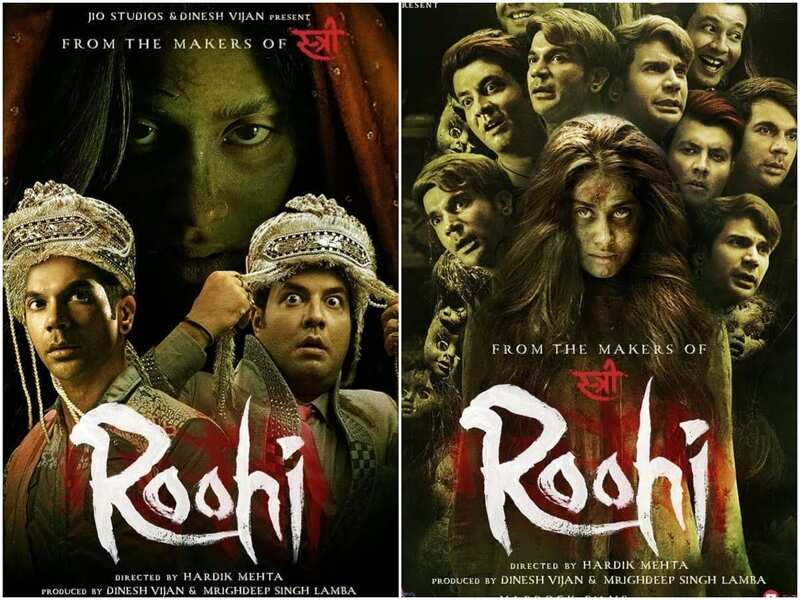 There's a central joke here, that Indian boys are so clueless and so desperate they will fall in love with a ghost spirit if only she meets their eyes! Rajkummar is in love with a real girl, but he hardly talks to her before deciding he is "in love". Not to mention that he KIDNAPPED HER and she is being kind and nice to him because she is afraid for her life. And then Varun falls in love with a possessed woman because she says ONE WORD to him and makes eye contact. This whole part works perfectly.
The other thing that works perfectly is the why the bride kidnapping is handled. It's not that bride kidnapping is "okay", it is that it is as okay as regular arranged marriages. We see a quick bride kidnapping at the start so we understand the process. She is taken directly from the street to the wedding. Her potential in-laws try to convince her to say yes by showing her their wealth and talking about their son. And then she says yes and is married. This isn't a long kidnapping, just transport from street to wedding. And ultimately she has the possibility of saying "no". The best part is how the bride reacts. She looks believably stunned and in shock. She isn't happy to be married, but she isn't hysterical. It is more sort of a "well okay, I guess this is the new bad thing that is happening to me" response.
Which brings me to the ending! We have a lot of little fun detours on the way, Rajkummar marries a dog so he can then marry Janhvi/Ghost and not really be married to her. Rajkummar also travels around trying to find someone to fix the possession and sees everything from a possession debunker to a paan maker who removes spirits through paan. And of course, Varun Dhawan has a lovely all day date with his ghost girlfriend. But the point is to get to the ending where Janhvi declares she is marrying herself and goes over happily possessed. Because being possessed is not the worst thing that can happen to a young bride at an Indian wedding.
This is the part where I feel like the film fell down a bit. It got the whole male side of the patriarchy these ridiculous men who fall in love with a girl based on nothing and assume she feels the same just because she passively goes along with it. But the film doesn't quite get the female journey of being afraid to argue or speak for herself and wishing she had the anger and strength inside to make her own life. Waaaaaaaaaaaaaaaay at the end, we have a conversation between Janvhi and her ghost where the ghost says something about how she "saved" her. And we know that the ghost tend to possess brides and be attracted to weddings. I guess the point is that the ghost is possessing brides to save them from marriage and waiting for a woman who appreciates the opportunity? And the happy ending is Janvhi finally seeing the advantages she has with the ghost?
I really REALLY needed more from Janvhi's characters to make that work! Tell me about the ghost, give me a flashback showing she was a bride killed on her wedding night or something. Tell me about Janvhi, show how she was rushed into the wedding she didn't want and is depressed about her life already. Show why an angry angry spirit and a pale colorless young girl are such a perfect pair.
But whatever, we still get the great idea of two silly young men falling in love with a girl and the witch possessing her. And we get the perfect ending of the girl and witch choosing each other and leaving both men behind. Oh, and we get shockingly good RedChillies VFX, especially the creepy backwards feet thing.