Happy Thursday!  My 4th and final watch is tonight.  Which is usually the watch where I stop enjoying the film.  1st time, so-so, but there is so much to process I am overwhelmed.  2nd time, much better, I can relax and focus.  3rd time, usually as good as the 2nd time.  4th time, now I am starting to get bored because I know absolutely everything already.  And then 5th time is DVD/streaming a couple months later, and I am back in.  Anyway, good news is, now that I have seen it 3 times, my memories are pretty locked in and I can do the scene by scenes without struggling too much. (full JHMS index here)
So, depressed bad boy Shahrukh and bossy demanding good girl Anushka are stuck with each other, sort of.  Anushka's father will only allow her to travel alone in Europe if Shahrukh (who he still thinks of as the good boy tour guide SRK pretends to be at work) is there with her.  Shahrukh can't risk another female client complaining about him.  Oh, and this is all because after a month long tour with a family group, Anushka has discovered her engagement ring is missing and her fiance is furious with her, so she wants to stay back a day and look for it.
But, what I argued in my last post (and you can feel free to disagree with me), is that while Shahrukh and Anushka really really hate each other, to the point that they can't even be bothered to hide their true selves from each other (he is rude and bitter, she is bossy and demanding), there is also something super deep between them that is kind of bubbling below.  Like, why DOES Anushka insist on him traveling with her?  Even when she no longer likes him?  Why is Shahrukh so resistant to travel with her?  I think Anushka is drawn to him without realizing it, and I think Shahrukh is drawn to her and kind of knows it but can't admit it to himself because he knows she is much too young and immature to be one of his conquests.
Plus there's a whole self-loathing thing.  Kriti S in the comments said that Imtiaz said somewhere an earlier draft had Shahrukh explicitly suicidal.  Which kind of fits with everything we see here.  Really, put in one shot of him looking at a bottle of sleeping pills and then setting them aside, and it would fit right in.  The world is cold and grey to him (as we see in "Safar").  He can't even really connect any more with his oldest friend (as we see in their conversation when his friend is arguing that he should just take the Anushka job and Shahrukh won't even really look at him).  And he is self-sabotaging, constantly flirting with women until he loses jobs.  Classic depressed behavior.  And the depression and self-loathing keep spinning in a hideous cycle.  He hates himself, which makes him depressed, which makes him do bad things to get out of that depression, which makes him hate himself more, which makes him depressed, and so on and so on.  He doesn't have to consciously acknowledge that there is something special about Anushka which makes him want to stay away from her, he just has to acknowledge that she is a "decent" girl, which makes him feel like he isn't worthy to travel with her alone, because he feels like he isn't worthy of anything any more.  And I was thinking "how odd to have a suicidally depressed hero!"  And then I remembered Imtiaz's break out hit Jab We Met had a way more explicitly suicidal hero, and that movie was a huge family crowdpleaser.  He's an odd director, is what I am saying.
And now here we are, getting ready for their 3rd big scene together.  Each scene so far has slightly advanced their relationship, peeled away a few more layers.  The initial conversation in the car revealed her ignorance, and his boredom with her ignorance.  The conversation in the restaurant is where they got really angry with each other, not just generally angry at a demanding tourist and a rude tour guide, but at the other person in particular, their personality and behavior and all of that.  And now is the scene where they are going to build on the previous two scenes, still not really liking each other, but feel able to be as honest as they know how, because of what they accidentally already revealed in anger.
I ended the last section by talking about how defensive and on alert Shahrukh is when he first arrives at her hotel room.  And how unaware Anushka is, casually inviting him in and telling him to shut the door.  It's not that she is fearless, it's that she doesn't even know there is anything to fear.  She is so innocent that an incredibly sexual man alone with her in a hotel room doesn't even register for her.
But it really really registers for Shahrukh!  Or rather, she really really registers for Shahrukh.  I argued in my last section that he is already attracted to her at this point, physically, in a way that he is trying to resist (thus the somewhat illogical reluctance to be her personal guide).  But whether or not he was attracted before, he definitely is now!  He gives a quick look at her bare legs when she first opens the door, and then can't stop himself from sneaking glances at her legs, her back, her body in general through out this scene.  It's not "creepy", like, I don't feel like he is enjoying the way he is looking at her, or delighting in sneaking these glances.  Every time he does it, he looks away quickly and forces himself to focus on her face again.  Part of the discomfort in his posture is from that, holding his neck stiff so as not to look where he shouldn't.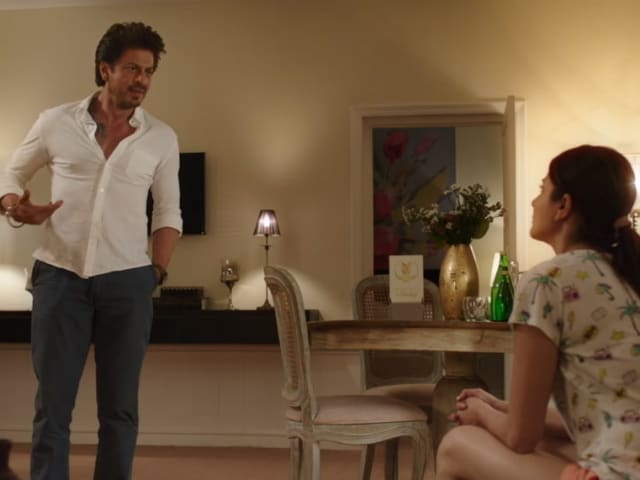 And Anushka is completely unaware of this.  Which is why he knows he shouldn't look at her.  This is a perfect naive pure child type of woman.  So sheltered she doesn't even think that a strange man shouldn't be in her hotel room, or that dressing this way might arouse him.  It is wrong to be attracted to her this way, and would be super wrong to act on his attraction.
That is the undercurrent of this whole scene.  That Anushka thinks he is warning he will seduce her and is confident she won't feel anything, and he is trying to warn her that he already is attracted to her, so much so that he isn't sure he can trust himself alone with her.  She sees the world in simple black and white, she is engaged so obviously nothing complicated could ever occur between them, she just has to reassure him of that fact.
Shahrukh starts standing, giving an awkward speech, trying to convey that he is a bad man, she is not safe alone with him.  Anushka is seated, looking up at him, unconsciously sexy, but also with the poster of a small child looking at a wise adult.  She doesn't get it, so finally he sits down, comes to her level, and leans forward and tries to explain more.  He is no longer just talking about his personality or anything like that, he is talking about his history, secrets of his life.
He tells her that he is a great tour guide, "A1", and the audience can confirm that from what we have already seen and will see later in the film.  He can speak a little of every language, always find a hotel, a bus, a train, a bathroom.  But he has a problem with women, he flirts with them (it's not "flirt", it's a Hindi word that I am sure isn't an exact translation, if someone can find it please tell me).  He has been fired 4 times, he can't lose another job.  He should be running his own agency by now, but this problem is keeping him as just a tour guide.
Two things about this speech.  First, the way he is saying it.  He is being honest, not playing an act.  But he isn't being emotionally honest.  This doesn't have the kind of passion we see with him later.  Oh, and also not the kind of Hindi.  It's easy to know when Harry is being himself, he drops in a lot more Punjabi type Hindi.  But this is nice clean Hindi that even I can sort of follow (except for that "flirt" word that I really want to know!).
This is still the surface level, but it can tell us (in the audience) something of what is happening under the surface.  His womanizing isn't just a fun little thing, it's an addiction, something that is damaging his life and making him miserable and yet he can't stop it.  And he isn't a young man on the way up, he is an old man on the way down, life has begun to pass him by.  His life was supposed to follow a pattern, get a cool exciting job in Europe (we get a few glimpses of his tour guide ID and the photo looks distinctly younger, he's been at this at least 10 years), succeed, open his own agency.  But he is stopping himself from doing it for some reason, he doesn't feel like he deserves that success, so he is flirting with the customers, getting caught up in this whole thing. Which isn't how he says it to Anushka, he just says he doesn't want to travel alone with her in case she complains.  But it is what it looks like to the audience who knows him better.  He is miserable and homesick and guilty for leaving home.  And therefore he doesn't think he should be happy.  None of this is coming up in this scene yet, that's why it isn't totally honest, it's just the surface symptoms of it all.
And Anushka's reaction is just her surface reaction.  She listens to him, clarifies that it is only the womanizing that is his concern, and then briskly offers him tea or coffee or a cold drink.  Just like she has been taught by her proper upper middle-class upbringing.  And then sits down and pulls out a paper and confidently writes out an Indemnity Bond.  While Shahrukh sits on the other side of the room and tries to stop himself from looking at her bare legs and drinks his cold drink.
Can I just take a moment for how well this room is used?  It's mostly white and plain, like a hotel room.  Which is good, it should be a completely neutral place.  It is technically Anushka's, she is the one inviting Shahrukh in and telling him to close the door and offering snacks.  But after just a few minutes, he can feel comfortable pulling out a chair and leaning forward, and taking over it a bit himself.  She owns the space, but it isn't an extension of herself, of her personality, the way it would be if it were really her home instead of just a hotel.
And the furniture is used really well too.  We have a bed (or sofa?  Anyway, something more loungey), a table with a chair in the center of the room, and another desk off to the side where Anushka works.  Shahrukh starts standing, then sits at the table, he's found a place to land in the room.  Anushka goes from young innocent sitting looking up at him on the sofa/bed, to professionally sitting properly at the desk.
Or is she professional?  The way she writes it out and then brings Shahrukh over to read, it feels partially professional (this is when she says she is a lawyer for the family business), but partially like a small child doing school work and proudly showing it off.  Especially when Shahrukh comes to read it and sits at the desk looking relaxed and calm, not perfectly postured and precise like she was.  He's an adult, he doesn't need all those trappings and formalities to do his work.
What really makes him an adult is his response to her "indemnity bond".  I was just saying in a comment how refreshing it was that, for once, the interaction isn't "bad man learns from innocent wisdom".  No, Anushka's just straight up wrong!  She thinks a piece of paper is all she needs to protect herself.  Or, rather, that she can solve this whole situation and protect Shahrukh from his silly fears just with a piece of paper.
Although now that I think about it, she kind of does protect herself with this paper?  Just because it is so shockingly naive and reveals such a depth of ignorance/faith in Shahrukh, that this is what serves as her protection.  How could he ever even think about flirting with a woman who doesn't think of rape, let alone of her own desires over-whelming her.  A woman who can't imagine a man who wouldn't stop when she says "no".  Who she wouldn't want to stop.  That's her real protection, that Shahrukh can see her innocence in her confidence and he is ultimately a decent man and won't damage that.
Which is how the scene ends.  Shahrukh makes fun of her indemnity bond, but Anushka still insists on traveling alone with him.  He finally tells her that he warned her, and Anushka laughs and says "High hopes, eh?"  It's such an irritating way she says it, like she is laughing at him from a mountain top because she is so much wiser than he is.  And Shahrukh just has to swallow it because he did his best to convince her she knows nothing, and it didn't work.  The only other option would be to forcibly break through her innocence, and that he won't do.
And then there's the little tag.  Which does break through her innocence.  This moment made no sense to me on my first watch, but is perfect on a second.  Anushka is happily in her room, still protected from any outside influences.  Talking on skype with her "Didi" and painting her toenails, just like she would do if she were in her bedroom at home.  When she hears an angry sound from outside, a woman yelling.  She goes to the window and opens it and stands on the balcony.  And sees in the distance that the woman is yelling at Shahrukh, abusing him, and he is just taking it, saying "thank you" (I think) in Dutch while she hits him.  And then she walks away, and he walks back to the hotel whistling.  The background music softly starts up, Anushka stands on the balcony and her face changes slightly.  She looks down at a party boat in the river, then back out into the distance.
So, the simplistic version of this is "virginal woman curious about sex and stuff".  She sees a passionate fight between Shahrukh and another woman, clearly related to sex.  She sees people flirting on a boat going by.  Just like Shahrukh warned, she is going to get "ruined" and seduced by him.
But that would be a terrible movie!  And I don't think that is the movie we are getting here.  And the more I rewatch it, the less I think that.  I think what is happening is that the connection she feels with Shahrukh is suddenly born in this moment.  It's not attraction, not yet.  It's something deeper than that.  And it's related to her innocence and ignorance.
A more experienced woman would be able to get past this kind of connection.  To convince herself it was just sex, or to recognize it and immediately cut off contact to protect herself.  But Anushka doesn't know what this is inside of her all of a sudden, that's what we are seeing in her face.  She knows that something shifted, that seeing Shahrukh at his lowest point, abused by another woman and accepting it (we see that in "Safar" too, he is thrown out and just gives a polite good-bye and walks away, no attempt to defend himself), seeming almost to thrive on it, this is as close as she has come so far to seeing the "real" Shahrukh.  And something inside of her is awakened by it.  Skipping aaaaalllllll the way to the end of the film, Shahrukh talks about his "void" (once again, what is the Hindi word?  That can't be it), and how somehow she is the only one that can fill it, that can make him whole.  And I think that is what is happening here in this moment, and will continue to happen through out the film.  Anushka isn't "attracted" to his bad boy unhappiness.  It's deeper than that, she sees how low he is and something inside of her reacts, knows that she is the one who can fill his emptiness.  Not consciously, not yet, but it is starting right here in this moment.
(Can I change from saying she is his Radha to saying she is his Parvati?  Because that feels more accurate.)