Happy A Gentleman day!!!!  Such an odd title for the film.  Not quite sure what it is intended to evoke for the audience.  But I will focus on one small part of it, that very Western style of gentleman, the man in the tuxedo.  And since they are all wearing essentially the same thing this week, we get to have a little "who wore it best" poll in the comments!
Okay, Joyomama can correct me, but my understanding of the history of the tux is that the idea is not a dressy suit, but a less dressy top hat and tails look.  The full formal "morning suit" that was common for weddings and evening events from about 1850 to 1920 involved a waistcoat, a bow tie, and a jacket with tails.  And there were all these like construction reasons behind it, you were wearing a false shirt for one thing.  A collar and a shirt front that were super starched and could be changed out for newly starched ones for the next event, and then the bow tie and waistcoat sort of held them in place.  And the tails look was left over from riding your horse, you would have a long split coat for riding, which got modified for evening formal wear into something a little smaller but still in the same style.
(This.  It was this)
And then in the 1920s, at the "Tuxedo" club in New York, people had the brilliant idea of taking that whole formal look, but dumping the long split coat ("tails") because it made no sense in the new car era.  Which gets into a whole other thing about how early cars were the equivalent of horses and only owned by dashing young men and so on and so on.  The point is, the Tuxedo was born!  The old morning suit style but with a regular suit coat.  And, over time, other modifications came in.  Shirt technology advanced and the whole interchangeable false front idea was no longer needed, and substituted for it was the optional extra layers on the front of the shirt, the ruffled effect.  The waistcoat was modified down to a cummerbund.  But the bow tie stayed, and the studs rather than buttons, and the general sense of "this is the dressiest thing you can possibly wear".  Thus, A Gentleman!
Well, unless you are John Abraham, in which case you really think outside the box as to what constitutes "clothing". Not sure if this says so much "a gentleman" as "a prostitute".
Okay, discounting John for using his sexuality to influence the judges, and Amitabh for being beyond our petty competitions, out of all the following photos, how would you rank them?
Shahid gets it, he knows it's all about attitude and how you take the classic style and make it your own.
Although he also branched out a bit.  Look!  Double-breasted!  The rebel!
Not everyone can wear them as well though.  Is it just me or does the bow tie make Akshay Kumar's head look oddly tiny?
See?  So much better with a long tie!
Here, let's compare.  Abhishek looks like even more manly than usual in his tux, taller and bigger and dignified-er.  But poor Akshay just looks kind of like a little Akshay doll.
Wow, you know Abhishek looks darn good in a tux!  Must be something in the genes.
Or maybe early training?
Of course, Aish as an accessory dresses up any outfit.
Maybe having Aish on his arm could have helped poor Arjun Rampal here.
Or maybe not.  The whole white bow tie/pointless scarves/white accents on the cummerbund may not be salvageable.  Even by a man as beautiful as Arjun.  And judging by his expression, he knows this.
Or maybe it's that he isn't a good enough actor to act confident in a tux.  Check out our rising star actor's actor Nawazuddin!  Working it like there's no tomorrow!
Although he's got nothing on Irrfan!  Hel-LO Irrfan!  Loving the look!
He must know it works on him too, because he keeps wearing it!
Even for the fancy lighting photo shoots, still sticking with the tux!  And I am not complaining.
And from two of the best actors in India, let us go to one of the…..  Well he's a very handsome man.  Let's go to a very handsome man in a tux.  And you know, I don't think he is pulling it off as well as the good actors did?  Not enough personality there.  HRITHIK!!!  Wake-up and smile!
See?  John knows how to do it!  Okay, he still doesn't know how to wear clothes, the bow tie and cummerband seem to have been left in the car, but look how happy he is to see us!
You know who I wouldn't have thought would be comfortable in a tux?  For similar "clothes fall off his body" reasons?  Salman!  And yet, he looks GREAT.
Okay, he also rejected the cummerbund, but otherwise the whole thing is still on him.
At least, temporarily.  Although the friendly bearded giant in the rumpled clothing look is definitely working.
If only Salman had managed to teach his protegees how to do it.  Arjun just doesn't look super happy here.  Also, is that blue?  No, Arjun.  Just, no.
Varun looks a little better, but then red?  Much much worse than blue in my book.
Oh yeah Varun, that's the stuff.  Let the clothes do the work for you, not you for the clothes.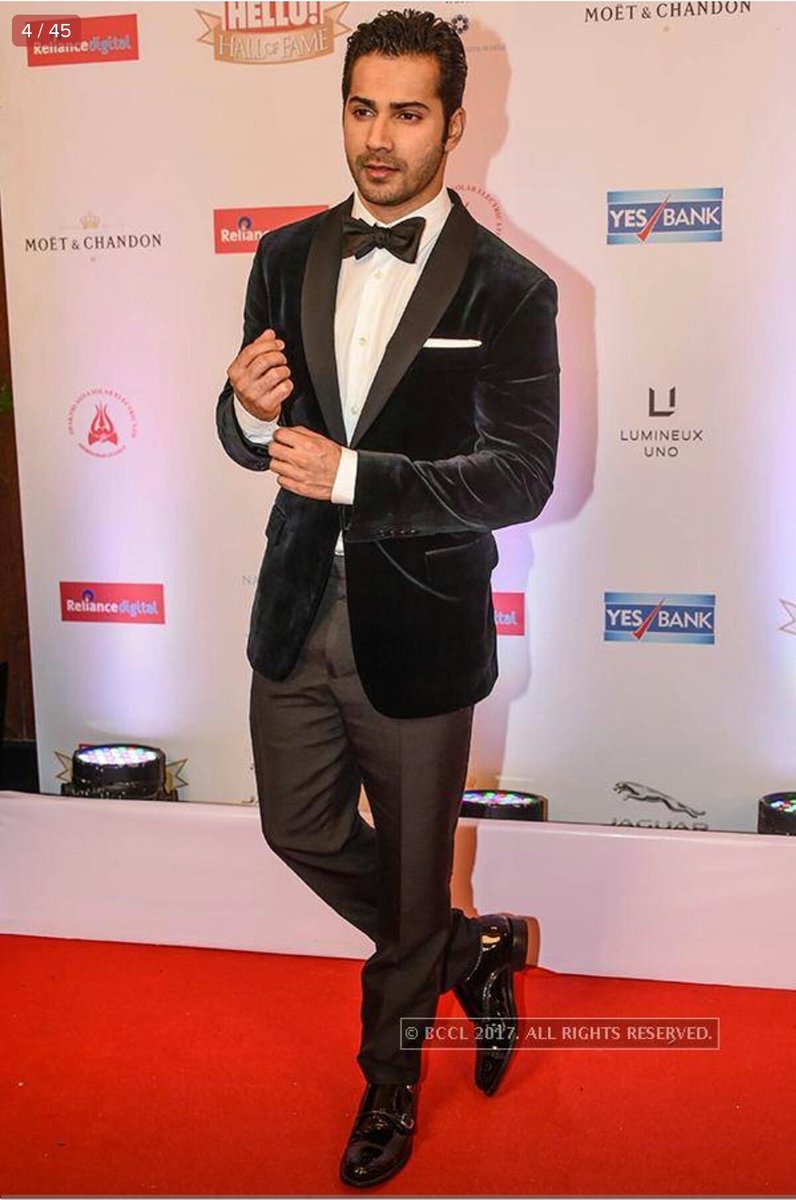 This is something Ranveer needs to be reminded of ALWAYS.  He is the jewel, not what he is wearing.  I wish he would dress like this more often, basic and traditional.
Speaking of basic and traditional, can't you just picture Fawad wearing this and speaking gorgeous classical Urdu to you?
Heck, even Anil looks good in a tux!  Okay, that sounded mean, but you know how sometimes he seems just a bit too boyish for his age, and a little over the top?  Not here!  Tux, glasses, maturity, classic.
You do need a certain level of maturity to really feel comfortable in the full tux.  For instance, Ranbir here has a definite "I'm wearing Daddy's clothes to school!" vibe to me.
Speaking of Daddy's boys, and taking a brief trip down south, OH DULQUER!!!!  You look about 5.
See how Prithviraj laughs at this pretension?  Oh yeah, he knows what it is to be an adult.
And then my beloved Nivin.  Oh no Nivin.  No no no no no no.  Beard, good.  Smile, good.  Jacket, BAD.  Shirt, BAD.  Tie, BAD.
Better.
Best!
So long as we are down south, brace yourself for this next one.  Perhaps cover your eyes to avoid nightmares.  Really, it's bad.  Prabhas, I love you, but you desperately need a stylist.  I don't even know what this is.
Speaking of nightmares and dreams and stuff, I had a dream about Dr. Nene last night!  It wasn't a sexy dream, it was more that I was just hanging out with him and Madhuri.  He was very fun!  So I feel like I should include him.  Plus, we can all compare and agree that his tux "accessory" is much better than Abhishek's.
Okay, this has been fun, but really it was all just a prologue.  We know who looks best in tuxes, and wears them the most, why wait any longer?  I give you, The SRK Formal Wear Series.  First, with a beard.
Then, without a beard but with a half smile.
Beard and white coat, very tricky look to pull off
Slight beard AND slight smile.  And slight waistcoat!!!  Possibly my favorite.
And finally to end, as almost always, Dharmendra!!!
Now, rankings!  This is very difficult for me, but I shouldn't ask you to do anything I'm not willing to do myself.  Obviously Shahrukh is the best for me, but setting him aside, here are my top 5 runner-up "who wore it best":
How about you?  Shahid, Akshay, Abhishek, Arjun Rampal, Nawazuddin, Irrfan, Hrithik, John, Salman, Arjun Kapoor, Varun, Ranveer, Fawad, Ranbir, Anil, Dulquer, Prithviraj, Nivin, Prabhas, Dr. Nene, Dharmendra?  (I am taking Shahrukh as a given)